Panthers v Pinguine

Nottingham Panthers

Krefeld Pinguine
Match Report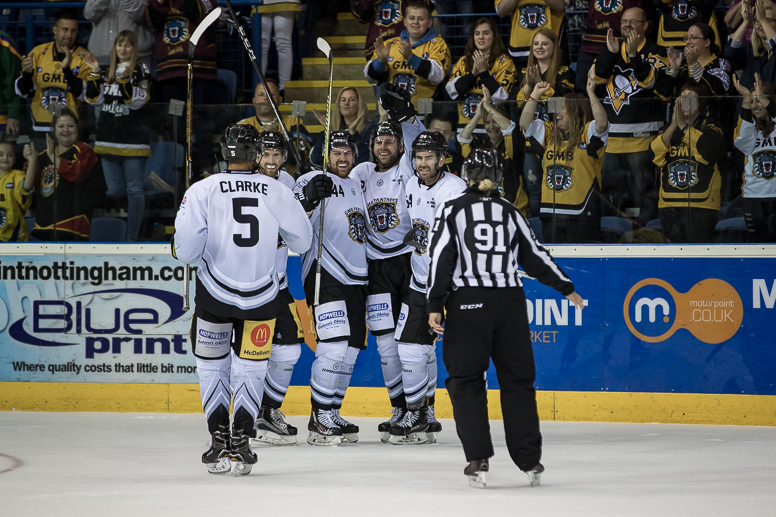 The GMB Nottingham Panthers took on German top flight side Krefeld Penguins at home on Saturday night and pushed the visitors for long periods of the game.
Just ninety seconds after the ref dropped the puck for the opening face-off Panthers' Gagnon was sandwiched on a left wing rush and promptly dropped the gloves and an opponent into the bargain.
Panthers had some great chances to score but the only goal went the way of the visitors after a loopy, freaky, some might say lucky rebound fell kindly for them at 11.49.
Nottingham carved out more chances in the middle period but failed to convert.
The home side's biggest scare came just before half-way mark when keeper Garnett just about won a long race for the puck but it left him stranded only for two "D" to drop in behind him and deflect the resulting shot to safety.
No goals in the middle period even though Panthers outshone their visitors 18-6, meant Nottingham, with Dan Spang 'rested', still trailed by the only goal of the game at the start of the third and final period.
In a dram packed third period there were chances at both ends until the referee awarded Penguins a penalty but Panthers stole the puck at the face off and Mosey skated the length to slot home short-handed to equalise in the 52nd minute.
The home side killed off the penalty but soon after the visitors were back in front after a scramble in front of the net to lead 1-2.
Panthers pulled keeper Garnett for the extra skater and Clarke threaded a pass to newcomer Sauve and he buried the game tying goal on the six skater ploy with just over a minute left in regulation to force the match into sudden death overtime.
The referee awarded a harsh too many men call against Krefeld and Sauve danced through to stuff home a power-play sudden death overtime winner for the Panthers.