Panthers v Steelers
Nottingham Panthers

Sheffield Steelers
Match Report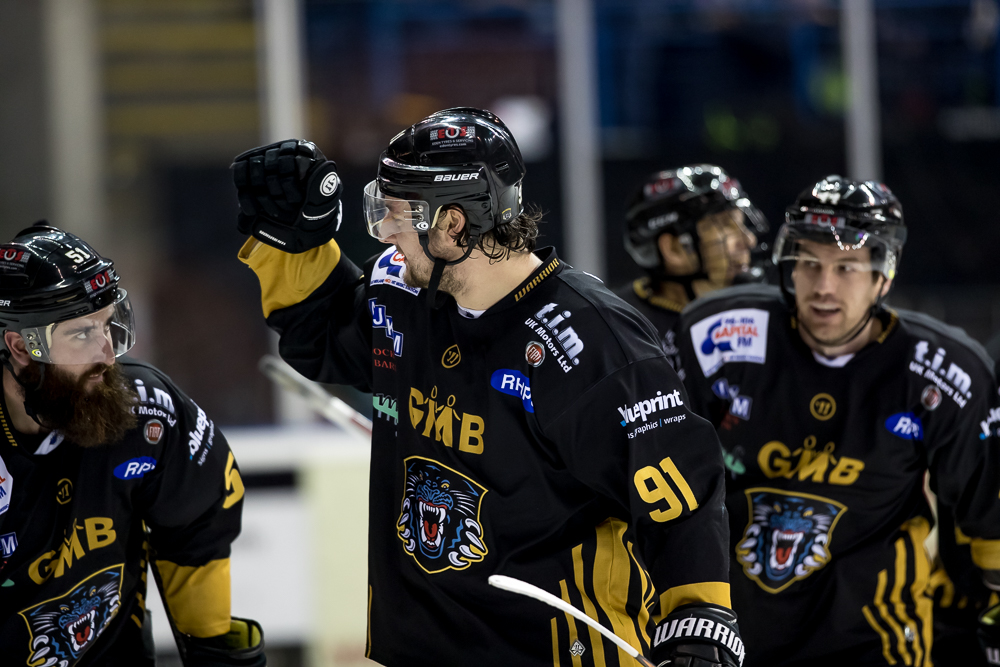 When the biggest of rivals meet you can forget past histories, league positions, this year's results and the rest.
It's a clean slate and anything can happen.
Panthers edged the first period, out shooting the visitors more than two to one, but the only goal went to the Steelers when the puck bounced for them at the end of a spell of four-on-four action and Nelson carried it in from the sin-bin door to convert one-on-one at 16.26
No Evan Mosey for Panthers after the first period (injured), but they continued to press in the middle period and the teddy bears came raining down when Brett Perlini crashed in an equaliser at 24.12.
Both goalies were busy, but the shot count increased in Panthers favour from 13-6 to 26-17 after fourty minutes of tense action in front of a sell-out crowd, which was to go home happy (most of them) after a thrilling third period.
Zack Phillips carried the puck in off the left wing to set up Rhaphael Bussieres for the go-ahead goal at 43.22 and, after a string of superb penalty kills to maintain the advantage, Panthers went to a powerplay themselves and some Phillips magic saw him dance past the defence and set up Bussieres again at 51.51.
After Patrick Galbraith denied a penalty shot in the last two minutes, Mark Derlago hit the post on a long range shot on the empty net but Jeff Brown nailed it from ten feet to wrap up a derserved victory for the home team.