Clan v Panthers

Braehead Clan
Nottingham Panthers
Match Report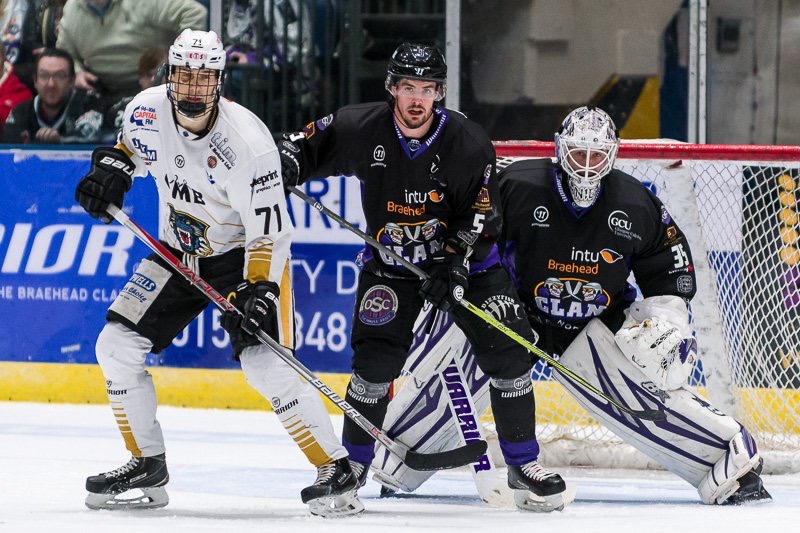 A well contested first period saw no goals but the gloves came off twice with Jeff Brown and Oslanski picking up fives for fighting in the eighth minute and Raphael Bussieres having a tilt with Shattock in the sixteenth. Both netminders (Patrick Galbraith for Nottingham) were kept on their toes.
Nottingham saw off some early second period pressure and then started to build some momentum of their own. Zack Phillips rang the bell when he pinged one off the pipes at the half-way mark but the goal wasn't long coming with Alex Mokshantsev getting the break-through with a close-range goal assisted by Robert Farmer and Tim Billingsley in the 37th minute.
Early in the third period Panthers doubled their advantage when Robert Lachowicz scored with assists to Ollie Betteridge and Yann Sauve.
Mathieu Gagnon easily won his tilt with Doty soon afterwards and for the second night running Jeff Brown hit the empty-net in the last minute as Clan tried the six skater ploy to pull the game out of the bag. Assists on the third goal went to Lachowicz and Erik Lindhagen.
The official shots count on Galbraith was 43.
Following on from Saturday's home win over arch-rivals Sheffield the result made for a four-point weekend for Panthers and took them clear at the top of the standings with games in hand on the chasing teams.
Panthers are next at home on Saturday when rivals Cardiff visit the Panthers for a seven o'clock face-off. Tickets now on sale.
SEE YOU THERE!