Storm v Panthers
Manchester Storm
Nottingham Panthers
Match Report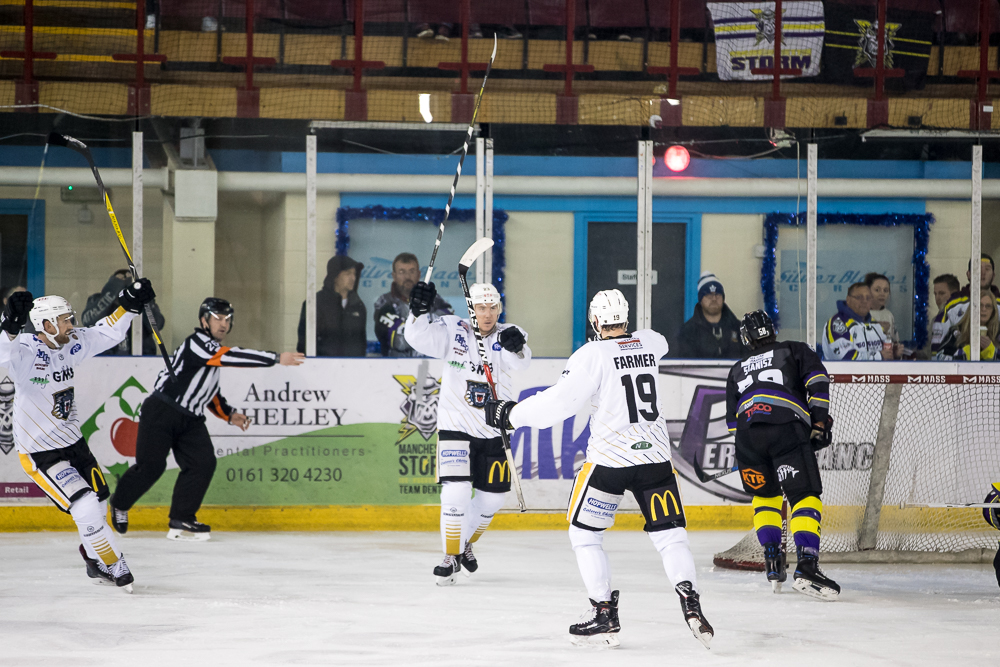 With Patrick Galbraith joining Evan Mosey in the Physio Direct treatment room this week, Michael Garnett started in nets at Altrincham, where referee Dean Smith certainly brought his whistle, with both sides enjoying three powerplays in the first period and both penalty killing units surviving intact, although Panthers edged possession and balance of play over a goalless first twenty minutes, in which they outshot the home side by more than two to one.
More minor penalty calls in the second saw Panthers on penalty kill duty again, but during that kill Storm picked up two calls at the same time, so when Steve Lee came out of the box, Nottingham were on a five-on-three powerplay which saw them work the puck to Robert Framer in front for the opening goal at 27.30.
The referee was hurt after he fell over and left the ice for treatment.
The linesmen took on a two-man system until his return in the last minute of the period.
There were no calls amid end-to-end action during that time and no goals either, leaving Panthers with their noses in front for the start of the third period.
A bad giveaway presented the puck to the home side right in front of Panthers net and they roofed an equaliser in the 44th minute.
Both sides had to get through penalty kills and then, with 2.13 to go, Panthers were back on short-handed duty but with two huge saves they held on to take the game to overtime.
Early in the sudden-death period Nottingham lost control of the puck in enemy territory and picked up another minor penalty (hooking).
Storm took their time-out ahead of the four-on-three powerplay and, when they dug the puck out of the corner, they fed the far side and Beca rattled home a game winning goal at 60.51.