Lightning v Panthers

Milton Keynes Lightning
Nottingham Panthers
Match Report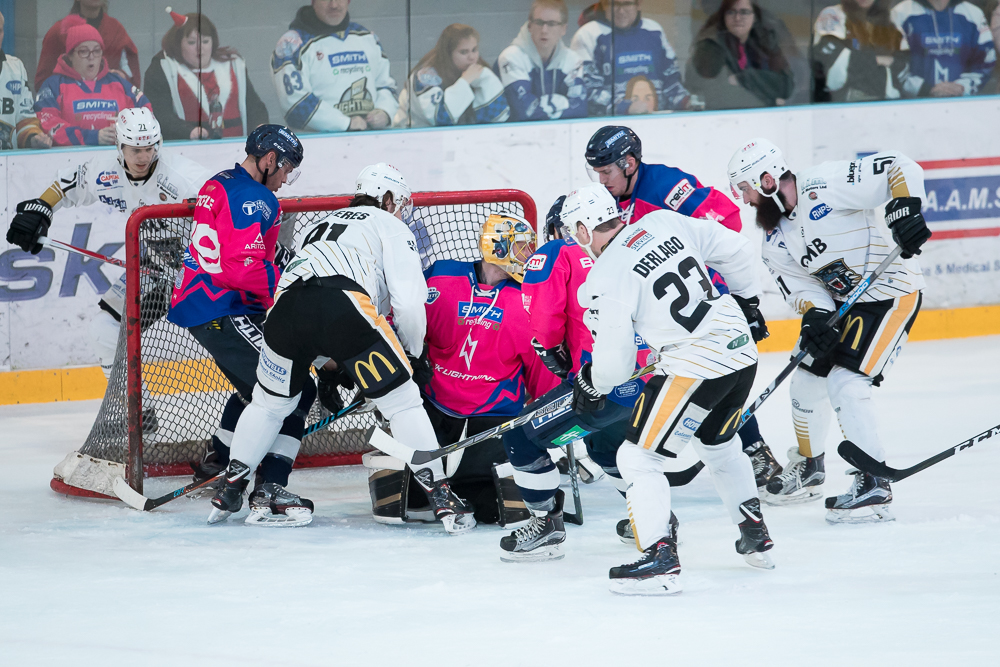 With the referee stringing the calls against Nottingham together like decorations on a Christmas tree, a series of powerplays to the home side gave them the first period edge, but the only goal came in controversial circumstances, when on one of those powerplays they got the puck over the line but referee Hicks was on the spot and immediately ruled no goal.
He then reviewed his decision (for ten minutes) and eventually awarded a goal, (16.11).
Panthers ended the period even-strength and went close to equalising five times in the final two minutes of the first.
They had to kill off another minor penalty at the start of the second, but then enjoyed some powerplay time of their own and the tide appeared to turn. Former Panther Miika Wiikman made five saves and there was one block to see off Panthers' first man-advantage but they had another and Yann Sauve fed the puck across for Mark Derlago to rip a super equaliser at 30.55.
Two more handsome but unsuccessful Nottingham powerplays saw the visitors continue to dominate the middle period which ended with a Lightning shot after the hooter which led to David Clarke getting two plus ten and Phillips getting a ten minute misconduct penalty.
Panthers killed that penalty but were shorthanded again on a hooking call at 33.34. The kill was successful but a boarding call at 49.13 led to the home ripping the third powerplay goal of the night at 50.49.
Wiikman was by far the busier goalie as the game ran down but Lightning – not beaten at home in the cup this year – held on for a one goal advantage ahead of the second leg in Nottingham on Wednesday January 3rd.