Panthers v Storm
Nottingham Panthers
Manchester Storm
Match Report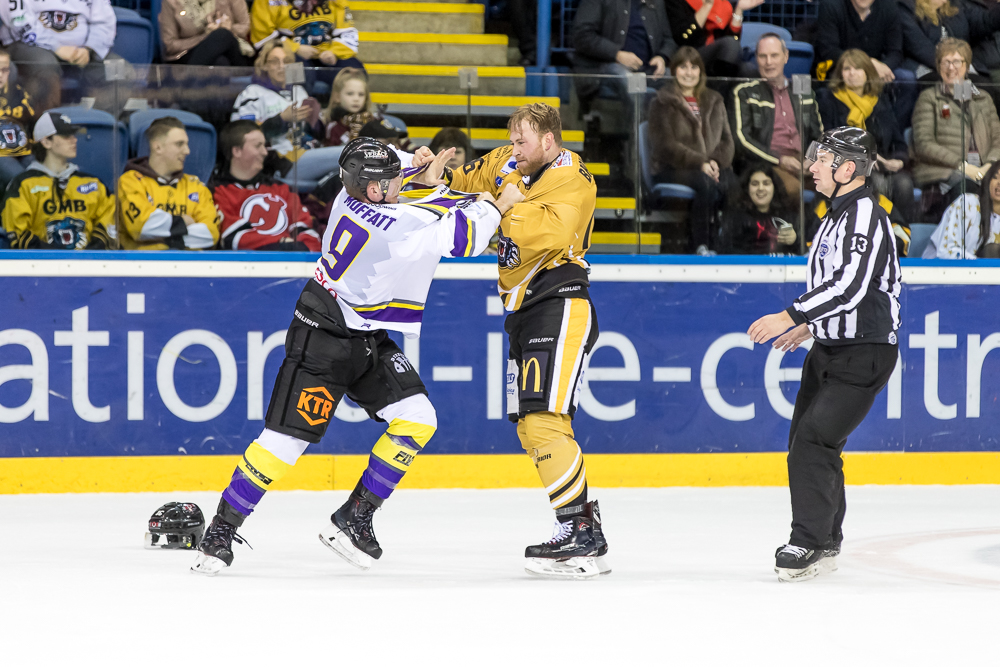 Panthers versus Manchester always promised to be a tasty starter to the Christmas menu and so it proved to be.
Nottingham hit the ice clearly determined to end their recent run of results and with energy and drive, passion and determination they created a lot of early pressure while the big Manchester team stood four along the blue line to weather the Storm and counter hard themselves when possession allowed them to.
Not for the first time, Nottingham had nothing to show for their undeniable efforts and the match continued in similar vein in the second but when the deadlock was broken it was the visitors who got on the board. Their goal came at 33.15.
By 33.34 Mathieu Brisebois had held off attentions from the blueline in and fired home the equaliser.
And with just over a minute left in the middle period the gloves came off with a solid win for Jeff Brown of the Panthers. Although he copped an instigator call there were balancing calls on the visitors that meant the sides would start the final period at even-strength both in manpower and on the scoreboard.
The referee continued to make calls against both sides as he had throughout the game and both keepers had great third periods.
Panthers thought they'd clinched it with a Brisebois shot from the blueline but the effort at 43.40 had apparently crossed the blueline and was ruled offside.
No goals in the third period so the game went to sudden-death overtime. Farmer, Perlini, Derlago and Bussieres forced big saves but even on a powerplay to finish the overtime session Panthers couldn't crack the game open and the match went to penalties where Garnett made two great saves but Clemente made three.