Panthers v Blaze
Nottingham Panthers

Coventry Blaze
Match Report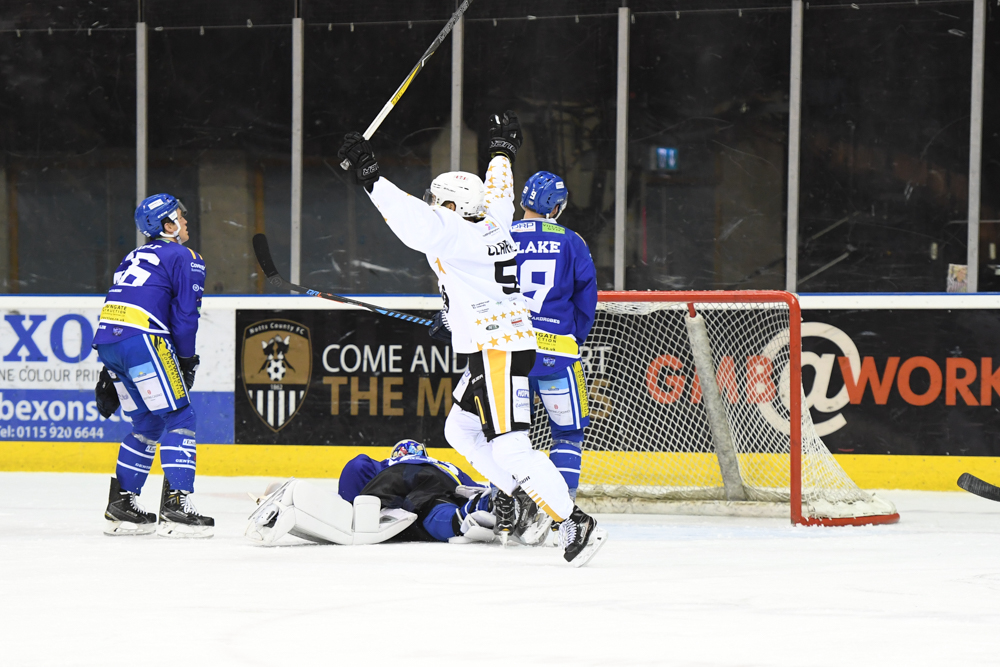 GMB Panthers were without the suspended Mathieu Gagnon and the released Josh Shalla but had Patrick Galbriath back in nets and Evan Mosey back with the forwards as they made their bid to halt the rot and end a dreadful run of results.
Panthers had the better of the play but after playing the puck beyond the goal-line Galbraith was barely back in position when it fell kindly for the visitors and they blasted home from 25 feet to open the scoring in the eighth minute.
Nottingham continued to enjoy possession and after a couple of close-shaves they went to the powerplay on an interference call during which the shaves got even closer until Tim Billingsley fired home from right point and the crowd noise and the tension that left the building almost raised the roof. A powerplay equaliser at 13.40 and the teams were tied at 1-1 after the first period of action in front of a near sell-out crowd.
After out-shooting their opponents 13-6 in that first period there was more of the same at the start of the second and when Coventry took two minutes for hooking the powerplay pressure built and built and although technically their man was back on the ice the home side bored through Zack Phillips at the back post to deservedly take the lead at 26.57.
Next shift Blaze iced the puck amid more Panthers' pressure and their coach was taking his time-out in the 28th minute to try to steady the ship.
His side remained under the cosh and another Panthers' powerplay saw Alex Mokshantsev step off the right wing boards and in yo score upstairs at 29.55 Dan Spang clipped the bar on a rush down the left wing and the home side domination only eased off after a coming together round the Blaze net saw Panthers go to the penalty kill and during it another call gave the visitors 69 seconds of five-on-three powerplay which they converted to reduce the deficit to 3-2. Panthers killed off the five-on-four and held that narrow lead going into the final period.
Again Panthers were on top but a harsh tripping call gave Blaze a powerplay opportunity to equalise and they took it at 48.08 Dan Spang held on to the puck until he could set up Evan Mosey who blasted Nottingham back in front from the blueline at 57.06 but there was more drama to come when a stick on stick clash drew two for slashing against Zack Phillips with just under two minutes left.
Blaze pulled their keeper to go six skaters against four three times but the penalty killers did their job and Panthers had a much needed win in the bank