Panthers v Stars

Nottingham Panthers

Dundee Stars
Match Report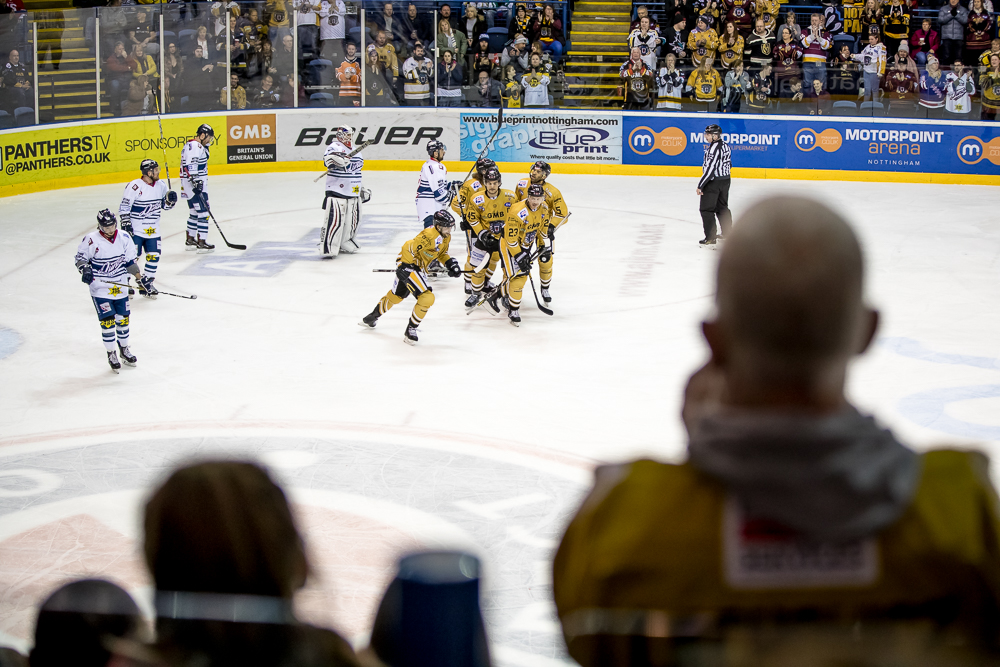 Panthers picked up where they left off in Sheffield on Saturday, hoping their hitting and work rate would see them come out on top just a day after their Steelers' heartache.
The first period suggested that would definitely be the case, epitomised by a huge centre ice hit from captain Steve Lee which set the tone for the opening period.
As David Clarke got into a tangle on the boards leading to a delayed call against Dundee, the puck worked its way across to Luke Pither who buried the opening goal at 9.41.
Patrick Galbraith denied a couple of Stars' breakaways, but the home side dominated and Jeff Brown danced out of the corner to the front of net to double the lead at 16.10.
Panthers had the puck in the net right on the hooter, and one of the referees signalled a goal, but after the longest of committee meetings the four man officials unit decided the puck crossed the line after the hooter, so the score stood at 2-0 at the first break.
The second period was lower key than the first with no further scoring until the third period, when Alex Mokshantsev wriggled out from behind the opposition net to see his first attempt padded away, but only as far as Mark Derlago who kicked the puck back to Mokshantsev to rattle in Panthers' third goal at 51.53
An unnecessary late hit into the boards saw words between Carlson and Nottingham's Yann Sauve, who then dropped the gloves. It wasn't a classic tilt but it provided a sparky ending to a solid night's work.