Panthers v Steelers

Nottingham Panthers

Sheffield Steelers
Match Report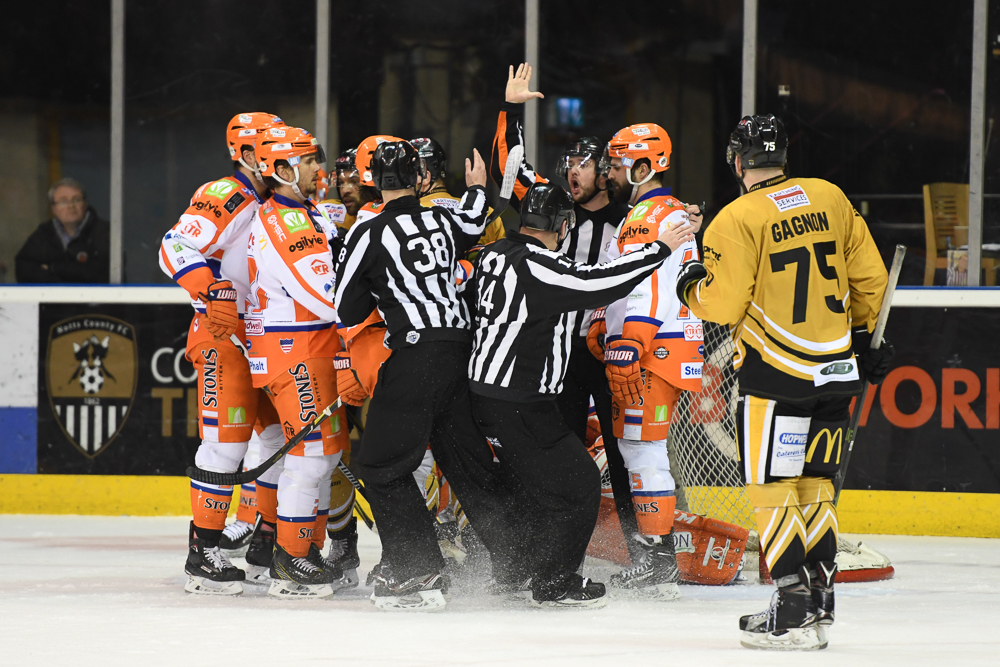 The first period was no less high octane than you'd expect from a Panthers-Steelers clash.
Nottingham rang the bell and pinged one off the pipes after just 59 seconds.
Momentum swung to the visitors when Steve Lee and Zack Fitzgerald chased a puck into the corner.
The Steelers' player lost his footing and, after a mid-ice conference, the referees decided to call it 5 and Game against the Panthers' captain.
Luke Pither got away short-handed, but was denied by the keeper and when a Steeler tripped over the blueline, the same player picked up two for hooking to give Steelers even more of an advantage.
The five-on-three powerplay to Sheffield was killed to the first break, but 16 seconds into the middle period the visitors turned in a rebound off the backboards on the two man advantage and took the lead.
In a finely balanced match both sides had chances, both keepers made saves and, whilst killing a penalty to the second break, the Panthers found the Steelers pushing and shoving at the hooter until Neilly dropped the gloves on Jeff Brown, only to find out that Panthers' number 16 can more than look after himself. Five minute penalties each for fighting.
Raphael Bussieres was used as an emergency defenceman by Nottingham in the third.
When a Panther fell over, the puck fell to Steelers and they took it in add a third goal at 45.20.
Panthers kept going and kept testing the visiting keeper without success, but for the second match in a row at home, they were shut out by their arch-rivals who added an empty-net goal when Mike Garnett was pulled early and they turned in from long range at 56.55