Panthers v Devils

Nottingham Panthers

Cardiff Devils
Match Report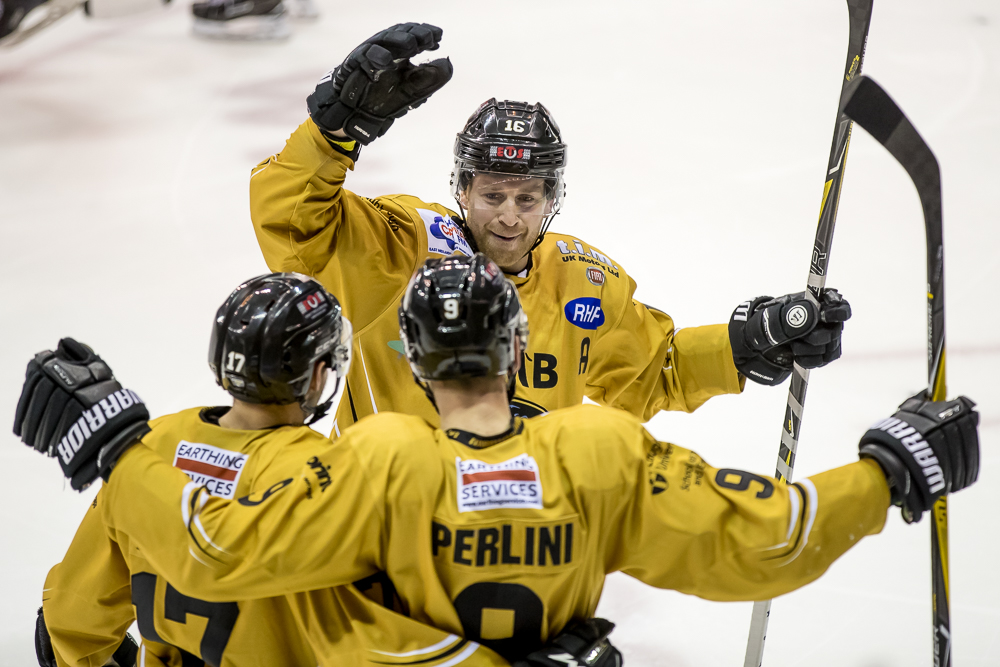 The GMB Panthers took the game to the league leaders from the first face-off.
Nottingham were missing Steve Lee (suspended) and Dan Spang (injured) from the defence corps, but welcomed back a less than one hundred per cent Evan Mosey to "give it a go" on the blueline.
Shortly after the visitors had just seen off a Panthers' powerplay, the home side swept up the ice and when Zack Phillips shot proved too hot to handle, Robert Lachowicz, helped by Ollie Betteridge, slipped home the loose puck in the eighth minute.
A stretch pass from deep in Panthers' zone from Phillips sent Lachowicz in on the keeper one-on-one and he slipped his, and Panthers' second goal at 14.51.
A late powerplay saw former Panther Myers smuggle home his own rebound with ten seconds left on the period for a 2-1 scoreline at the first break.
Brett Perlini danced out of the corner to the front and fired home a low backhand to stretch the lead at 24.05,
Devils responded by turning up the heat and Michael Garnett pulled off some Champions Hockey League style reaction saves. Coach Neilson took his time out just before half-way to help rest legs after an icing call and try to calm the ship.
Soon afterwards, Panthers went to the powerplay and Luke Pither slithered through the Devils' defence and fed the front of the net from where the puck ricocheted in off Phillips for a fourth Panthers' goal 31.10
Devils pressed again but Nottingham broke out and Mike Vaskivuo bided his time before he teed up Pither who rattled home top shelf for a 5-1 scoreline at 34.18, which was the way of it at the second break.
Nottingham lost recent signing Vaskivuo to injury early in the third and with the puck flying round the home team's zone like a pinball, Devils fired home their second at the back post at 43.28.
Panthers broke up the ice with Alex Mokshantsev, Perlini and Pither combining on a sweeping move which saw birthday boy Mokshantsev score a goal, which stood even after Cardiff asked for a video review at 47.57
When the Devils took two quick-fire penalties, Nottingham quickly converted the two man advantage with Phillips tapping home after hustle from David Clarke and Mark Derlago at 50.28 to see off Devils netminder Ben Bowns, with Tom Murdy taking over with the scoreboard reading 7-2. Game over.