Panthers v Braehead

Nottingham Panthers

Braehead Clan
Match Report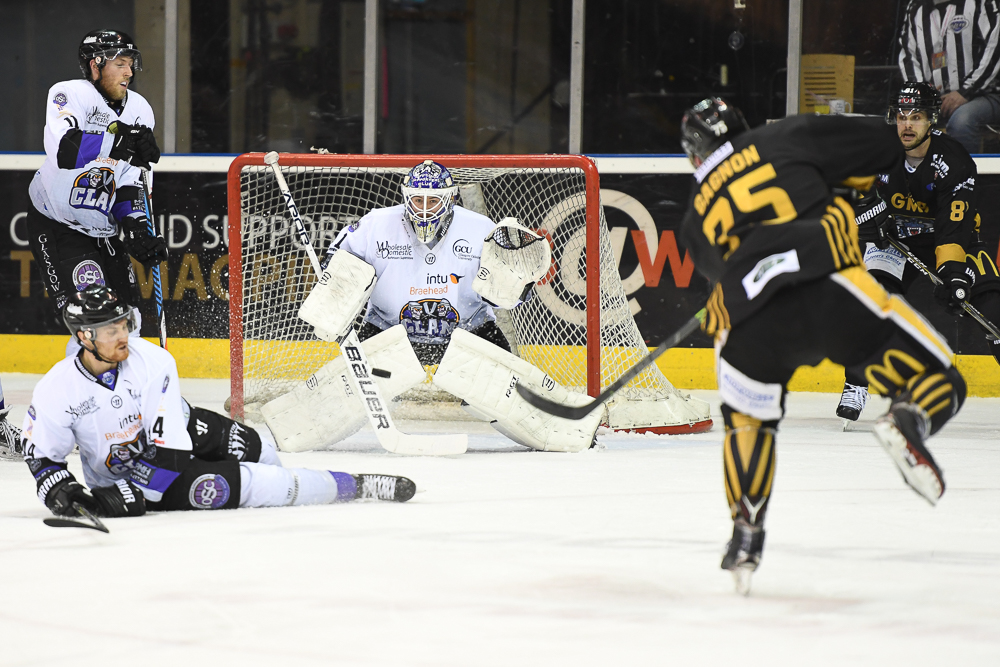 The GMB Nottingham Panthers staged their second home game in as many days with a Sunday afternoon visit by the Clan and they dominated the opening period and took the lead with a smartly taken re-direct on the powerplay when David Clarke placed the puck into the far bottom corner on a feed from Luke Pither just before the half-way stage of the first twenty minutes.
It was a similar story in the second period with more Panthers' pressure, although Clan did hit the pipes on a rare outing down the other end. Jeff Brown swept the puck from behind the opposition net to the front and the advancing Brett Perlini swept home Nottingham's second goal at 29.24.
There was a goal at each end of the ice t the start of the third period with a hard Mark Derlago pass off the right wing boards finding Pither in the right place right in front to fire Panthers further in front after just 58 seconds but Clan floated one in from the edge of the circle just over a minute later and they made it interesting when they converted their first powerplay of the game on a double-rebound at 46.23 to reduce the deficit to one goal.
And they went one better than that with an equaliser from fifteen feet at 58.25. They they took a penalty with 62 seconds left, Yann Sauve hit the pipes from distance and Zack Phillips hit the post too, but Clan held on to take the game into sudden-death overtime.
Just as the overhanging pow play came to an end Pither set up Sauve again and this time he blasted home the sudden-death winner on his birthday!