Panthers v Storm

Nottingham Panthers
Manchester Storm
Match Report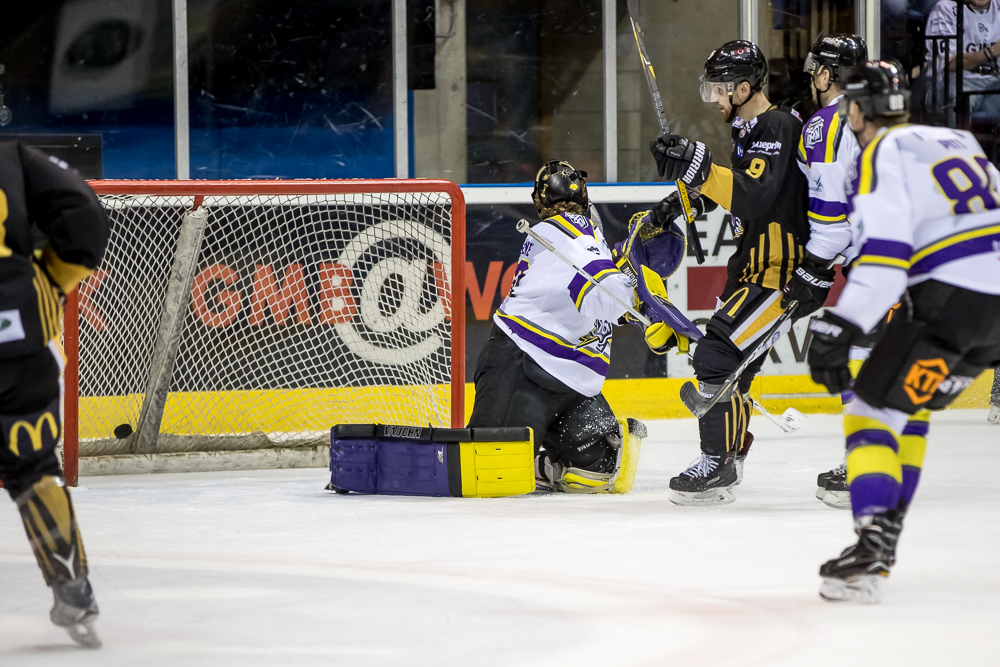 The Panthers camp had said they needed a good start against this Manchester team, who had stolen the extra point on penalties on their last visit just before the holidays, and so it proved to be with home team pressure leading to an interference call against the visitors, which in turn led to the opening goal with Yann Sauve jumping in to the play to finish a four-way passing move at the back post on the powerplay at 4.45.
Several great plays and half-a-dozen chances later, it was still 1-0.
Storm then enjoyed their first extended spell in Panthers' zone which saw them equalise at 12.23.
But, when the Storm gave the puck away in their zone, Alex Mokshentsev's shot was kicked to the corner where he retrieved it and worked it to Jeff Brown who rattled Nottingham back in front just over a minute later.
A stoppage to repair the ice was followed by the best goal of the period, with Brett Perlini and Zack Phillips feeding Mark Derlago who ripped a third goal for Nottingham in the 16th minute.
The second period was a much more scrappy affair by both teams and, after another stoppage for more ice repairs, the visitors hit the only goal of the period moments after Panthers went close at the other end.
It was the same scorer for Manchester, Hammond, with the goal coming at 27.12.
In the third the clocked ticked down and down, and the tension in the building went up and up, until Storm fashioned an equaliser into the roof with just under five minutes left on the clock.
Panthers fired wide at 56 mins, there was a big save at 58 minutes and with 12 seconds left, a stretch pass got the home side in again, only to fire wide and the match went to overtime.
Panthers had their revenge when a Tim Billingsley shot from the blueline found it way into the net at 62.29 for the extra point to make it four wins in a row for the black and gold army.