Devils v Panthers

Cardiff Devils

Nottingham Panthers
Match Report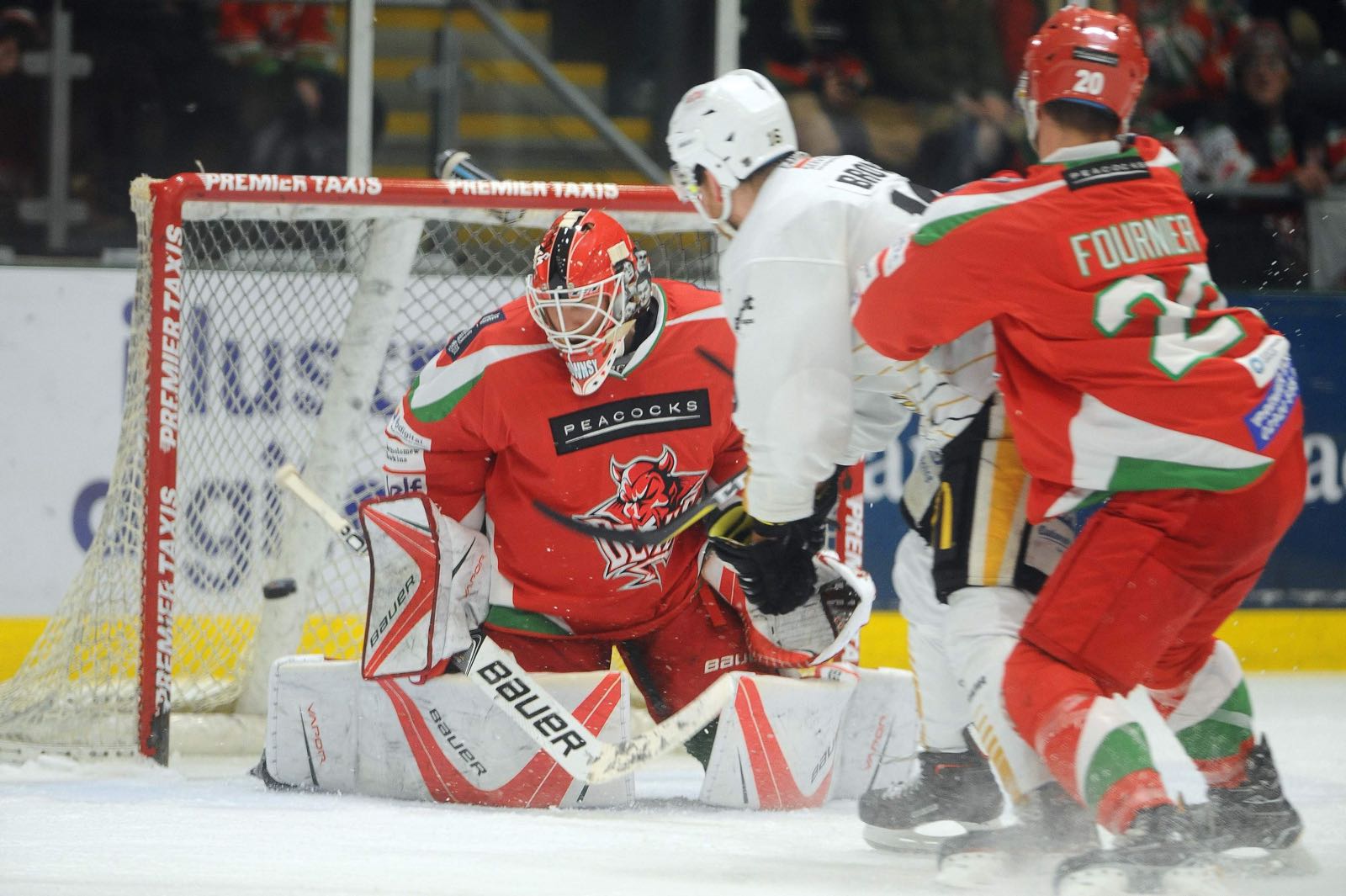 Patrick Galbraith started in nets for Nottingham at league leaders Cardiff.
Nottingham were behind after just 44 seconds, when Pope was allowed to skate out of the corner to the front of net to fire home.
Panthers responded well and forced several scrambles round the Devils' net, but then a crazy two-and-a-half minute spell saw the scoreboard swing into high-speed action.
First a shot was half-saved and lay on the line, but the attempt to clear ricocheted off the back of the keeper and in.
Then a loose puck lay in front and as Devils whacked at it, again a D-man's stick appeared to get the last touch and the puck crossed the line.
Michael Garnett took over in nets for Panthers, but another loose puck saw Martin fire home for a 4-0 scoreline inside the 12 minute mark.
Panthers were still creating chances though and when Erik Lindhagen fed the middle channel, Ollie Betteridge took the puck forward and scored hard and low on the backhand at 12.40.
Steve Lee hit the bar late in the period, but Devils held a 4-1 lead at the first break.
Panthers had the best of the chances throughout the second period and Bowns was busy throughout the session, but after killing a minor penalty from 35.45, Panthers were back on the kill from 38.59 and there was to be a special teams' goal this time around.
It went to Nottingham short-handed with Lindhagen picking a pocket to steal the puck in Panthers' zone, he turned and smuggled a pass forward to Jeff Brown who skated in to score on the back-hand at 39.48.
Panthers won the period 0-1 but still trailed by two going into the third.
And then the Devils scored early in the third on the powerplay when Ulmer had three digs from the doorstep and it was game over.
Both sides enjoyed spells in the opposition zone, but Panthers couldn't find a way through and the clock ticked down to a home win with the visitors wishing they could erase that spell from 9.39 through to 11.16, when the scoreboard spun like a fruit machine.
Photo Credit: David Williams