Flyers v Panthers

Fife Flyers

Nottingham Panthers
Match Report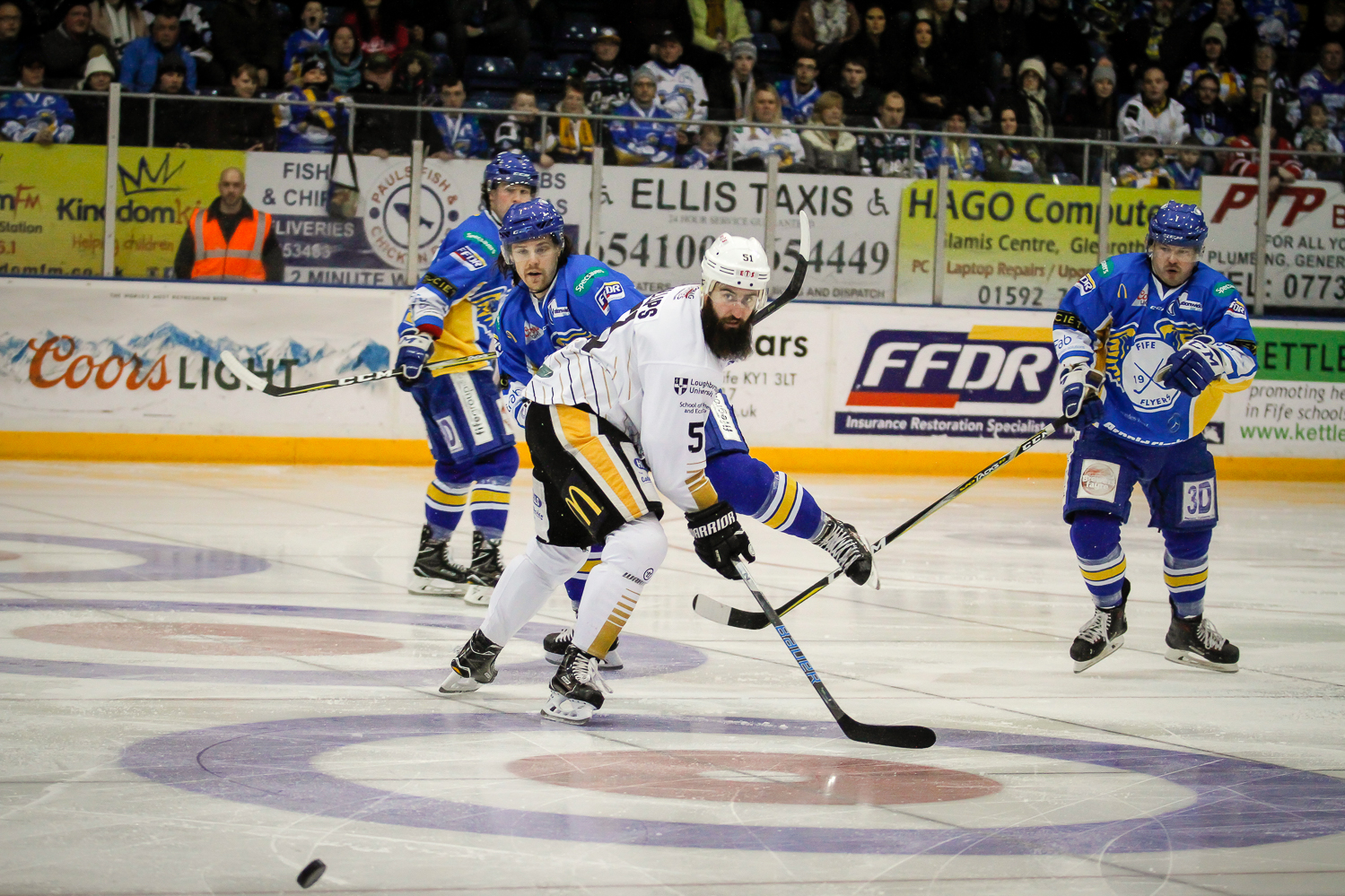 The first period in Kirkcaldy was most notable for the number of stoppages caused by ice technical problems and an injury.
Panthers were told before the game that the goal line technology was out of action then the start was delayed because of Zamboni trouble, then there was a stoppage with the paint showing through near the timekeepers bench, then there was another stoppage as the ice around the home goal was repaired and then Moyer of Fife fell awkwardly and needed treatment on the ice before being helped off by the medics.
Nottingham outshot the home side 10-6 but there were no goals before the first break.
Panthers started brightly in the middle period, but the game ground to halt again as the bluepaint came through on the blueline.
After the re-start Zack Phillips rang the bell when he whipped a shot on to the pipes.
Panthers then had to kill off a couple of penalties before Mark Derlago dished the puck off to Luke Pither who took it wide on the left before turning inside to the advancing Yann Sauve who'd jumped into the play and was all alone in the slot area to rifle home upstairs at 37.05 for the only goal of the first two periods.
Flyers came out flying in the third and when Panthers picked up a cross-checking call after 59 seconds of the final period, they scrambled a powerplay equaliser in a melee round the visitors' net.
Nottingham killed off another penalty but, after a clutch of saves by Patrick Galbraith, Flyers scrambled another rebound goal to take the lead at 47.34.
Sixteen seconds later Panthers responded in clinical fashion as they launched a rush up the ice and Mark Derlago finished with a shot into the roof for a 2-2 scoreline.
Robert Lachowicz lashed a shot off the pipes in a finely balanced ending to the game, but it was Fife who scored the winner, in another close-range attack Galbraith and the defence thought the puck was underneath the keeper outside the goal-line, the referee thought otherwise and awarded the winning goal at 56.28. Nottingham protested that the whistle had been blown for the frozen puck before it was jammed over the line to no avail.
A late penalty call against Fife saw Nottingham go six skaters against four in a bid to grab some reward, but their shots were blocked or saved and they ran out of time.