Panthers v Stars

Nottingham Panthers

Dundee Stars
Match Report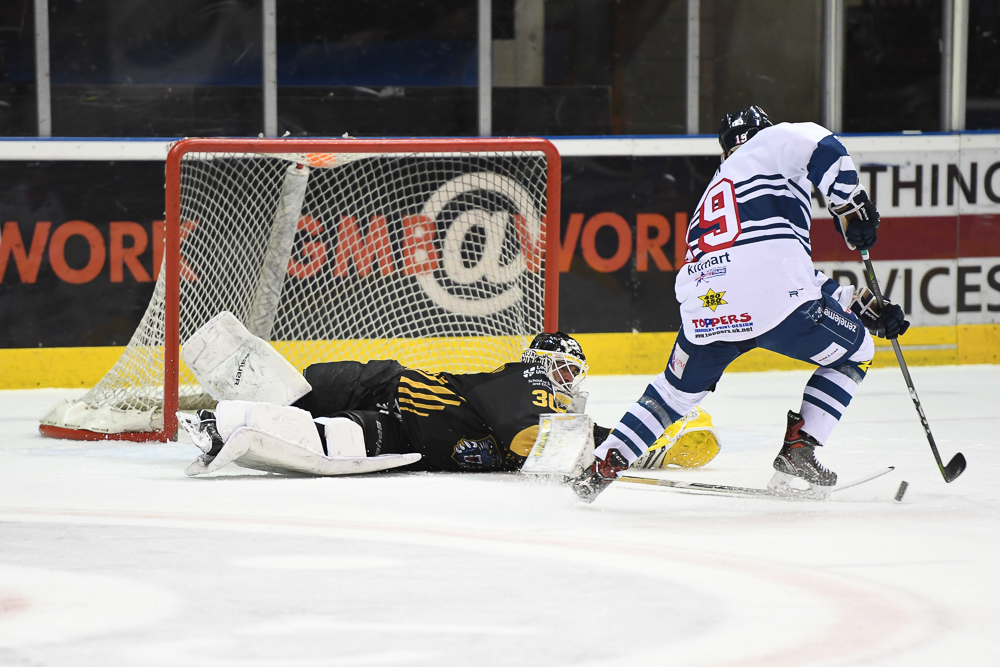 Panthers started with Patrick Galbraith in nets and were at full-strength apart from the suspended Yann Sauve.
GMB Panthers dominated the opening exchanges but fell behind to a breakaway goal at 6.26.
Visiting keeper Fullerton was heading for a busy night and just after his biggest two saves of the period his teammates broke down the ice to open the scoring.
Fullerton then made three more big saves to keep Panthers at bay and despite all the home team's efforts it was the Stars heading to the locker rooms at the first break with their noses in front.
And it got a whole lot worse before it got a smidgen better in the second period as Raphael Bussieres was ruled out through injury.
Stars increased their lead in the 27th minute and then the visitors converted a powerplay in the 32nd.
With a higher degree of urgency showing itself in the Panthers attack David Clarke was able to find Alex Mokshantsev when he joined the action from the bench on the fly and he in turn found the bottom corner to reduce the deficit at 35.19.
A huge poke-check by Galbraith meant Panthers were still down by two at the second interval.
That changed with a nice sweeping move in the third which saw Jeff a Brown drop the puck off for Mokshantsev who fed it back to him and he fired home for a 2-3 scoreline at 44.25 but Stars smuggled home their fourth even though Galbraith got a big piece of it at 46.09.
Panthers pulled their keeper with two minutes to go and took a time-out with 94 seconds left on the clock.
After a scramble and one blocker save another attack saw the puck fall to Zack Phillips and he fired home for a one-goal spread with 59 seconds left.
But there was to be no equaliser.