Panthers v Flames
Nottingham Panthers

Guildford Flames
Match Report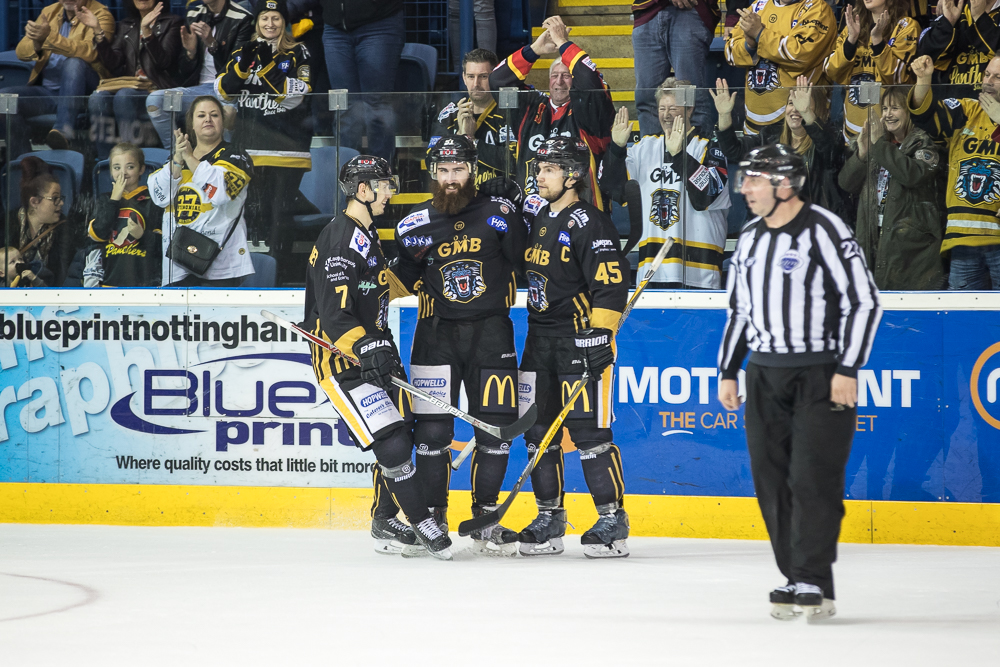 The first half of the first period saw almost exclusive Panthers pressure.
A Robert Lachowicz shot proved too hot to handle and at 2.51 Ollie Betteridge rattled the rebound home to open the scoring.
At the half-way mark of the first period, Panthers went to the powerplay, but short-handed the Flames created no less than five scoring chances.
A breakaway was denied by Patrick Galbraith who also turned the resulting rebound shot away.
From the face-off he made another double block and next shift, Flames rang the bell when a shot came back off the post.
Not the best of powerplay's, but Panthers got back into the swing of things with two late sharp attacks in the closing minute of the first.
After killing a penalty in the second period, Panthers then attacked only to see Flames counter two-on-one and convert at the back post to equalise at 37.09.
Keeper Galbraith needed treatment on the ice after a pile-up on top of him with 2.10 to go in the middle session but was able to continue.
Panthers, with head coach Corey Neilson in Canada on compassionate leave, as is forward Mark Derlago, were successfully killing off a too many men call either side of the second break, but then copped another minor penalty at 41.54 which was also killed off and it sparked a renewed spell of Nottingham pressure, as they upped the gears and forced a string of saves, as well as hitting both posts on separate shifts but for a second time this season, Flames took the Panthers in Nottingham to sudden-death overtime.
And for a second time Panthers won in OT when Alex Mokshantsev dished to the right wing and Zack Phillips found the far bottom corner 53 sounds into added time.