Panthers v Clan
Nottingham Panthers

Braehead Clan
Match Report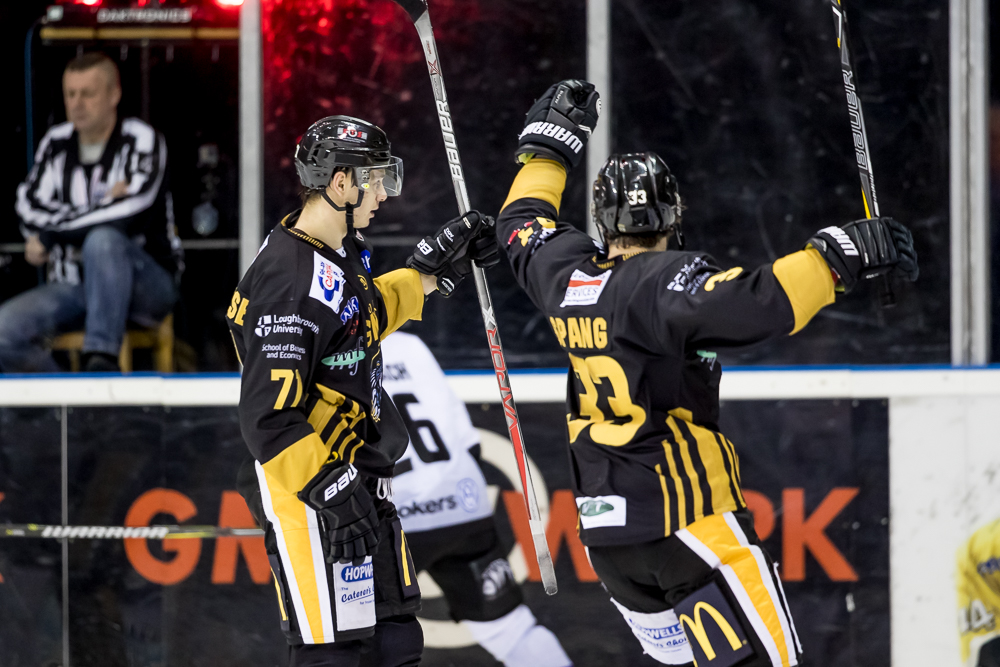 A goalless first period had it's moments with both goalies making fine saves, but it also had an after the Lord's Show feel at times as well, but the second period saw more than a few glimpses of Panthers's sparkling European form, as they hit the net three times to take a commanding lead.
Patrick Galbraith was in nets for Nottingham, Josh Shalla was a last minute withdrawal as a precaution and Mark Derlago flew back from compassionate leave earlier in the day and jumped straight back into the line-up for the home side.
Steve Lee got involved in a Braehead breakaway and the referee awarded the visitors a penalty-shot at 22.08.
Galbraith saved it and next shift, Alex Mokshantsev danced through neutral ice and delivered the sweetest of drop passes for Dan Spang to spring forward and fire home upstairs to open the scoring at 23.15.
Less than a minute later, Clan were level with a hard low shot into the bottom corner from twenty feet, but Panthers were starting to find their rhythm and when Raphael Bussieres shot rebounded off the goalie's chest to the front, Mokshantsev backhanded Panthers back in front at 26.20.
As Clan got away with six skaters on the ice for several seconds without being called, Jeff Brown drove forward, then slipped the puck ahead to Robert Farmer who rattled in a third for the home side to leave the second period on a 3-1 scoreline.
Any Clan hopes of a big comeback were extinguished early doors in the third period, when two Panthers' goals in 41 seconds saw the visitors take their time out at 5-1 at 42.34.
Panthers' fourth goal came when Yann Sauve drove forward down the right wing and fed Mark Derlago to score on his second bite of the cherry, and the fifth saw Panthers mesmerise the defence until the puck fell to Evan Mosey in the high slot with the keeper out of position.
Braehead went with six skaters for a much longer spell and the officials again failed to realise until the Panthers' bench made enough noise, and the officials finally realised what everyone was trying to tell them.
The Panthers powerplay created chances, but didn't convert and the home penalty killers did a good job, not for the first time, when the home side picking up a minor penalty in the fiftieth minute.
And the game ran down with no further scoring.
The result, coupled with Sheffield's 3-1 win over the Manchester Storm, means the Panthers join the Steelers as qualifiers from the group stage of the Challenge Cup.