Panthers v Devils
Nottingham Panthers

Cardiff Devils
Match Report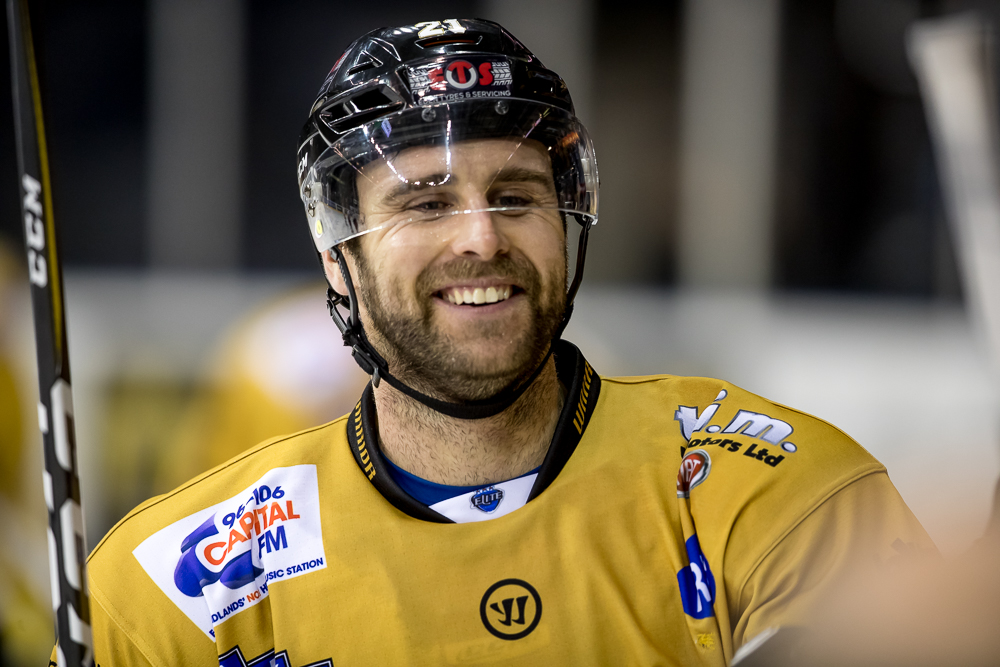 In front of the biggest home Sunday crowd of the season, the GMB Panthers took on a Cardiff Devils side which had shipped six powerplay goals to lose at home 24 hours earlier.
In this one, Devils killed off four first period penalties and took the lead in the middle of the session, when a long range shot trickled through after Panthers' keeper Galbraith got a big piece of it.
Panthers killed an overlapping penalty themselves at the start of the second period and Mark Derlago came out of the box to immediately pick a pocket and steal the puck, which he carried in to the opposition goal. It squeezed out the other side of the blue paint, but he retrieved it himself and took it back to the goal before smuggling in an equaliser off keeper Bowns.
Deep hustle saw Panthers hunt down a go-ahead goal, which came when Zack Phillips set up the advancing Yann Sauve at 28.43,
But a mid-ice giveaway gave Devils a chance to steal in a score close-range, before they did something similar on the end of a stretch pass at 36.50 to regain the lead.
Early in the third Mathieu Gagnon - who sorted out a Devil called Tyson in the first - carried the puck from near to Panthers' net and all the way along the left wing, before ripping home an equaliser hard and low.
A deflection went just the wrong side of the Devils' post, but on the same shift a shot and rebound fell to Brett Perlini who fired home off a tight angle to put Nottingham in front at 54.17.
Two shifts later, Nottingham broke out down the left wing and Josh Shalla bided his time before sending the puck across to Robert Lachowicz who rattled in upstairs and a two goal cushion.
Cardiff went to the powerplay on a harsh tripping call against Panthers. The visitors pulled their keeper to go six skaters against four, Nottingham won possession and Erik Lindhangen carried it over the half way line before hitting the empty net deal-sealer at 56.30.
Cardiff did convert the powerplay off a tight angle as a consolation and Panthers' powerplay had another go before the end of the match, which finally worked when the visitors pulled their keeper again and, although Perlini's attempt came back round off the outside of the post, Robert Farmer mopped up for a handsome win in the end.