Storm v Panthers
Manchester Storm
Nottingham Panthers
Match Report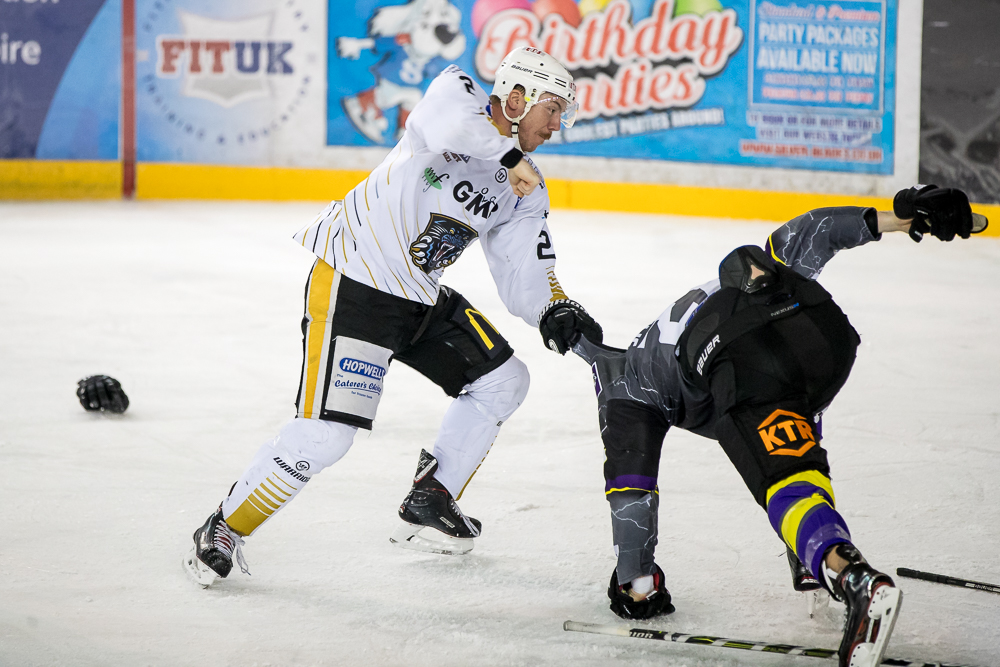 As expected coach Corey Neilson gave his young guns a run-out in the Challenge Cup game at Manchester.
Storm were already out and Panthers were already through before the face-off. Sam Gospel started in nets with Patrick Galbraith backing-up. There was no Sauve, Clarke nor Brisebois for Nottingham and Josh Tetlow, Jordan Kelsall and Joe Hazeldine were all icing on regular shifts.
Storm opened the scoring off a rebound in the fourth minute but the GMB Panthers were on level terms at the first break thanks to a neat powerplay goal late on. Alex Mokshantsev jumped up to pull the puck out of the air at left point with his glove and then stretched with his stick to turn it forwards to Zack Phillips. He passed it inside to Mokshantsev who'd spun to join the play again and he fed Mark Derlago at the back post to rattle in the equaliser. Between times Jeff Brown won a good tilt with Stringer and for a dead rubber match the first period certainly had its moments.
GMB Panthers jumped into the lead early in the second period when Robert Farmer sent the puck forward to the advancing Jeff Brown to slip in a goal for a 1-2 scoreline at 22.12 but just over a minute later Storm equalised and then another scruffy goal (they all count) saw the home side take the lead when Gospel scrambled towards his own rebound but couldn't get there first.
With Panthers on a powerplay and pressing to equalise Mokshantsev had his legs kicked out from under him on the boards but there was no call and Storm were allowed to skate away two-on-one short-handed to score at the back-door with Moffat's hat-trick effort to take a 4-2 lead into the final period.
A neat powerplay goal saw Robert Farmer finish off a tic-tac-toe move at 43.39 for a 4-3 scoreline but Storm worked the puck from East to West to score at the back post to restore the cushion with nine-and-a-half minutes to go. There was no further scoring but time for the gloves to come off for Stringer's second five minute fighting penalty of the game with ten seconds left on the clock, this time with Mark Derlago. Storm 5 GMB Panthers 3.