Panthers v Flyers
Nottingham Panthers

Fife Flyers
Match Report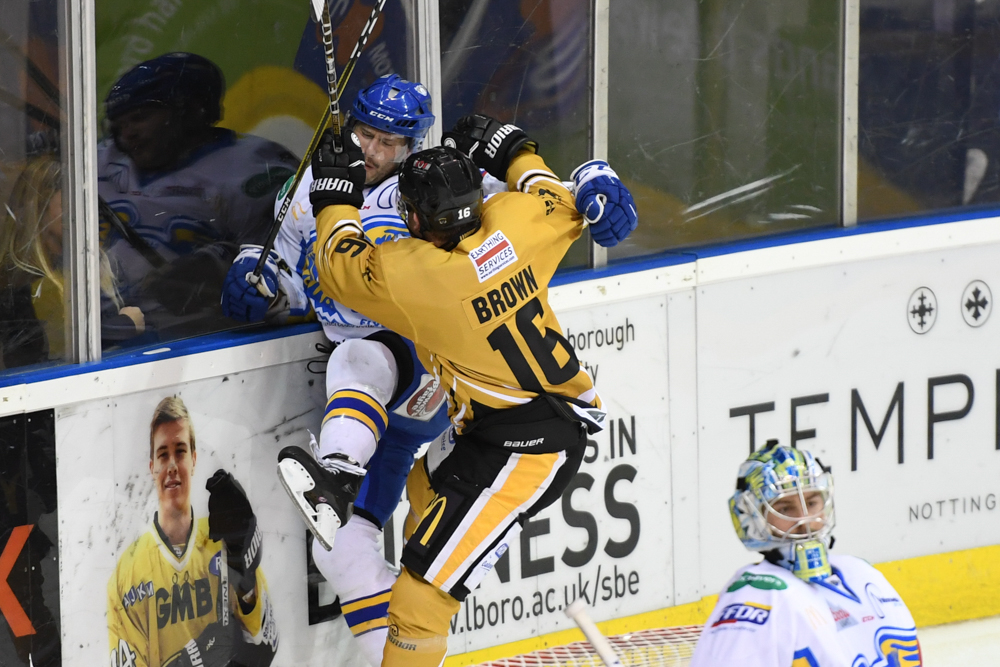 A blistering start by the GMB Panthers saw Mark Derlago land a big clean hit deep in enemy territory, which helped free up the puck which Brett Perlini returned to Derlago all alone in front of goal and he beat the visiting netminder to open the scoring after just 13 seconds.
Panthers broke up a Fife attack and Josh Shalla took the puck from our hash-marks down the ice, round the defence and then round the keeper to double the lead after exactly nine minutes.
And after spoiling another Flyers' attack, Panthers carried the puck to the other end and Erik Lindhagen bided his time before setting up Brett Perlini for a third at 11.12.
Fife got one back on a powerplay in the fifteenth minute.
The first half of the second period was something of a shooting clinic by the home side without adding to their tally, but a powerplay saw them take advantage when Perlini teed up David Clarke for a trademark goal from the edge of the circle just past the half-way mark of the game.
Flyers got round the back off the left wing though and reduced the deficit back to two goals at 33.33.
With Panthers seemingly playing within themselves, the first half of the last period passed without incident and then Nottingham comfortably killed off a minor penalty, but soon afterwards the visitors got away on a two-on-one and converted upstairs at the back door with just over six minutes left to make it a one-goal spread and more tense finale than we would have liked.
It got worse though, when the visitors pulled their keeper just as a shot ricocheted off the home keeper at the other end of the ice and then appeared to bounce back off the top of the net and in off his back with 69 seconds left in regulation to tie the game, bringing sudden-death overtime coming in to play, but not for long.
The visitors sent a man in and after 36 seconds he beat Garnett through the five hole to claim the extra point.