Steelers v Panthers

Sheffield Steelers
Nottingham Panthers
Match Report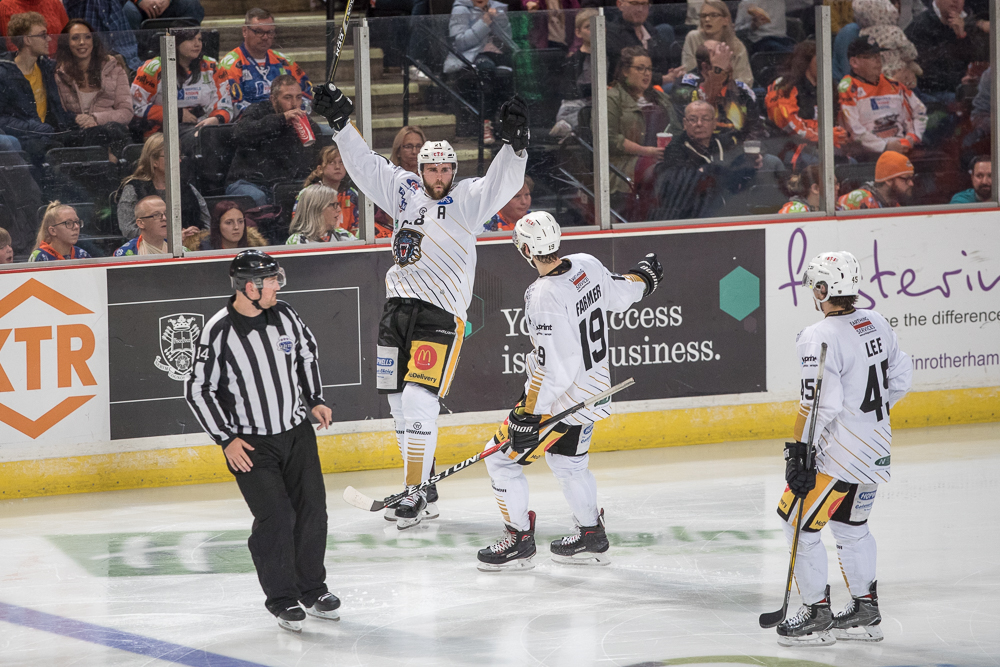 Sheffield turned in their brightest period against Panthers of the season so far at the start of this big league clash in Yorkshire and took the lead with a powerplay goal from the top of the circle in the fifth minute.
After killing another Steelers man-advantage, Panthers went close on a powerplay of their own and forced a quick-fire double save, but the equaliser came a short time later at full strength, when Tim Billingsley slipped the puck forward to Robert Farmer and he showed slick hands to get to the front of the net and flip home from close-range.
A seemingly harsh penalty to Raphael Bussieres, which came after he pushed a Steeler out of the way as he tried to get to the team bench after losing his helmet, was killed to the break and the sides started the middle period locked at 1-1.
But not for long, first shift of the period saw Brett Perlini shoot from a tight angle and, thought the keeper got a piece of it, it came out the other side and 47 seconds in Yann Suave rattled home Panthers's second goal.
With Panthers flowing, a spell of four-on-four action saw Nottingham win the draw in their end, then pass "D" to "D" and then fire home a third goal by Tim Billingsley at 24.16.
Mathieu Gagnon and Fitzgerald had another blistering toe-to-toe scrap, which saw Gagnon's big bomb put the Steeler down, but to give him credit he got back up, though the fight drew to a premature end when Gagnon had to withdraw in effect because of a cut.
The period ended with a spell of Steelers' pressure and, when we failed to clear the zone, they fired home a rebound to reduce the deficit to 2-3 and set up a third period finale.
Gagnon was back out for the start of the third after suffering a cut to the top of head, possibly from a clash of heads.
Both sides had good scoring chances in the third, but a late powerplay to the home side gave them a chance to equalise which they took with just 74 seconds left.
No more scoring, so the sides took a point each and there was one more up for grabs after overtime in the shoot-out, where man of the match Mike Garnet denied all three Steelers attempts while Mark Derlago fired home for Panthers!