Panthers v Capitals

Nottingham Panthers

Edinburgh Capitals
Match Report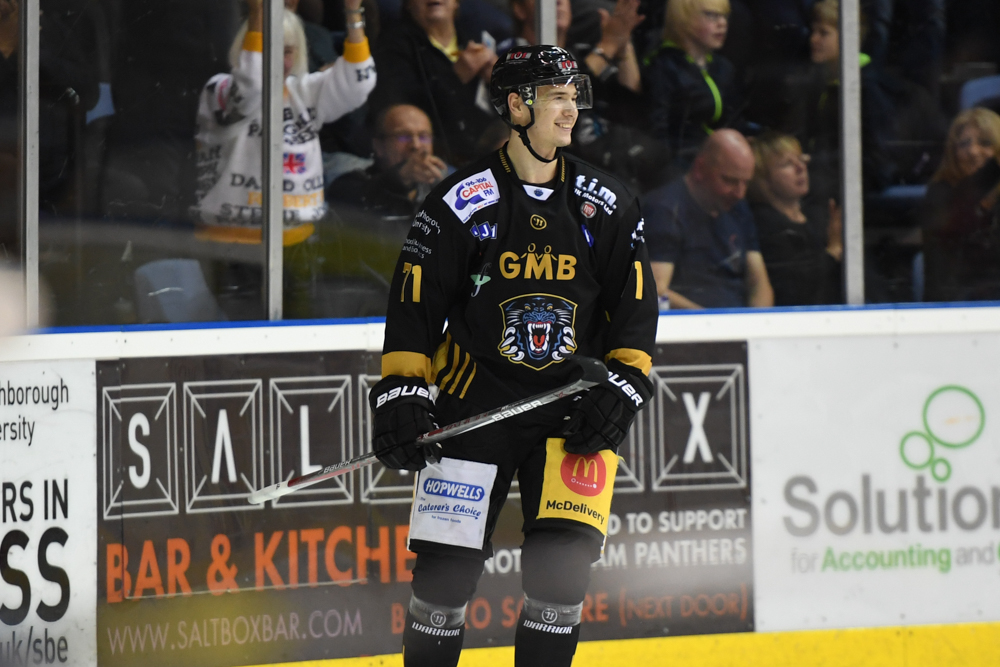 In another dominating performance the GMB Panthers started by outshooting the Edinburgh Capitals in the first period by 22 shots to eight.
Those shots rained in on the visitor's net and after a ton of pressure, Tim Billingsley broke the deadlock when his shot proved too hot to handle at 14.18 and it looped up and over and in.
Apart from a couple of breakaways it was all Nottingham, but in the last minute Edinburgh got away on a two-on-one and converted at the backdoor to equalise.
In the middle period Nottingham outshot the Capitals two-to-one and, although they had a goal disallowed on video review for going in the side door, they again took the lead when Alex Mokshantsev danced out of the corner and left the defence and the goalie stranded before popping Nottingham in front at 32.19.
Some monstrous glove saves kept Nottingham to a one goal lead and then, just as in the first, Caps got away to the races and converted in the last minute to equalise again.
With it all to play for with twenty minutes to go, despite a shots on goal running tally of 37-14, it started raining goals instead of shots in the third with three home goals in 81 seconds and a one-sided scrap in favour of Panthers.
On a powerplay Mark Derlago had two digs for victory before the puck squirted out the far side to Mokshantsev to score his second.
Next shift, old fashioned hustle earned a two goal cushion with Erik Lindhagen bustling to a David Clarke rebound and just like buses, there was another round the corner with a Mathieu Gagnon blast and although Evan Mosey couldn't reach the rebound, Brett Perlini could.
And next shift, after some push and shove at a whistle, Josh Shalla handed out a lesson in manners when the gloves came off.
Panthers continued to dominate, as they had all match long, but that whirlwind of action had sealed the deal in the 48th minute