Devils v Panthers

Cardiff Devils
Nottingham Panthers
Match Report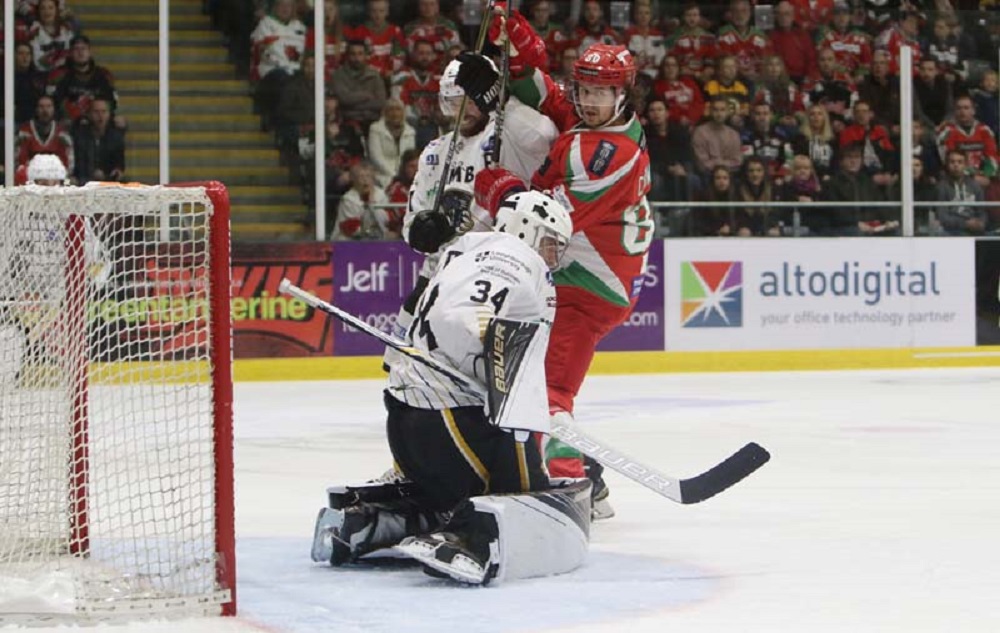 A fairly even first period saw Cardiff bag the only goal when Morrisette put his own rebound away in the sixth minute.
Panthers had their best spell after weathering the sticky ice at the start of the second period, but a turnover saw Devils double their lead in the 35th minute and 36 seconds later it was 3-0, when Yann Sauve off his knees at the right half-boards played the puck back towards goal and it evaded Mike Garnett to go in.
Mark Derlago rang the bell when he rattled the post around the 36 minute mark and Josh Shalla had a blast from six feet blocked a minute later.
Devils went to the other end and fed the front for a wrist-shot, which Garnett got a piece of, but it looped in and Panthers' bench pulled their starter to send Sam Gospel in for the rest of the game from the 39th minute.
When Jeff Brown turned the puck inside, Erik Lindhagen pulled a move to offset the defence and he backhanded Panthers on to the scoreboard to give them just a sliver of light at the end of a long tunnel at the second break.
The third period was delayed as the officials waited for the ice to freeze, but hopes of a comeback were dashed when Cardiff went east to west on a powerplay to score in the 54th minute, and twenty seconds later Batch put his own rebound away for an uncatchable 6-1 lead.
A powerplay goal for Nottingham in the 57th came after a Zack Phillips shot fell loose and Raphael Bussieres and Alex Mokshantsev were on hand to sweep away the crumbs, but it was no more than a consolation marker.