Panthers v Steelers
Nottingham Panthers

Sheffield Steelers
Match Report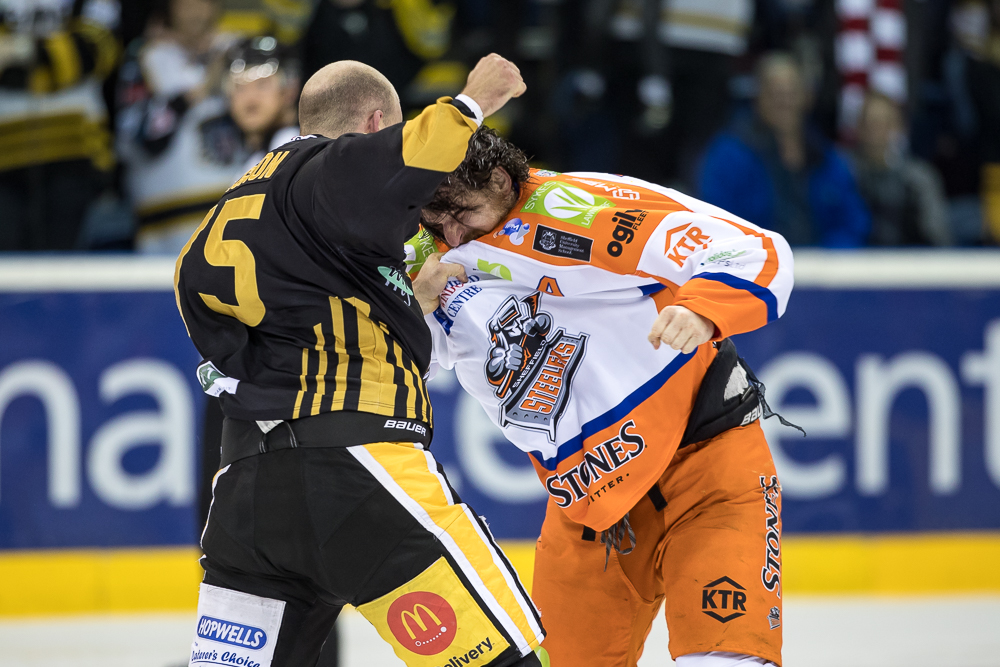 A packed house to watch the biggest of rivals clash in the Challenge Cup and the visiting keeper was very busy early doors, as were Jeff Brown's fists when he dealt with Ramsay in the seventh minute.
On Goose Fair weekend, it was like a shooting gallery around the Steelers net, but they stole down the ice and cut in off the right wing to fire home hard and low to open the scoring at 12.08.
Some big saves at both ends and then another rally round the visitors' cage, but again Steelers broke the other way and a half blocked shot got through and their lead was doubled at 17.18 and that was the way of it at the first break, despite the home side out shooting the visitors 23-9.
Mathieu Gagnon and Fitzgerald had been having words and just as Zack Phillips slipped Panthers on to the board the gloves came off.
One punch later the Steeler was down and underneath the Panther.
He asked for an instant rematch and Gagnon obliged and an old fashioned toe-to-toe followed with the home man again the winner, but both showed their warrior instincts.
After Panthers tried and failed on a minute of five-on-three power play and a further three minutes of five-on-four, Steelers got one of their own and Dowd bagged his second goal from the left circle to restore the two goal cushion 35 seconds ahead of the second break.
Josh Shalla scored off his own rebound after an initial blueline blast by Mathieu Brisebois with seven minutes left, to set up a tense finale to the game.
But even with six skaters against four for the last minute, on a late high sticking call against the visitors, the home side couldn't force a much wanted equaliser and Steelers kept their slender lead to the final hooter.