Steelers v Panthers

Sheffield Steelers
Match Report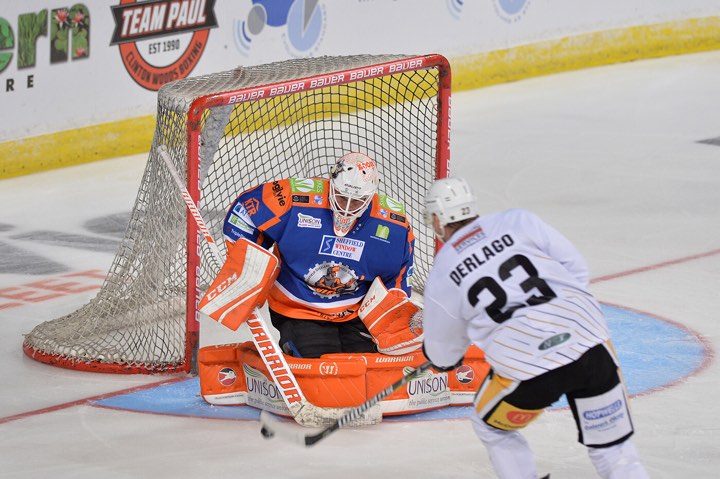 Sam Gospel started in nets for Nottingham with Brisebois the only absentee.
In a blistering first ten minutes for the GMB Panthers they fired home three unanswered goals.
Dan Spang from deep got the puck to Josh Shalla who dished out to the left wing and Robert Farmer fired the first at 3.26.
Great work out of the defensive zone, with Tim Billingsley jumping in to the play, saw Panthers surge forward in the tenth minute and Shalla helped the puck on to Yann Sauve in the slot and he picked his spot for the second visitors' goal.
Then Panthers swept up the left wing just under a minute later and Alex Mokshentsev got the assist after Mark Derlago nailed the top shelf at 10.05.
Steelers got back into the match with two gifts though.
Nottingham swatted at the puck three or four times without clearing the danger and Dowd pounced in the 14th minute and when Nottingham coughed up the puck in the last minute of the first period, O'Connor came in from the blue line to blast the home side's second leaving the scoreboard at 2-3 at the first break.
In the second period a Shalla shot rebounded to Brett Perlini who put a backhand shot away to restore the two goal cushion, but 27 seconds later Panthers failed to mop up in front of Gospel and Steelers popped home their third.
And when we gave it away again Sheffield capitalised to equalise just past the half-way stage.
Mokshantsev danced through the tulips with at least one nutmeg along the way and then fired a beautiful wrist-shot home to put Panthers back in front, but Steelers tied the game up at 5-5 when they worked the play down the left channel and fired home low in the 36th minute.
With ten goals already scored the third period was sure to tighten up and so it did, but there were chances at both ends in the closing moments before the sport showed its cruelest side to the Panthers, as Steelers stole both points in regulation time with a game winning goal with ONE second left on the clock.