Steelers v Panthers

Sheffield Steelers

The Nottingham Panthers
Match Report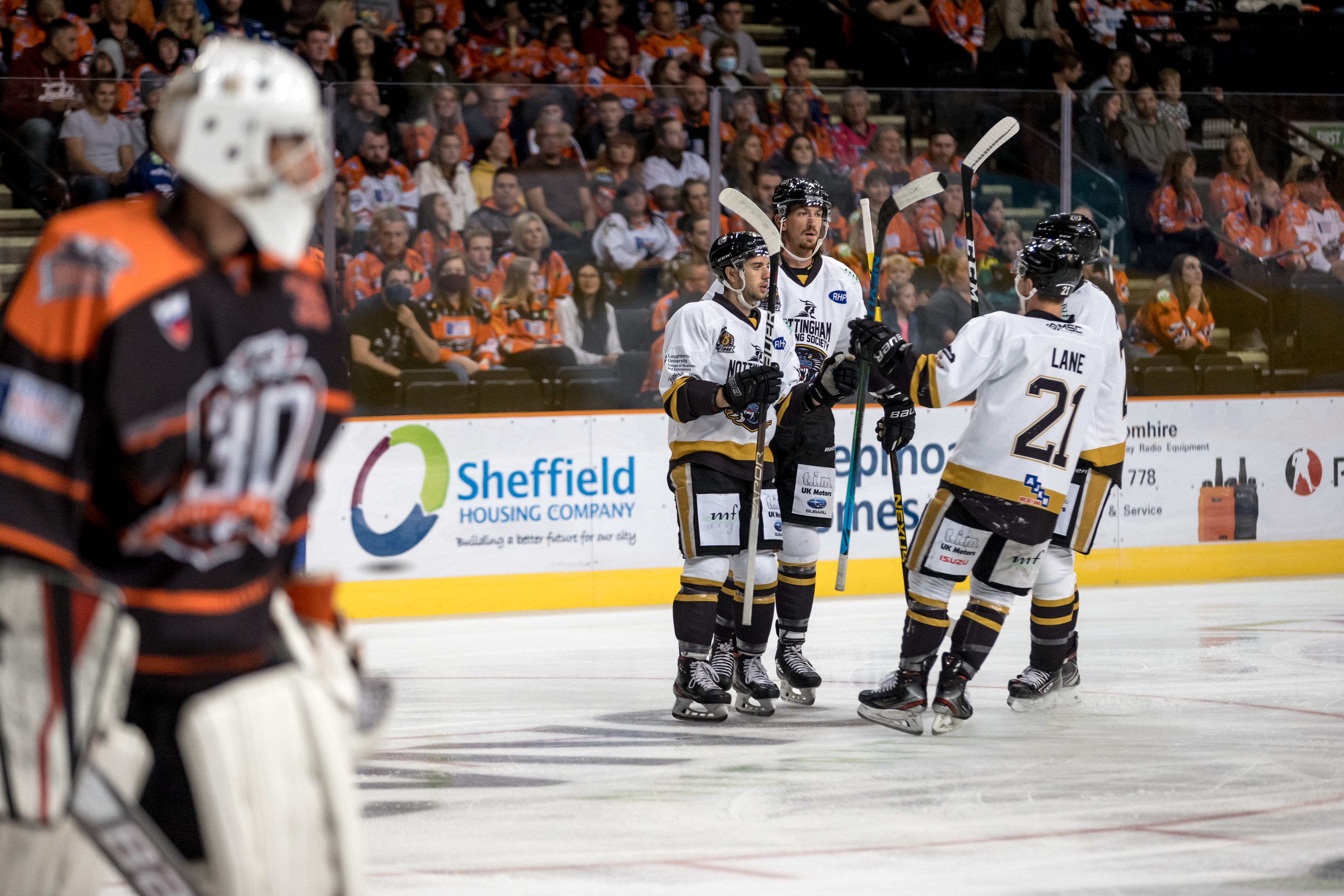 THE NOTTINGHAM Panthers' INTERMOTOR sponsored pre-season training camp concluded with a win over arch-rivals Sheffield in Yorkshire on Sunday afternoon.
Kevin Carr started in goal for the Panthers opposite Rok Stojanovic for the Steelers.
Nottingham were without Kevin Domingue (precaution) whilst Sheffield could not dress defenceman Adrian Saxrud Danielsen after he was suspended following Saturday night's Aladdin Cup game.
The Panthers got off to the perfect start when Massimo Carozza (2.05) picked a pocket and beat the Steelers' netminder through the five-hole, things got even better less than two minutes later when Christophe Boivin's (3.34) quick shot hit the back of the net to give Nottingham a two-goal lead.
Just after the midway mark of the period Matthew Myers (13.15) fired a one-timer home on the powerplay to put the Panthers up by three.
Sheffield did have a goal washed out after it was converted with a high-stick but they did manage to pull one back with just 20 seconds remaining in the period.
Robbie Baillaregeon (29.30), in his second game after just one full training sessions with the team, restored the Panthers' three-goal advantage when he picked up a rebound and swept it across the line in close just prior to Will Kerlin, who Head Coach Tim Wallace was keen to get valuable ice-time before the start of the regular season this coming Sunday, taking over from Kevin Carr between the pipes.
The GB youngster was called upon right away to deny the dangerous Anthony DeLuca which he did with minimal fuss.
Sheffield did halve the Panthers lead on a powerplay but Nottingham held on, Kerlin denying Marc-Oliver Vallerand on a breakaway, to stay ahead by two going into the second intermission.
The Steelers threatened to send the game to overtime when a shot through traffic had eyes only for the net but Robbie Baillargeon (59.42) scored his second of the game into the empty net, after Sheffield pulled their netminder in favour of the extra attacker, to seal a pre-season win for the Panthers.