Panthers v Storm

The Nottingham Panthers
Manchester Storm
Match Report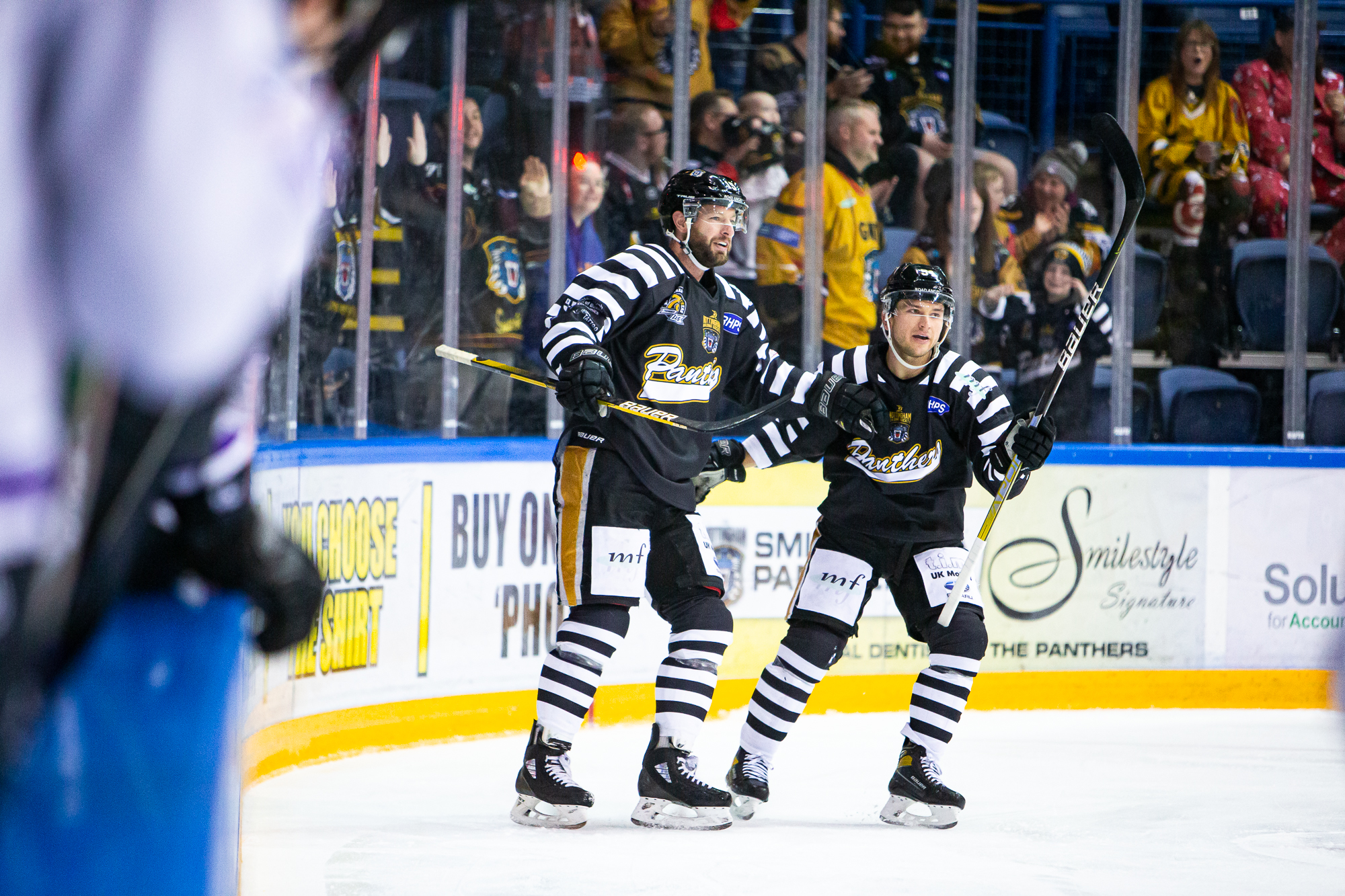 The Nottingham Panthers weathered the storm on Sunday afternoon as they picked up two points in the Premier Sports Challenge Cup.
Will Kerlin started between the pipes for the Panthers opposite James Downie for the Storm.
Just after killing a penalty midway through the first frame the Panthers took the lead when Jeremy Welsh (10.32) dangled past a defenceman and fired the puck across the netminder and into the back of the net.
Kerlin was forced into a a couple of good saves late on but a tightly contested period ended with the Panthers holding a one goal lead.
Matt Lane (20.46) doubled Nottingham's lead with a one-timer at the back door just as the second period got underway.
Manchester pulled one back thorugh Adam Brady (27.28) right off of a face-off and then tied the game less than two minutes later when Dallas Erhardt (29.06) converted on the powerplay.
Just over a minute after that goal the Storm found themselves in front, Frankie Melton (30.24) taking advantage of a prone Kerlin, who had been taken out in an unfortunate collision with his own backchecker, and firing high into the Panthers' net.
Robbie Baillargeon (33.29) briefly tied things back up, when he re-directed Jeremy Welsh's cross ice feed across the goal line, but the Storm caught the Panthers out on a line change and Adam Brady's (36.12) second goal of the night sent the visitors into the second intermission holding a one-goal advantage.
Nottingham pushed & pushed in the final frame but ran in to some late penalty trouble that halted their momentum but with the clock winding down and Kerlin pulled in favour of the extra attacker Robbie Baillargeon (59.54) was on hand to send the puck over the line and to send the game to overtime.
The extra period couldn't decide a winner, Kerlin coming up huge on multiple occasions late on as the Storm pressed, but it was the Panthers who sealed the second point in the shootout thanks to goals from Mathieu Tousignant & Christophe Boivin.