Panthers v Steelers

The Nottingham Panthers

Sheffield Steelers
Match Report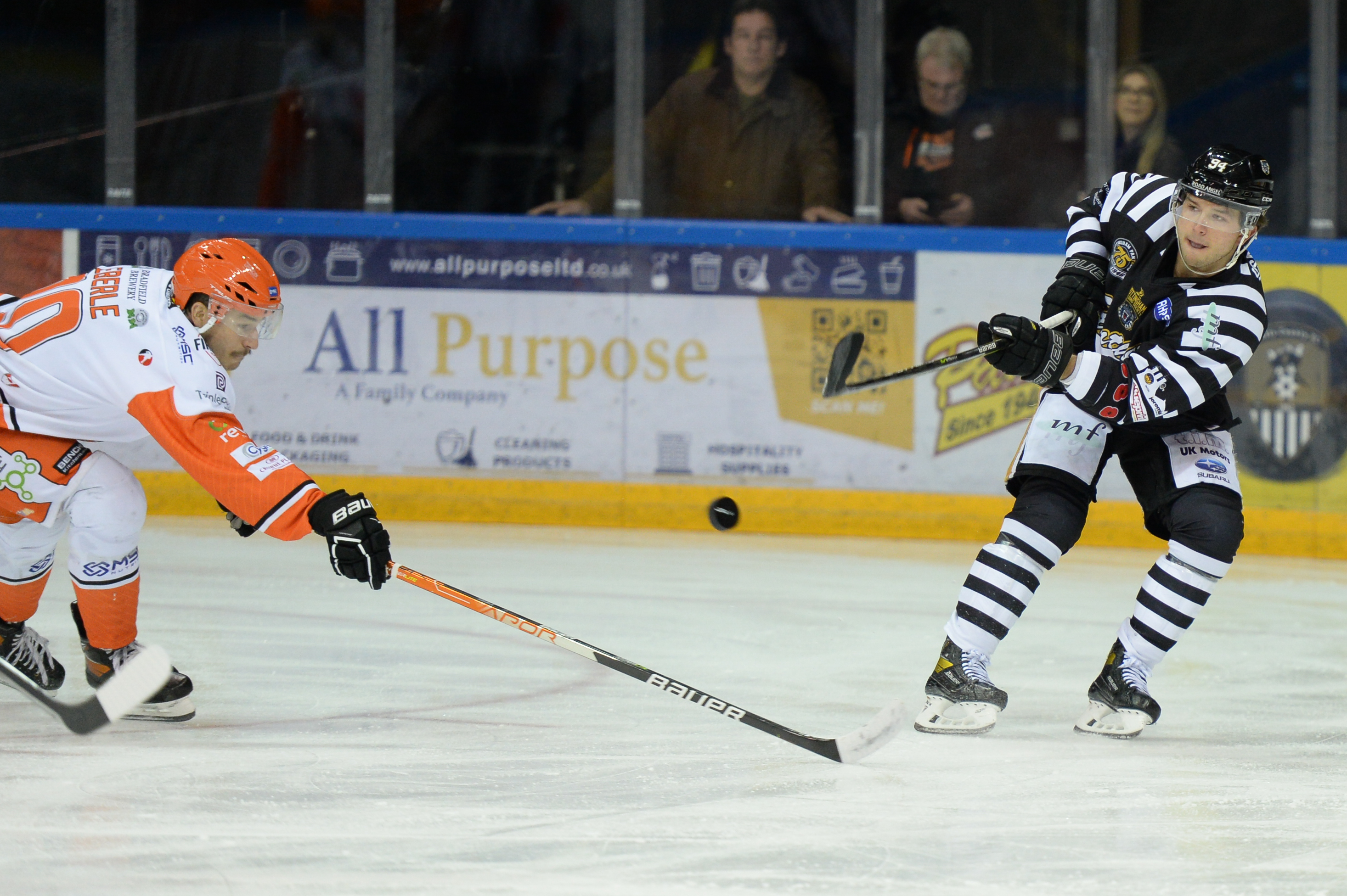 The Nottingham Panthers & Sheffield Steelers met once again on Saturday night and it was another close encounter inside the Motorpoint Arena in what is becoming an enthralling season series between the two sides.
Kevin Carr started between the Panthers opposite Rok Stojanovic for the Steelers.
Josh Tetlow & Christophe Boivin both came close to opening the scoring for Nottingham early doors but it was Sheffield who took the lead when Robert Dowd (6.09) fired a one-timer into the back of the Panthers net on the powerplay.
Neither side could gain further ground in the period as both defences & netminders produced solid play meaning the visitors went into the first intermission holding a one-goal lead.
With Robbie Baillargeon in the penalty box Mathieu Tousignant drew a roughing call out of the Steelers Anthony DeLuca and when the Panthers went to full strength they tied the game on the powerplay, Matthew Myers (27.42) beating Stojanovic up high off of a great feed below the goal line from Jeremy Welsh.
Welsh almost put the Panthers into the lead shortly afterwards, the forward dangling round a defenceman and firing off a shot only to see it come back out off of the post.
Nottingham killed two late penalties, including a brief moment of five-on-three advantage for the visitors, but just as Taylor Doherty got back into the play after leaving the box the Steelers re-took the lead when Matias Sointu (39.01) re-directed in front.
Sheffield used the momentum of that late second period goal to score early in the third frame, Martin Latal (43.50) beating Carr on the blocker side to make it 1-3 in favour of the visitors.
Christophe Boivin then became the second Panther to be denied by the post on the night as Nottingham looked for an instant reply.
The Panthers had a golden opportunity to get back into the game when John Armstrong was sent to the penalty box for slashing but couldn't make their man-advantage count, Sheffield doing a good job of clogging up the shooting lanes before returning to full strength.
Nottingham didn't give up but couldn't find a way through a stubborn Steelers defence and it was the men from Yorkshire who took the two Premier Sports Challenge Cup points on offer.