Steelers v Panthers

Sheffield Steelers

The Nottingham Panthers
Match Report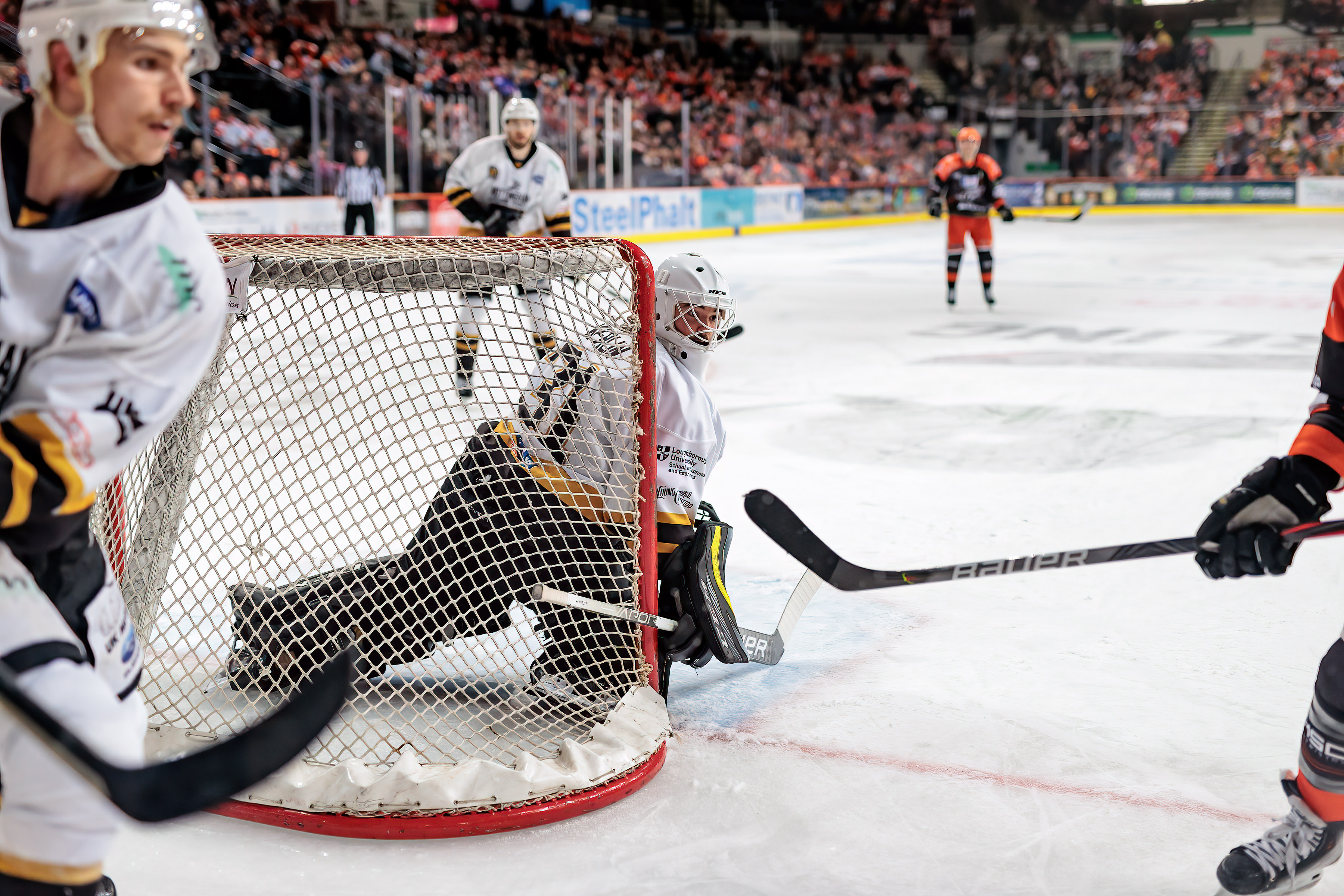 The Nottingham Panthers wrapped up the round robin phase of their Premier Sports Challenge Cup campaign with a win in Sheffield over the Steelers on Saturday night.
Kevin Carr got the start in goal for the Panthers opposite Rok Stojanovic for the Steelers.
Sheffield took the lead through Alex Graham (6.22) but just after the period passed the halfway mark the Panthers scored two in quick succession to put themselves in front.
First Jeremy Welsh (11.23) was in the right place at the right time to fire the puck over the line from the slot and then less than a minute later Simon Suoranta (12.17) converted at the back door.
J.C. Brassard (15.36) gave Nottingham a two goal lead going into the first intermission when Suoranta dropped the puck off for the defenceman who ripped a shot into the back of the Steelers' goal from the top of the right wing face-off circle.
There was no scoring in the second frame but Will Kerlin replaced Kevin Carr between the pipes, a decision made long before the team travelled up to Yorkshire on Saturday night.
However, there was no lack of scoring in the third period.
Sheffield pulled a goal back early in the frame when Alex Graham's (42.27) shot from the point through traffic eluded an unsighted Kerlin.
Just over two minutes later Jordan Kelsall (44.42) backhanded a rebound over the line to restore Nottingham's two goal lead.
Everything seemed comfortable for the Panthers heading into the final five minutes thanks to back-to-back powerplay but they failed to heed the warning of Sheffield getting short-handed odd-man rushes.
Kerlin had to come up big twice to deny Sheffield whilst Nottingham were on the man-advantage, including a brilliant save to deny former Panther Evan Mosey, but when the Panthers let Sheffield in for a third time they paid the price when Martin Latal (57.08) fired in.
Less than 50 seconds later Sheffield used the momentum of that goal to tie thr game thorugh Matias Sointu (57.51) and send the game to overtime.
Nottingham went to another powerplay in the extra period and this time they made it count, Christophe Boivin beating Curtis Warburton, who had replaced Stojanovic for the third period, with a quick shot from the slot to seal the extra point for the Panthers.