Panthers v Flames

The Nottingham Panthers

Guildford Flames
Match Report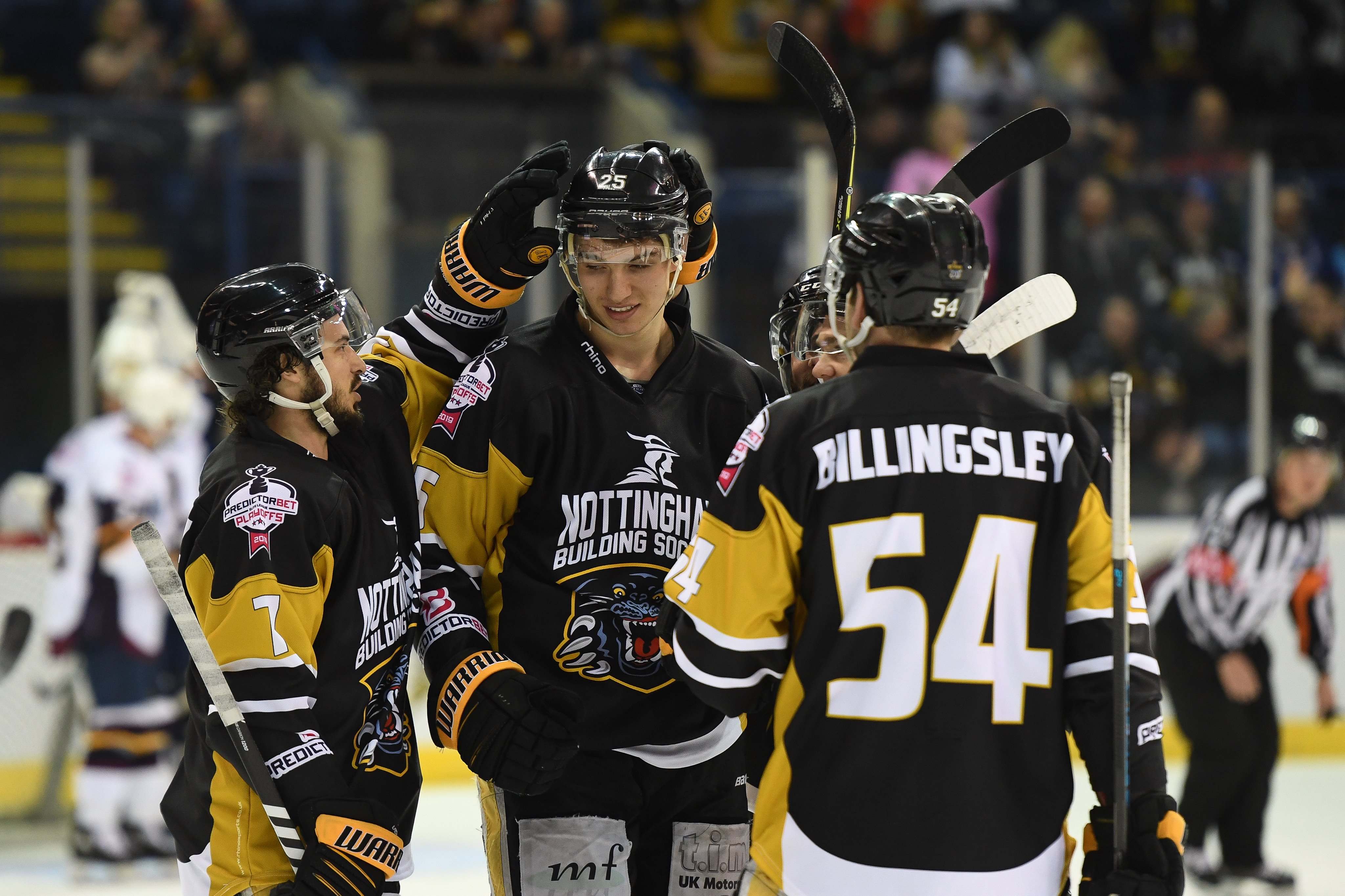 The Nottingham Panthers faced-off against the Guildford Flames in the PredictorBet Playoff third/fourth placed game at 12.00pm on Sunday.
Patrick Munson got the start in goal for the Panthers opposite Chris Carrozzi for the Flames.
Mark Hurtubise (7.23) got the scoring underway for the Panthers before childhood friend Alex Bolduc (10.07) jammed the puck home on the doorstep to make it 2-0.
Less than a minute later Josh Tetlow (11.06) scored his second goal of the weekend. Alex Guptill (12.28) then rounded off the first period scoring as the Panthers took a 4-0 lead into the first intermission.
Sam Gospel replaced Patrick Munson between the pipes for the Panthers, with Mike Will replacing Chris Carrozzi for the Flames, as the second period got underway.
Guildford got themselves on the board early in the period (22.46) but as the game approached the halfway point Mark Hurtubise (29.13) scored his second of the game to make it a 5-1 game. Alex Guptill (30.49) then beat will unassisted to give the Panthers a five-goal lead.
Mark Hurtubise (35.51) completed his hat-trick with a pretty goal on the doorstep, sitting down the Flames netminder then sliding the puck into the back of the net. Guildford added a second on the breakway, after a flurry of saves by netminder Gospel brought the Panthers' fans to their feet, as the second period ended with the Panthers ahead by seven goals to two.
Flames took the first penalty of the game when Lundin was called for hooking (44.38) and just as they returned to full strength Gui Lepine's one-timer (46.42) found its way into the back of the Guildford goal to make it 8-2.
Guildford pulled a goal back (48.29) after a pretty passing play around the Panthers goal but Justin Kovacs scored on the breakaway to restore Nottingham's six goal cushion.
The Flames made it 9-4 when they scored on the powerplay (56.20), with Josh Tetlow (54.39) in the penalty box.
Former Panther Erik Lindhagen (59.46) added a fifth for the Flames but it was the Panthers who skated out with a 9-5 victory.