Panthers v Pinguins

The Nottingham Panthers

Fischtown Pinguins
Match Report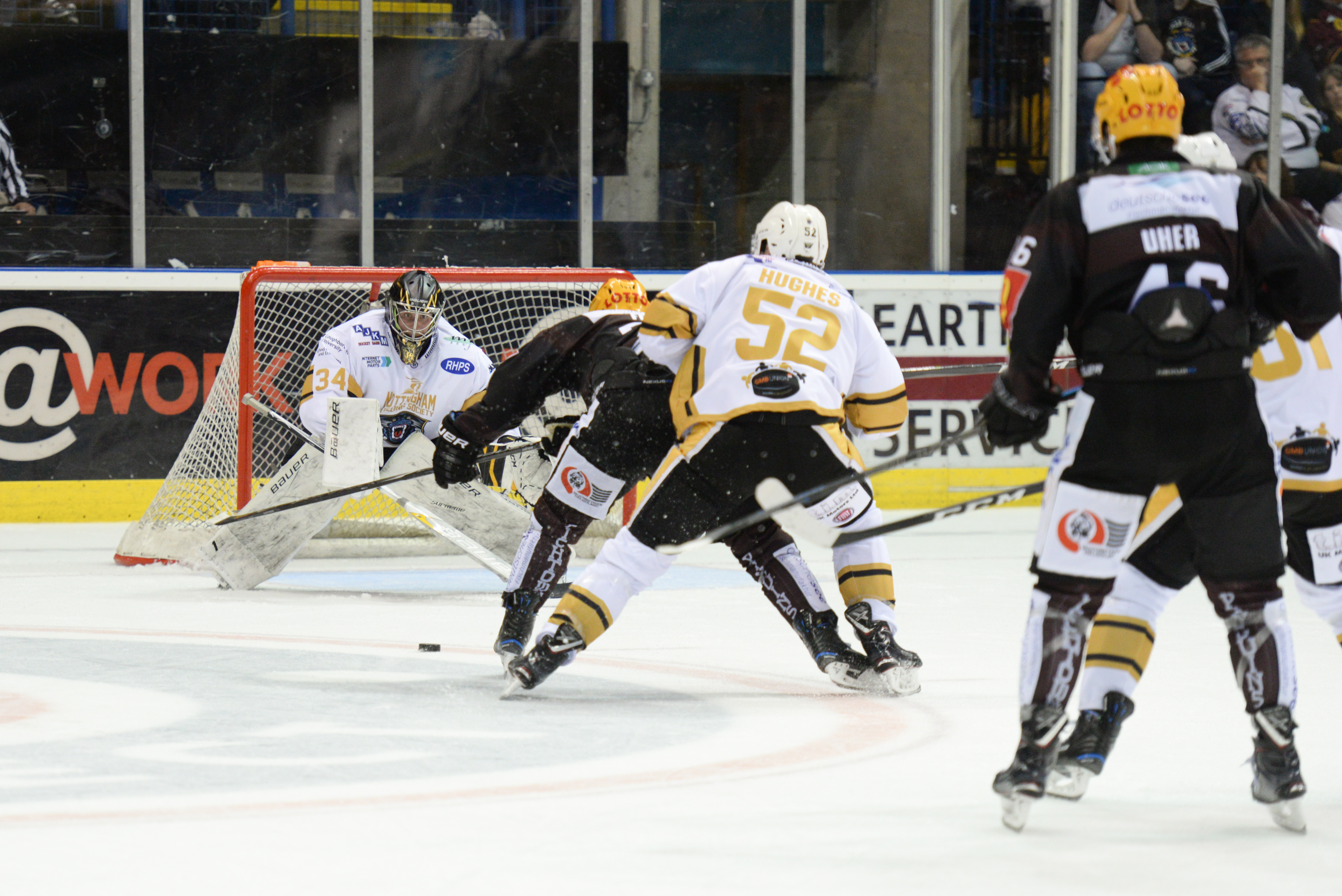 Game two of the Internet Motor Parts 'Europe Comes to Nottingham' series against the Fischtown Pinguins got underway on Sunday afternoon in front of a vocal Panthers crowd.
Michael Garnett started in goal for The Nottingham Panthers whilst Tyler Biggs & Jon Rheault were rested as a precaution.
The smooth skating DEL side started strong in the first period as they got pucks towards Michael Garnett's goal from all angles but the Panthers netminder stood firm.
After Gui Lepine was penalised for cross-checking The Nottingham Panthers kept Fischtown to the perimeter, denying them any clear oppurtunities as they killed the penalty.
The penalty kill served as a momentum builder and the Panthers went close to opening the scoring on numerous occasions throughout the rest of the first period.
The Nottingham Panthers penalty kill would get a work out in the second period, included off a shortened five-on-three for the visitors at the start of the period, but the penalty killers and Michael Garnett would rise to the challenge and keep the visitors at bay.
Fischtown opened the scoring at 28:05 when the converted at the back door on a two-on-one opportunity.
Justin Kovacs earned The Nottingham Panthers a powerplay at the end of the period (39:54) after he was interfered with and they began the third with 1:54 on the man advantage.
The powerplay would prove unsuccessful on that occasion but at 50:06, with Fischtown skater off for hooking, Alex Guptil tipped home Dylan Olsen's shot from point to tie the score at one.
Head Coach Rich Chernomaz used his time-out at 52:24 when The Nottingham Panthers received another powerplay.
The players took heed of the coachs word and at 54:07 Tim Billingsley battled his way to the front of the net to send The Nottingham Panthers into the lead.
That ended the socring and the Panthers took the 2-1 victory, led by a 31 save performance from netminder Michael Garnett.