Panthers v Clan

The Nottingham Panthers

Glasgow Clan
Match Report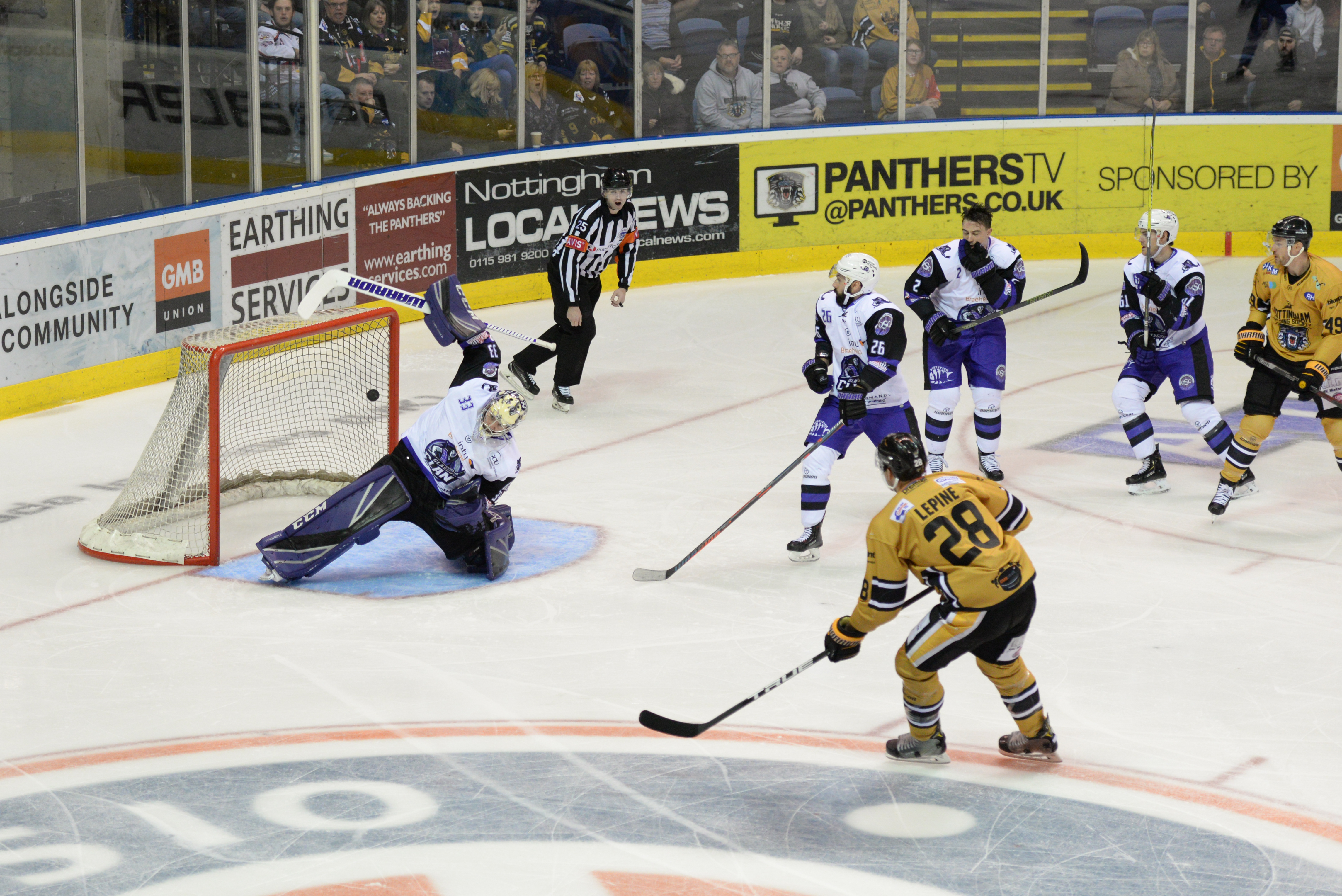 The Nottingham Panthers welcomed the Glasgow Clan to the Motorpoint Arena on Sunday evening for an Elite League match-up.
Patrick Munson made his first professional career start, with Michael Garnett serving as his deputy, opposite Joel Rumpel for the Clan.
With Steve Lee in the penalty box for holding (2.33) Alex Bolduc forced a turnover in the Clan zone and Captain Gui Lepine hit his cross-ice feed high into the Glasgow goal (2.52) to give the Panthers an early first period lead.
Alex Guptill doubled the Panthers' advantage (10.42) when he forced the puck home and under two minutes later (12.11) Tyler Biggs made it 3-0 to the home side with the Panthers second short-handed marker of the night. Glasgow called their time-out after the third goal and Rumpel was pulled in favour of backup Gary Russell.
Glasgow got themselves back into the game as the period came to a close when Zack Fitzgerald smuggled the puck past Patrick Munson via his shin (17.33) to make it 3-1 after 20 minutes of play.
A huge early hit in the corner by Ollie Betteridge got the crowd going in the second and the Panthers drew a slashing call from Josh Gratton, the Clan forward receiving an additional two minutes for voicing his displeasure at the penalty. The Panthers took advantage of the four minute minor penalty in the best possible way, first Justin Kovacs fired home a one-timer (26.04) after a pretty passing play then Mark Hurtubise ripped home a trademark rocket (27.08) to make it 5-1.
Dylan Olsen was sent to the penalty box for interference (33.06) and when Luke Pither poked a puck free Robert Farmer went coast-to-coast and beat Gary Russell on the short-side, the Panthers' third short-handed goal of the night, to make it 6-1.
Patrick Munson had to be alert when Mark Hurtubise was sent to the box for holding (36.58) but the Panthers' netminder and defence stood firm and the scoreline read 6-1 to the home side after 40 minutes of play.
Inside the first minute of the third period Gui Lepine went in search of his second goal of the night, his shot ringing off of the crossbar and away to safety.
Matt Beca pulled the Clan to within four (44.33) when he fired a rebound into a half empty cage with Munson prone after making the initial save.
Panthers found themselves back on the powerplay when Wilson was called for delay of game (52.35) and when Dylan Olsen floated a wristshot through traffic Alex Guptill was on hand to deflect home his second of the night (53.35) to make it 7-2.
There was to be no further scoring in the game and The Nottingham Panthers made took the two points and take their now five game win streak to Manchester on Tuesday night.