Panthers v Lightning

Nottingham Panthers

Milton Keynes Lightning
Match Report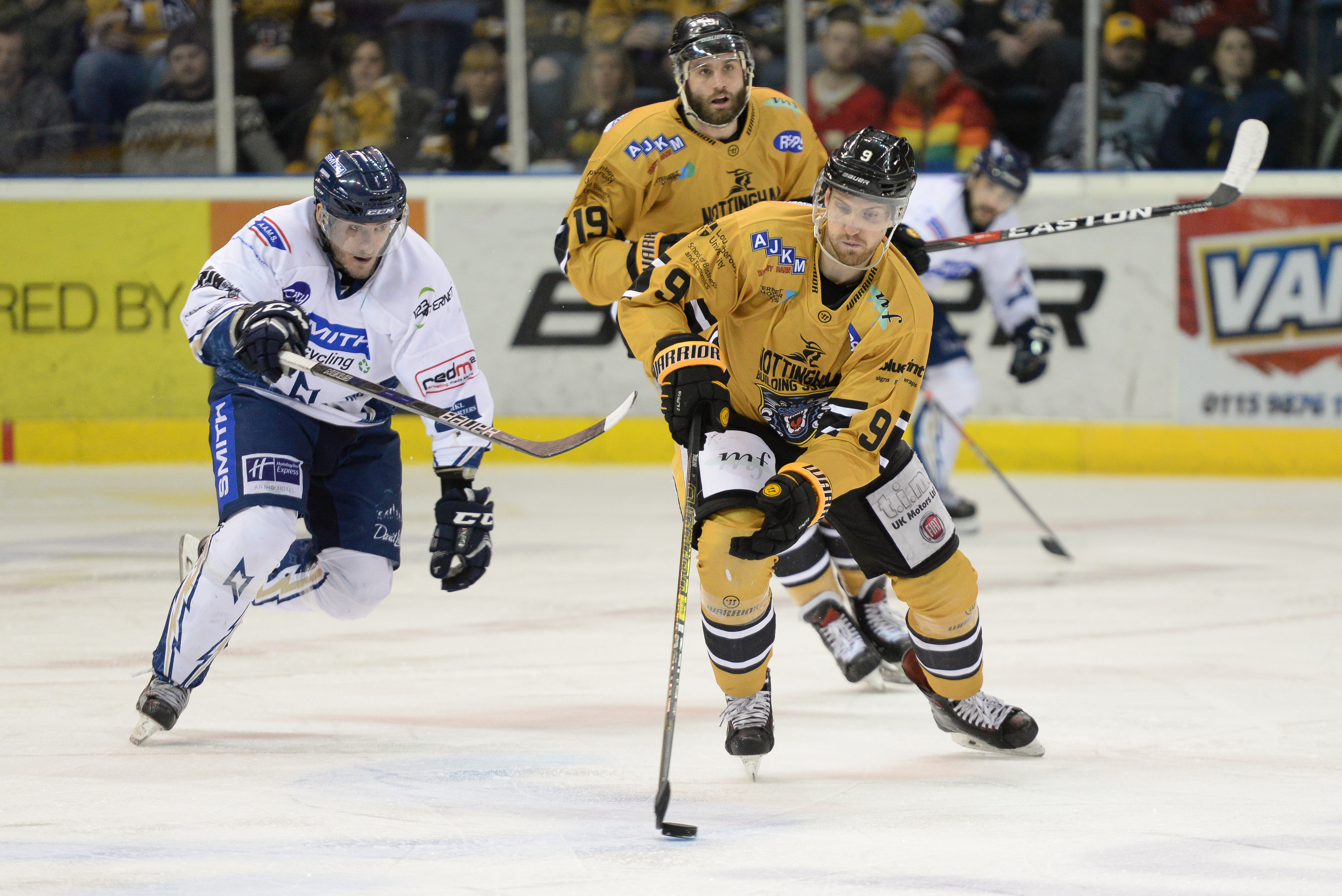 Saturday was once again hockey night in Nottingham as The Nottingham Panthers took on basement side Milton Keynes, with two Elite League points on the line.
Michael Garnett got the start in goal for the Panthers opposite Patrick Killeen for the Lightning.
An early penalty to Robert Farmer (0.20) was negated when great work along the boards by Robert Lachowicz drew a Lightning penalty (1.24) and the Panthers took the lead with the teams skating four-on-four. Alex Guptill won a face-off in the offensive zone back to Tim Billingsley and he saw his wrist shot tipped home by Mark Hurtubise (1.46) to bring the near 6,000 strong crowd to their feet.
Robert Lachowicz went close after both sides returned to full strength before Josh Tetlow (10.36) was called for high sticks and the Panthers went back to the penalty kill.
After returning to full strength Dylan Olsen brought the crowd to their feet again with a beautiful hit as a Lightning forward tried to stick handle around the big defenceman.
When Bolduc was sent to the box for a late hit (15.09) Steve Lee made two huge blocks on scoring chances for the visitors, and the Panthers once again returned to full strength unscathed to enter the first intermission with the lead.
Milton Keynes began the second period with a successful penalty kill after player coach Tim Wallace was called for hooking with three seconds left in the first.
Gui Lepine had two good opportunities from the point but found Killeen in top form and the Lightning struck when play went down the other end. Tim Wallace fired home a one-timer (26.44) to tie the game at one.
The Panthers responded before the period was out though, Alex Guptill (36.26) adding to his league leading tally after roofing a backhand effort high over the glove of Killeen to put the Panthers up by one going into the third period.
Milton Keynes survived an early Panthers' powerplay, in which the hosts had the puck in the offensive zone but could not find a way by Killeen, in the third before forcing Michael Garnett into a good save through traffic.
Killeen was once again in the thick of the action when he robbed Chris Stewart in close, the former NHLer cutting to the net with ease.
With Killeen pulled for the extra attacker Kevin Henderson threw himself in front of a one-timer to keep the Lightning at bay and with no other opportunities for the visitors inside the final minute it was the Panthers who skated out with the two points.