Giants v Panthers

Belfast Giants

Nottingham Panthers
Match Report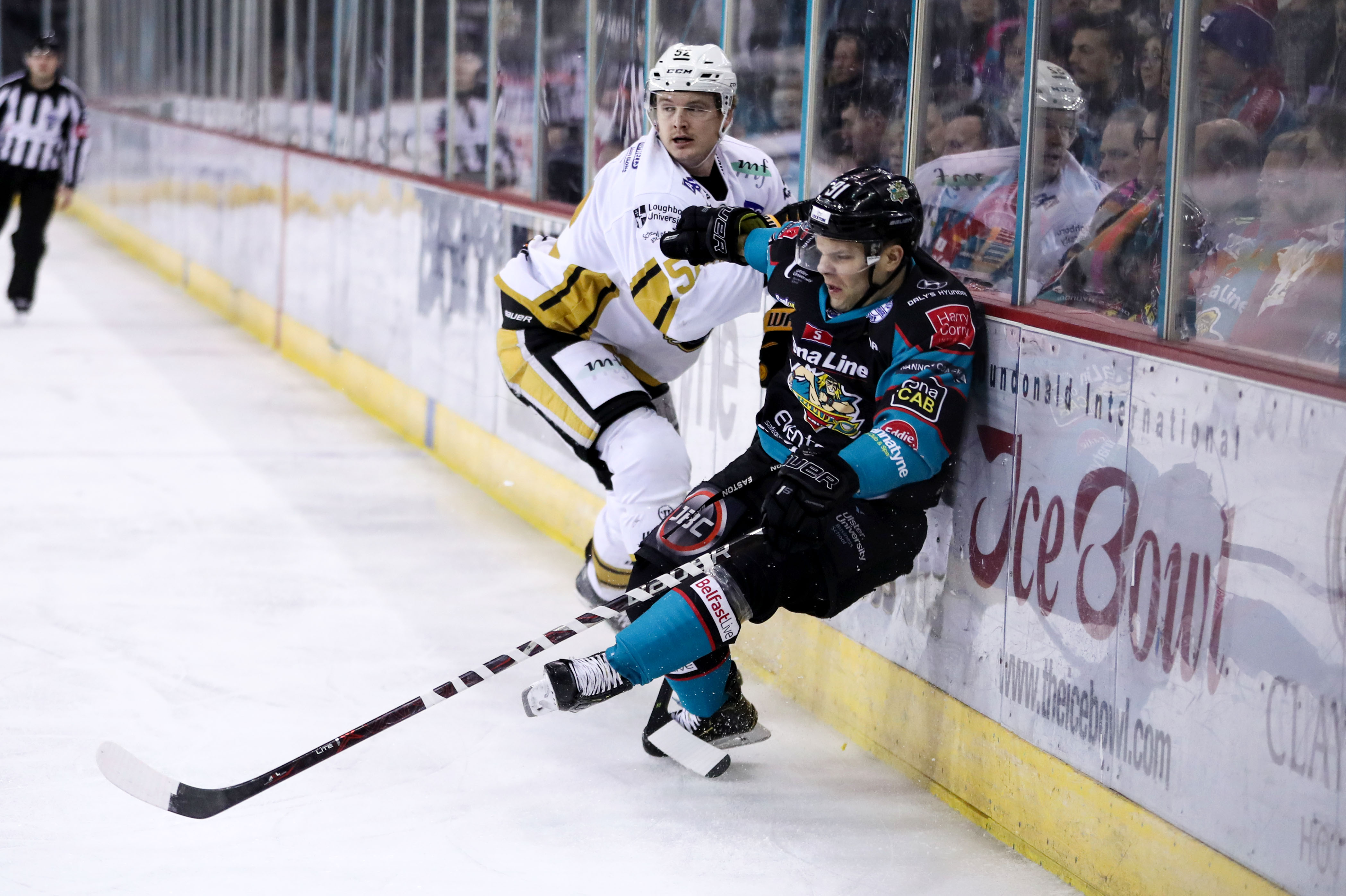 The Nottingham Panthers travelled to Belfast on Sunday night to take on the Giants as they looked to build on their three game winning streak and put a dent in the Northern Irish sides title hope.
Michael Garnett got the start in goal for the Panthers opposite Tyler Beskorowany for the Giants.
Belfast opened the scoring early (5.46) when they converted a slick passing play at the back door. It didn't take long for the home side to double their lead as a deflection in the slot (7.08) found it's way into the back of Michael Garnett's goal.
The Panthers answered back through Tommy Hughes, the defenceman's screened shot (8.14) eluding the Giants netminder. Less than a minute later the game was tied, Chris Stewart (9.04) deflecting Alex Guptill's feed high into the net.
There was yet more scoring to come.
Belfast scored not once (14.08) but twice (14.39) before Robert Farmer was on hand to make it a one goal game once again when he fired past Beskorowany with just 11 seconds left in the first period.
The Panthers tied things up early in the second when Jon Rheault (24.59) scored into a yawning cage following a slick no-look pass by Stewart just after a Nottingham powerplay had expired.
Despite some heavy pressure on two more powerplay opportunities in the second period the Panthers couldn't find a way past the Giants netminder and the period closed with the teams tied at four.
Belfast took the lead on a powerplay goal inside the first minute of the third period (40.41).
Michael Garnett made an outrageous save as the Giants went to the powerplay (43.59), the Panthers netminder sticking his paddle in the air whilst prone on the ice and somehow locating the puck to keep it out of the goal.
The home side cushioned their lead (53.11) before the Panthers once again made it a one goal game when Brett Perlini (58.38) scored with Garnett pulled in favour of the extra attacker.
However, the next time Garnett was pulled the Giants would find the empty net (58.57) before adding another (59.05) to add some salt into the Panthers' wounds as they skated away with the two points.