Storm v Panthers

Manchester Storm

Nottingham Panthers
Match Report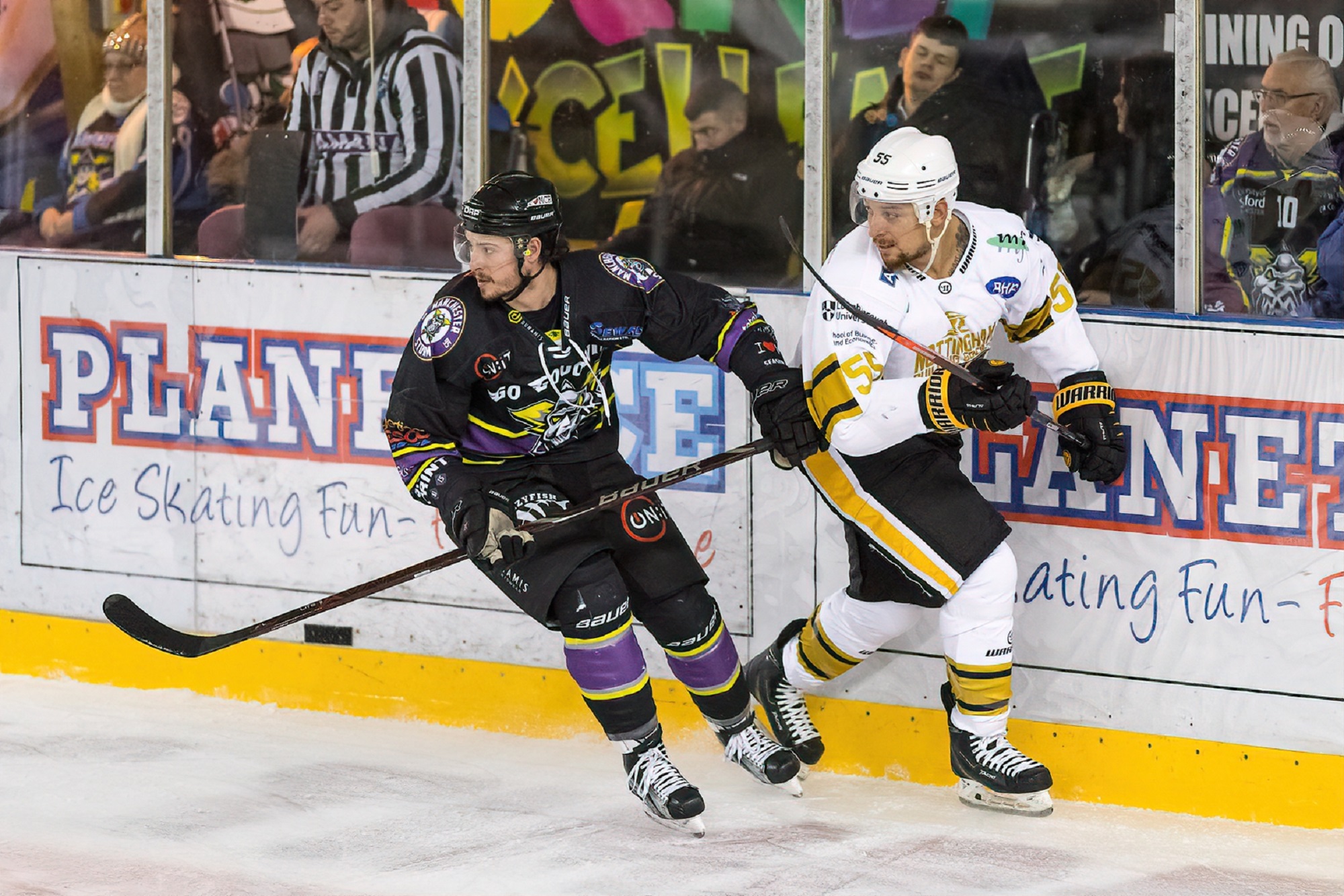 The Nottingham Panthers made the trip to Altrincham on Sunday night to take on the Manchester Storm.
Michael Garnett got the start in goal for the Panthers, who were without Robert Farmer (lower body) but did welcome Robert Lachowicz illness) back to the line-up opposite Matt Ginn for the Storm.
Kevin Henderson almost got The Nottingham Panthers off to the perfect start as he danced through the neutral zone and two Storm defencemen but his effort was turned aside by the Storm netminder.
A string of penalties prevented either side from building any sort of momentum in the game, Jon Rheault coming the closest as his effort from the left wing cannoned out off the cross bar and away to safety after Chris Stewart was denied his first Panthers goal when Ginn closed the five-hole on the former NHLers breakaway attempt.
More penalties for both sides followed but neither could take advantage and the period ended with The Nottingham Panthers and Manchester Storm deadlocked at zero to zero.
Manchester took the lead midway through second period when Ciaran Long (29.26) backhanded a rebound over the shoulder of Michael Garnett, and Matt Ginn kept that lead in tact when he robbed Mark Hurtubise at the backdoor as the Panthers pressed for an immediate response.
That response did come inside the final six minutes of the period, Brett Perlini (34.05) firing home a rebound from Chris Stewart's bad angle shot, the former NHLers first Panthers point, to tie the game at one.
Manchester retook the lead just over a minute later. Felix Antoine-Poulin (35.22) firing across Michael Garnett and into the back of the Panthers' goal as the hosts took a 2-1 lead into the second intermission.
Justin Kovacs tied the game (47.25) after his deflected shot found it's way past Ginn and the Panthers took the lead when Brett Perlini (49.55) struck on the powerplay. His shot from the slot eluding the glove hand of Ginn to make it 2-3.
Michael Garnett produced some heroics for the Panthers as time dwindled down but he could do nothing to stop Linden Springer's shot (54.59) as the Storm tied the game and sent it to overtime.
Dane Byers sealed the extra point for the home side when his penalty shot, in overtime, beat Michael Garnett (61.18).
Photo credit: Andy Burnham