Flyers v Panthers

Fife Flyers

The Nottingham Panthers
Match Report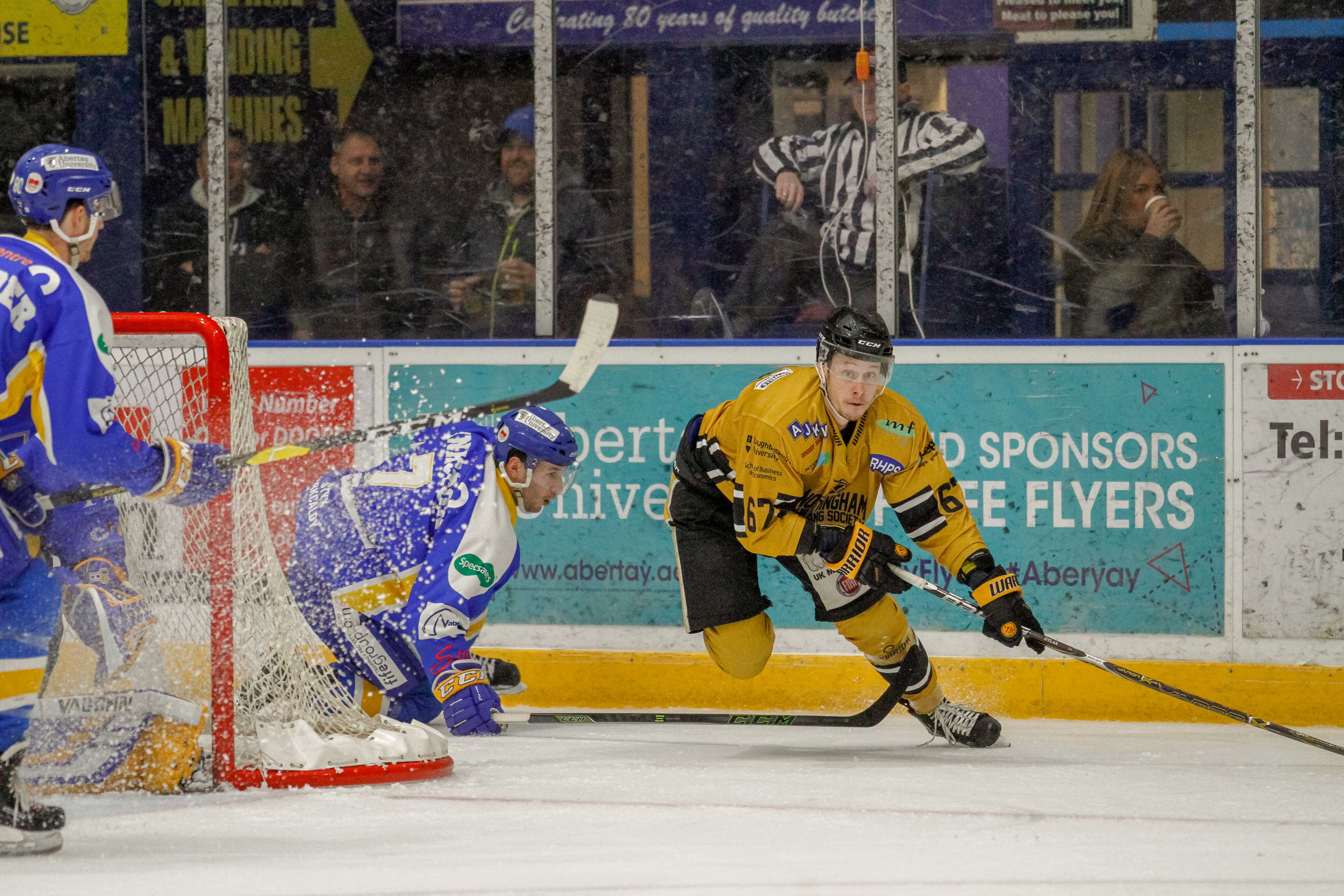 Third placed Nottingham took on fourth placed Fife on Sunday night in Kirkcaldy with just five points separating the two sides in the EIHL standings.
Michael Garnett returned between the pipes for the Panthers, after sitting out Saturday night's game against Glasgow, opposite Shane Owen for the Flyers.
An even first period saw both netminders at the top of their game, both Garnett (11 shots faced) and Owen (12 shots faced) turning aside all that was thrown their way.
That was until Mark Hurtubise (19.55) struck with just five seconds remaining in the period. The centreman collecting the puck and finding the roof of the Fife goal on the spin to send the visitors into the first intermission holding a one goal advantage.
Fife tied things up early in the second when Paul Crowder (22.22) capitalised after a turnover behind the Panthers goal. The Panthers had the chance to re-take the lead when Evan Stoflet (25.29) was sent to the box for tripping but could not find a way through the Fife penalty kill and the home side returned to full strength.
Both sides exchanged further powerplay opportunities as the period wound down but neither could forge ahead and it was all to play for in the third period with the teams deadlocked at one apiece.
A penalty riddled third period saw both sides enjoy time on the powerplay but the game remained tied until Dylan Olsen (54.03) ripped a shot from the blueline that beat Owen to give the Panthers a late lead with the man advantage.
Fife got a late powerplay of their own (56.56) and, with the netminder pulled, tied the game through Stoflet (58.51) to send the game to overtime.
The extra period couldn't produce a winner so a shootout was required to settle the result between the two teams. Justin Kovacs and Luke Pither converted for the Panthers and Michael Garnett blanked all four Fife shooters to end Nottingham's back-to-back-to-back with a victory.