Panthers v Devils

Nottingham Panthers

Cardiff Devils
Match Report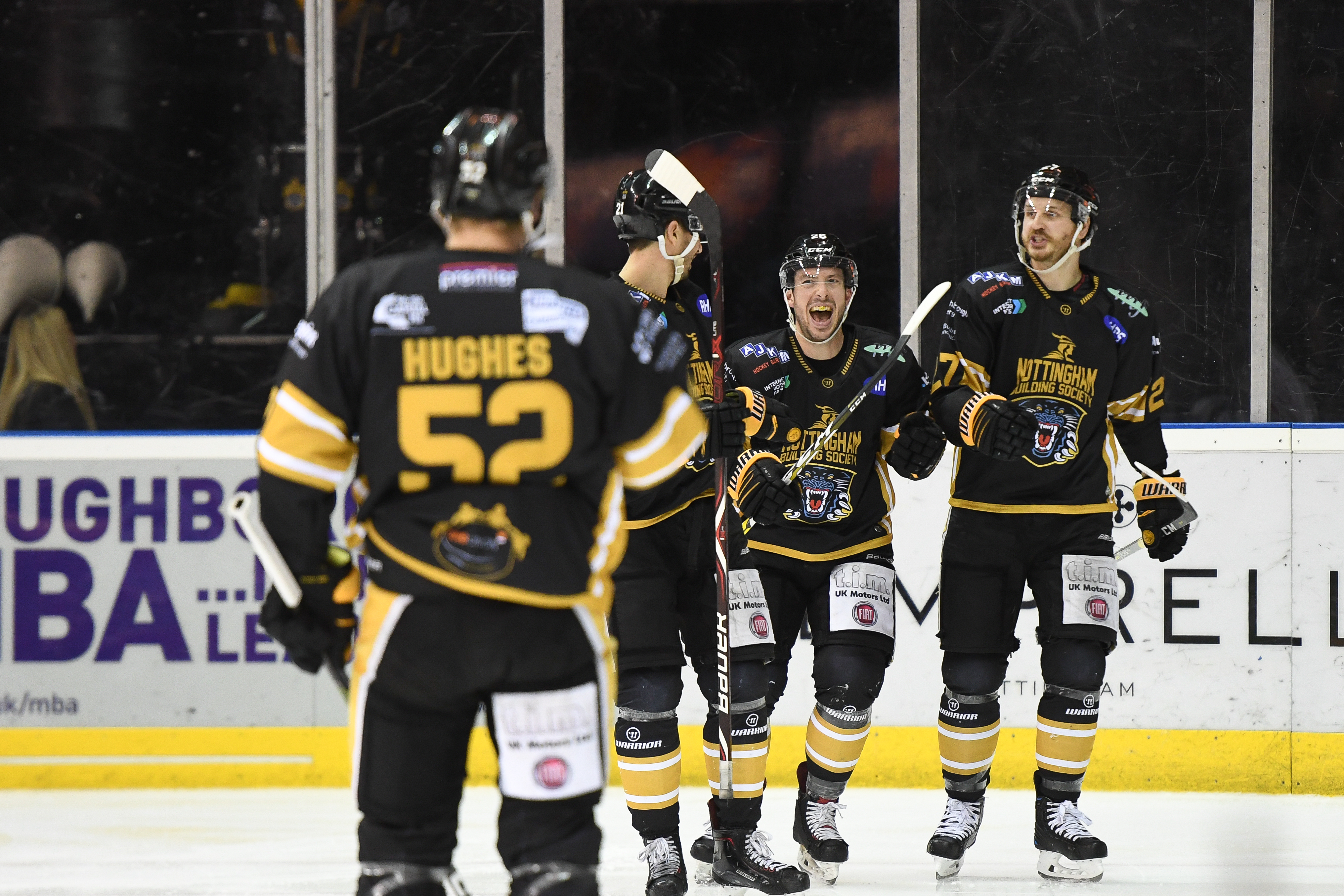 The Nottingham Panthers and Cardiff Devils collided for the final time in the 2018/19 regular season on Saturday night inside the Motorpoint Arena, in a game streamed around the world live on YouTube.
Michael Garnett got the start in goal for the Panthers opposite Ben Bowns for the Devils.
Nottingham scratched Gui Lepine (upper body), Justin Kovacs (lower body), Joe Hazeldine and Patrick Munson whilst Cardiff were without Joey Haddad and Toms Rutkis.
An even first period started with both sides trying to gain the other hand but as has been the case in every game between the Panthers and Devils this season neither team could.
Nottingham edged the shot count (15) but Cardiff (nine shots) had the better of puck control in the offensive zone but both sides found the respective netminders at the top of their games and the period closed with the deadlock unbroken.
Nottingham took the lead early in the second period through Jon Rheault, the forward rocketing the puck high into the goal of Bowns (25.10) for his first home league goal after being found skating into the slot by Alex Guptill.
It didn't take long for the league leaders to answer back though and Sean Bentivoglio (26.12) capitalised on a turnover in the Panthers zone to make it 1-1.
The teams exchanged powerplay opportunities in the second half of the period but neither penalty kill unit or netminder broke and the teams went into the third period all tied up at one.
Nottingham killed a penalty to Alex Guptill early in the third period (45. 28) and when the Panthers returned to full strength the game exploded into life.
Jaynen Rissling delivered the cleanest of open ice hits to former Panther Evan Mosey but the Devils took exception. Layne Ulmer leaving the bench to get into a fight with the Panthers' defenceman (a rousing win for the Nottingham man) that saw both players ejected and the home side onto the powerplay.
Whilst the powerplay proved unsuccessful Luke Pither put the Panthers ahead moments later. Dylan Richard finding him all alone in the slot and his one-timer found the smallest of gaps to beat Ben Bowns (52.36).
The Devils got into more penalty trouble as the period wound down but the Panthers couldn't extend their lead.
With Ben Bowns pulled and the Panthers net gaping Michael Garnett made the save of the season to deny the side from Cardiff Bay a route back into the game and guarantee the two points for the Panthers.