Panthers v Stars

Nottingham Panthers

Dundee Stars
Match Report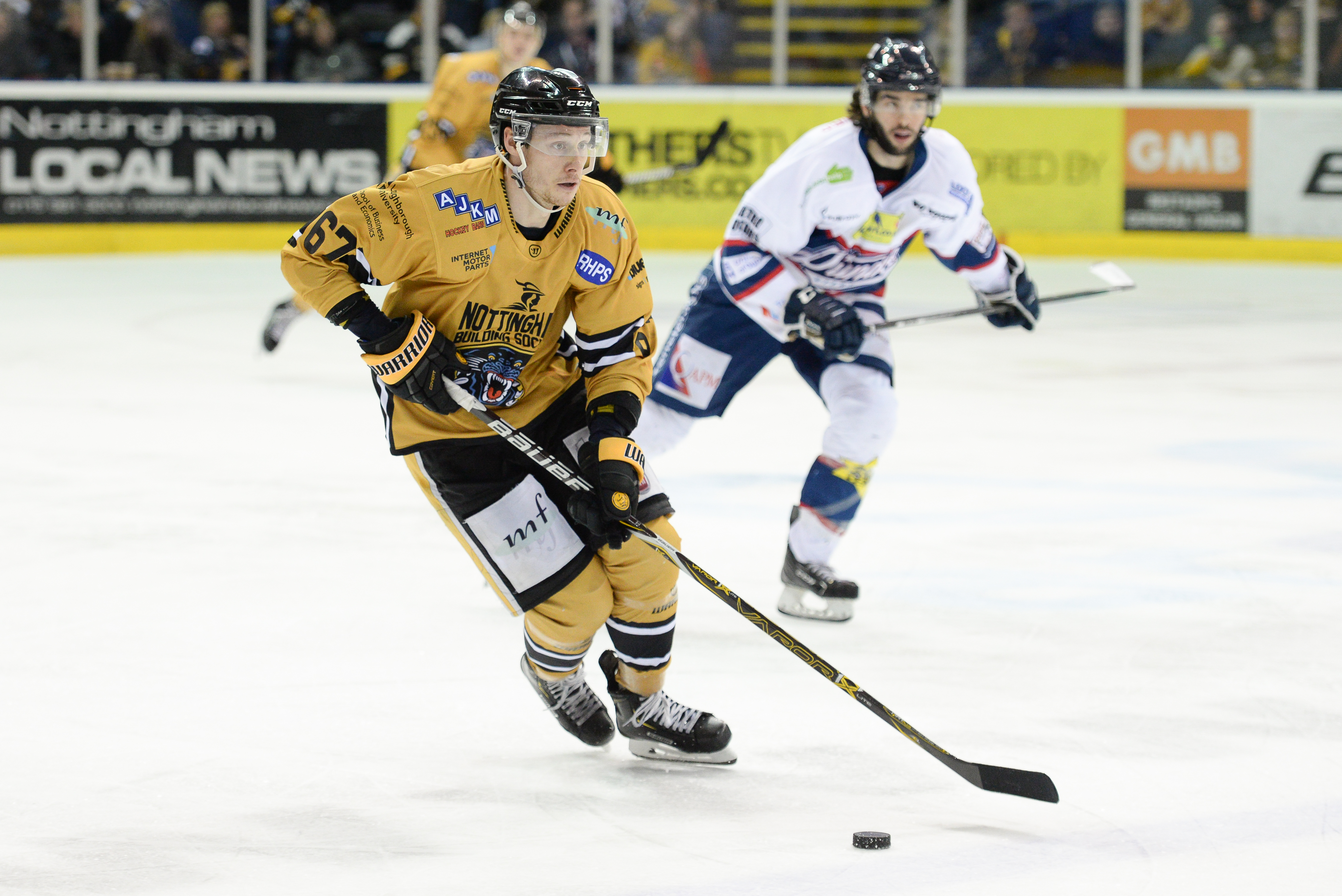 The Nottingham Panthers clashed with the Dundee Stars inside the Motorpoint Arena to close out their home double-header.
Michael Garnett got the start in goal for the Panthers, who re-inserted Justin Kovacs into the line-up, opposite Pontus Sjogren for the Stars.
Jon Rheault pulled a nice move to round a Stars defenceman before forcing Sjogren into a save inside the second minute as the Panthers looked to strike early.
Plans of an early lead were put on hold when Jaynen Rissling was called for holding (3.45) but the Panthers stood firm and returned to full strength.
Rissling danced through the neutral zone to the side of Sjogren's net but the Swede dealt with his awkward shot with relative ease.
Dundee took the lead on a fortunate play (15.28) when the re-called Justin Kovacs diverted the puck by Mike Garnett, with the goal credited to Mike Sullivan, to send the visitors into the first intermission with the lead.
Chris Stewart used his large frame to cause a turnover behind the Stars goal as he delivered a crunching hit, the puck then found it's way to Brett Perlini out in front but he flashed his effort just wide of Sjogren's goal.
Alex Bolduc was the next to go close but he couldn't jam the puck by Sjogren.
Michael Garnett then took centre stage as he made not one, but two huge saves to keep the Stars at bay. Stacking the pads on the initial shot then making himself large to keep out the rebound to send the teams into the final period with the visitors in the lead.
Garnett had to be alert early in the third, making a tremendous blocker save on a two-on-one break in for the Stars.
Jon Rheault then drew a holding penalty (45.40) and just over a minute later the Panthers tied things up. Chris Stewart and Mark Hurtubise played catch behind the goal before the latter fed Brett Perlini sneaking down from the blue line and his one-timer rocketed int Sjogren's goal to make it 1-1.
The Panthers had to kill off a late penalty to Jaynen Rissling, when he got the worse of penalties called after a collision along the boards, but with no further scoring overtime was needed to decide a winner.
Just 16 seconds into over time the Stars took advantage of a breakdown in coverage and took the extra point when Matt Bisonnette's one-timer eluded Michael Garnett to send the Stars home with two vital points in their playoff push.