Clan v Panthers

Glasgow Clan

Nottingham Panthers
Match Report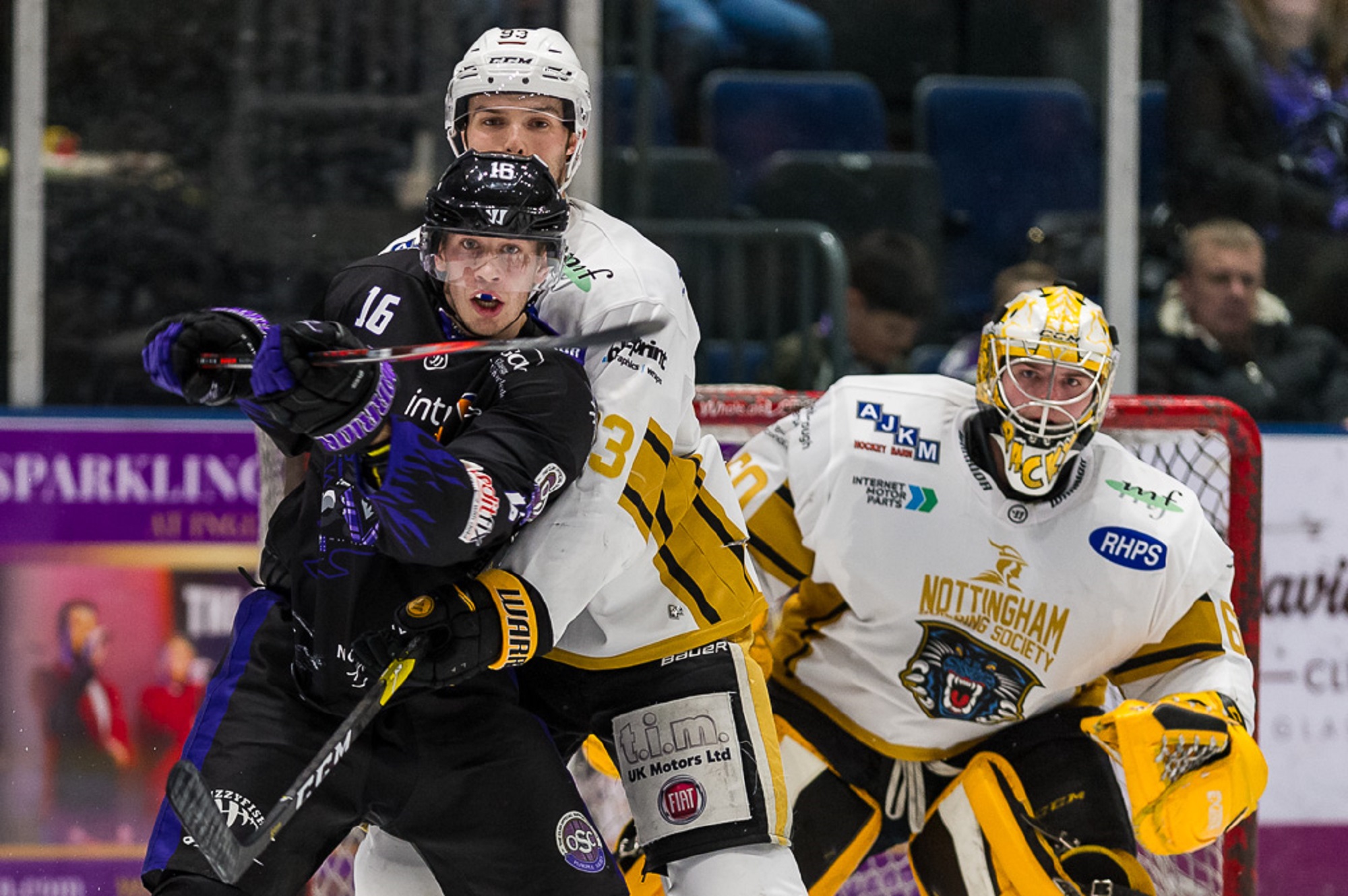 The Nottingham Panthers travelled up to Glasgow on Saturday night in a huge game in the race for third place in the EIHL standings.
Patrick Munson got the start in goal for the Panthers opposite Joel Rumpel for the Clan.
The Panthers had to kill an early penalty (1.39) when Robert Farmer was called for holding before going on a powerplay of their own when Brendan Connolly received two minutes for high sticks and two minutes for roughing, giving the Panthers four minutes on the man advantage.
Jon Rheault made sure that the powerplay didn't go to waste, the forward firing by Rumpel (8.25) to give the visitors an early lead that they held, after killing a late period Clan powerplay (16.07) when Pither was sent to the box for tripping, going into the first intermission.
Former Panther Gui Doucet flashed the puck just wide of Munson's post inside the first three minutes of the period but when play went down the Clan end Dylan Richard (24.54) doubled Nottingham's lead.
Munson had to be alert as Connolly tried to pick his spot to bring the Clan back into the game, the Panthers' netminder making the save before covering the puck.
Two minutes of four-on-four hockey didn't see either side light the lamp but a high sticking penalty to Mark Hurtubise (39.53) with seven seconds remaining in the second period gave the hosts a route back into the game.
The home side would, however, find that route closed. Despite hitting the post they couldn't breach the Panthers' defences and they returned to full strength.
Nottingham found themselves back on the powerplay when Stupka was whistled for tripping (42.11) and just 20 seconds after the Clan returned to full strength the Panthers struck again. Luke Pither lighting the lamp (44.31) to make it a three goal spread.
Try as they might the Clan couldn't get the puck by a determined Patrick Munson and he preserved his shutout going into the games stretch run.
Luke Pither put the result beyond doubt when he scored short-handed (55.54), with Mark Hurtubise sitting in the penalty box (53.55) for high sticks, and attention turned to seeing Patrick Munson to his first professional shut-out.
Despite a few late scares they did just that and the netminder recorded a 37 shot shut-out, seeing The Nottingham Panthers to a huge two points in the race for third place in the EIHL standings.