Flames v Panthers

Guildford Flames

The Nottingham Panthers
Match Report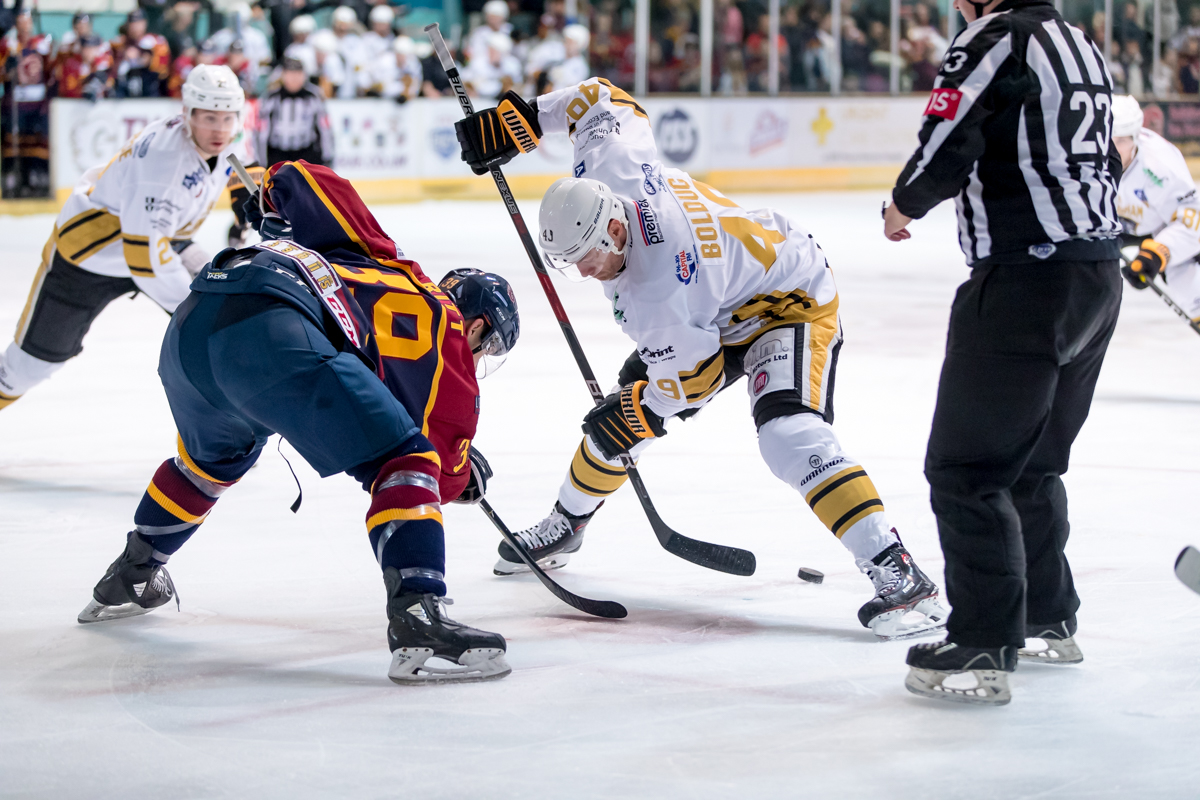 Looking to bounceback from a shutout loss to Belfast on Saturday night The Nottingham Panthers travelled to Guildford on Sunday to take on a scorching hot Flames side, winners of their last seven games.
Michael Garnett got the start in goal for Nottingham, who were without the injured trio of Jon Rheault, Kevin Henderson and Tim Billingsley, opposite Chris Carrozzi for Guildford.
An early Panthers' powerplay (5.46) was cut short when Luke Pither was called for tripping (6.40), neither team could take advantage of the extra room on ice and the game remained scoreless as both sides returned to full strength.
Ben Davies put the home side into the lead (9.16), his effort finding its way past the Panthers' netminder, in what proved to be the only tally of the first period. Both Michael Garnett (13 saves) and Chris Carrozzi (12 saves) in sparkling form for their respective sides in the opening frame.
The Nottingham Panthers tied things up early in the second period when Ollie Betteridge (24.26) scored off of Robert Farmers feed, the first of three assists for the Panthers' number 19. Goalscorer Betteridge found himself in the penalty box just 29 seconds later and Michael Garnett, who turned aside all 11 second period Flames' shots, and the penalty killers were on top of their game to keep the hosts at bay.
Another powerplay for Guildford (33.52) bore no fruit and the second period came to a close with the teams tied at one.
Two early third period powerplays for the Panthers (42.45 & 46.03) couldn't break the deadlock but when Robert Farmer got the puck to Jaynen Rissling he made no mistake, the defenceman breaching Carrozzi's defences to give Nottingham their first lead of the night (49.59) with an even strength goal.
The Panthers had an opportunity to ice the game when Watters was sent to the box inside the final ten minutes (52.40) but once again found Carrozzi and the Flames' penalty killers resolute in their defence.
With the teams back at even strength, and Guildford pushing for an equalizer, Luke Pither scored an unassisted goal (56.12) before Alex Guptill put the icing on the cake with an empty netter (58.16) to seal two road points for The Nottingham Panthers.
Photo credit: Andy Burnham