Panthers v Flyers

The Nottingham Panthers

Fife Flyers
Match Report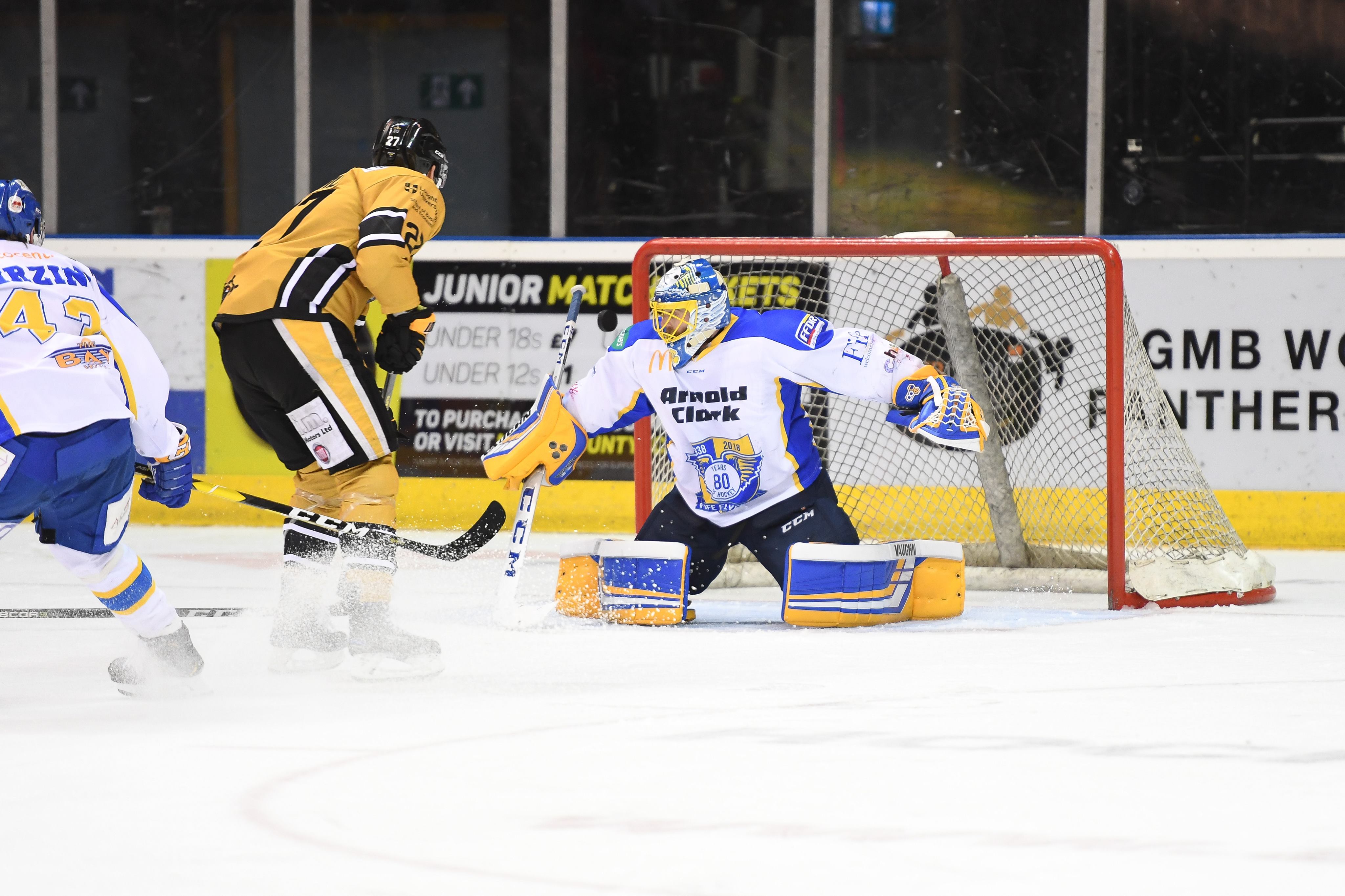 High-flying Fife made the trip down to Nottingham for an Elite League clash against the Panthers on Sunday night.
Michael Garnett got the start in goal for The Nottingham Panthers opposite Shane Owen for the Fife Flyers.
An evenly contested first period between the EIHL's second and third placed teams played out over the first 20 minutes. Pither and Lachowicz went close early and when played went down to the Panther's zone Garnett had to be alert to make a nice blocker save on Pinkston.
The Panthers' best chance of the period came when Alex Guptill skated through the neutral zone, drawing two Flyers to himself, before dropping the puck into an empty lane for Luke Pither but he saw his effort from between the face-off circles flash just wide of Owen's post.
Two late powerplays for the Flyers, including a short five-on-three opportunity, were killed by the Panthers as they kept Fife to the outside and the first period ended scoreless.
Fife found themselves on another powerplay 17 seconds into the second period when Robert Farmer was sent to the box for roughing and the Flyers capitalised when Danick Gauthier beat Michael Garnett at the back door (21.56) to make it 0-1.
Nottingham pushed hard in search of an immediate response and Marek Tvrdon, making his home debut, fashioned himself a chance in close but couldn't beat Owen in the Flyers' goal. A beautiful passing move between Hurtubise, Bolduc and Biggs saw the latter draw a tripping penalty but Owen was once again in imperious form to keep the Panthers at bay.
The home goal drought finally ended after 110 minutes and eight seconds when Dylan Olsen chipped a puck out of the zone to Robert Farmer who somehow got it Alex Guptill and he made no mistake as he broke on Owen and beat him high on the backhand to tie the game at one (33.43).
With the game tightening up neither side could find clear a route to goal and the game remained tied heading into period three.
The third period began as the second ended, with the game finely poised until a too-many-men penalty to the Panthers opened the door for Fife. That door widended further when the Panthers' bench received a two minute abuse of official penalty giving the Flyers a two minute five-on-three advantage on which fife re-took the lead. Joe Basaraba tapping in to a virtually empty net after a nice passing play (49.02).
Alex Bolduc tied the game just over four minutes later when his solo effort beat Shane Owen (53.33) and with no further the scoring the game went to overtime.
Three-on-three couldn't seperate the two sides but goals from Luke Pither and Marek Tvrdon saw the Panthers to victory in the shootout.