Storm v Panthers

Manchester Storm

The Nottingham Panthers
Match Report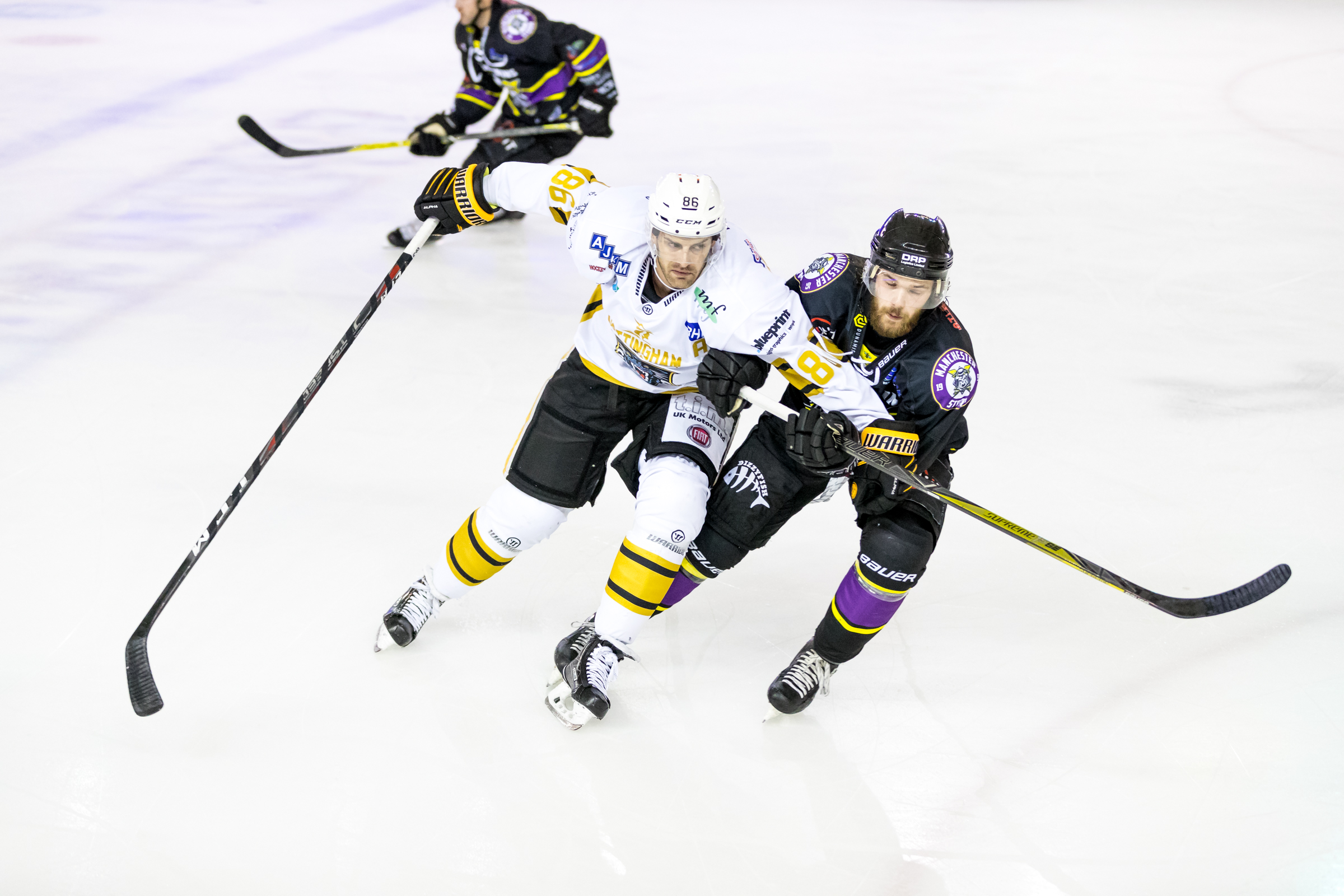 The Nottingham Panthers went to Altrincham on Wednesday night to take on the Manchester Storm in Challenge Cup action.
Michael Garnett started in goal for The Nottingham Panthers, with Jon Rheault, Tommy Hughes and Tyler Biggs scratched from the line-up, opposite Matt Ginn.
Nottingham had the better of the early exchanges, getting plenty of shots towards the Storm goal.
Gui Lepine went to the box for slashing at 7.42 and it was the Panthers who came close to scoring short-handed, Luke Pither getting a good shot away from in close.
At 12.33 Robert Lachowicz floated a shot towards goal from the right wing and Ollie Betteridge was on hand to deflect home his second of the season at the near post to give The Nottingham Panthers a one goal lead.
The Panthers killed over a minute of five-on-three powerplay time for the Storm and received a powerplay of their own at 19.04 when Moffatt was sent to the box for holding.
It took just 35 seconds for the Panthers to score on the man advantage at the start of the second period. Dylan Olsen was given the freedom of Altrincham to skate down between the face-off circles and pick his spot past Matt Ginn to double the Panthers lead.
Manchester answered back at 28.22, Hammond smuggling the puck past Garnett on the doorstep to make it 1-2.
Garnett stood tall on a short-handed breakaway for Hammond, just over a minute later, to keep the Panthers in the lead.
Nottingham killed another lengthy Storm five-on-three powerplay but with the one man advantage the home side equalised. Ciaran Long forcing the puck home after a scramble in front of Garnett at 35.46.
Brett Perlini put the Panthers back in front at 44.45 when he threw a speculative effort on goal from the left wing and it squeaked through Matt Ginn in the Storm goal.
The Panthers killed a penalty to Tim Billingsley at 47.33 but at 52.58 Manchester would capitalise on another powerplay opportunity, Dane Byers applying the finishing touch to another scramble around the Nottingham goal to send the game to overtime.
Gui Lepine was sat in the box as overtime began and the Panthers killed his boarding penalty. However, Manchester scored with 54 seconds remaining to take the extra point in the Challenge Cup.