Stars v Panthers

Dundee Stars

The Nottingham Panthers
Match Report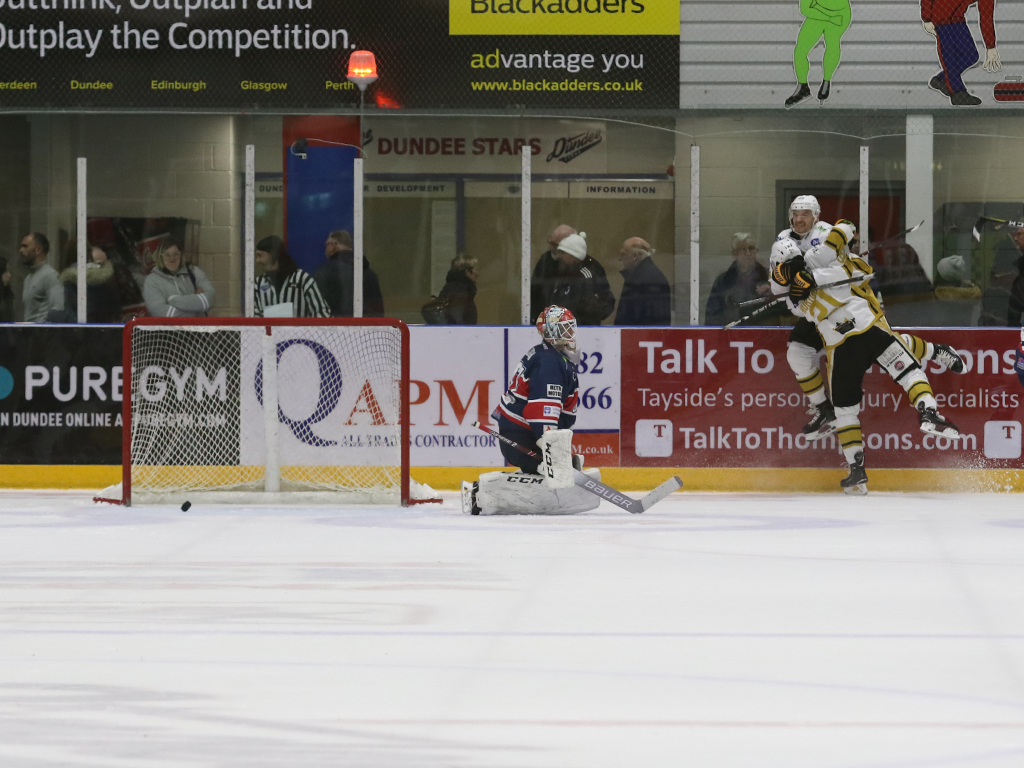 The Nottingham Panthers went to Dundee in search of their first victory of the weekend on Sunday evening.
Michael Garnett got the nod in goal for the Panthers, opposite Pontus Sjogren for the Stars, and Tyler Biggs replaced Alex Guptill in the line-up with Kevin Henderson also missing out.
Just 20 seconds into the contest Tommy Hughes was sent to the penalty box for interference, the Panthers penalty kill unit stood firm on their first call to action and kept the Stars at bay.
Nottingham killed penalties to Alex Bolduc (4.26) and Brett Perlini (8.37) as the period passed the halfway point before Bolduc was hooked on partial breakway to give the Panthers their first powerplay of the night (10.53).
Whilst unsuccessful on the powerplay the Panthers used the man advantage to get a foodhold in the game and enjoy a spell of puck possession, Tim Bilingsley forcing Sjogren into a save from the blueline as the first period finished with both sides deadlocked.
Brett Perlini got the Panthers on the board 26 seconds into the second period when he was found all alone in front of the Stars netminder by Justin Kovacs.
After a coming together along the boards Dylan Olsen was given a five & game penalty (26.35) and once again the Panthers penalty kill unit stood tall, forcing Dundee to the outside until Michael Garnett went east-to-west to make a brilliant pad save at the back door as the Panthers returned to full strength.
Dundee thought they had equalised (32.08) only for the goal to washed out for high sticks after a lengthy video review by the officials. The home side did, however, get the tying goal when Lundvald floated one on goal (38.58) through traffic that eluded Michael Garnett and saw the second period end 1-1.
A cagey third period followed with neither side wanting to make a mistake, both netminders dealing with everything thrown there way when an oppurtunity presented itself.
Rick Strachan, filling in for Rich Chernomaz who was serving his one game suspension following an unsportmanlike conduct penalty in Fife, called his time-out with six seconds remaining but Dundee won the defensive zone face-off to send the game to overtime.
It took the Panthers just 1.37 to seal the two points in the extra period. Captain Gui Lepine showed tremendous strength to win a board battle and create a lane for Mark Hurtubise & Alex Bolduc to skate in two-on-one, the former fed the latter who rifled home his first as a Panther on a one-timer to give The Nottingham Panthers the victory.