Panthers v Steelers

The Nottingham Panthers

Sheffield Steelers
Match Report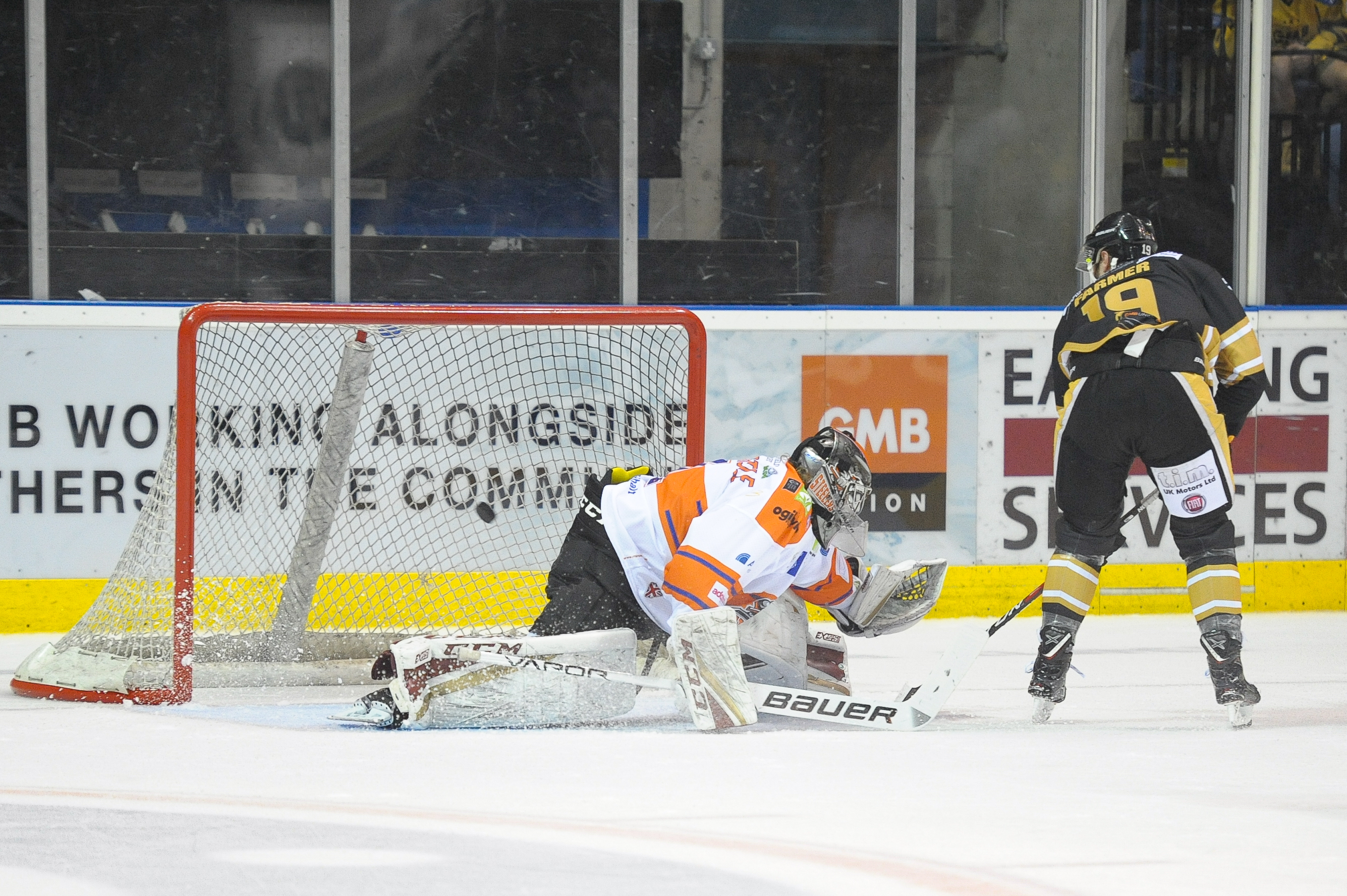 A bumper crowd filled the Motorpoint Arena on Saturday night to see The Nottingham Panthers take on the Sheffield Steelers in Challenge Cup action.
Michael Garnett started in goal for The Nottingham Panthers, opposite Jackson Whistle, with Alex Guptill & Joe Hazeldine scratched from the line-up.
It was a hot start for the home team as they peppered the Steelers net, but could not find a way through the Sheffield netminder.
A big hit from Jacob Doty gave Nottingham even more momentum as they continued to press and at 10:54 Robert Farmer picked the pocket of the Sheffield defenceman on the point and skated in one-on-one with Jackson Whistle, before beating him high on the backhand unassisted.
At 12:32 the Steelers were awarded a penalty shot, after their forward was hooked down on a shorthanded breakaway, but Michael Garnett stood tall to deny Pitt and keep the Panthers in the lead.
A five and game penalty was assesed to Sheffield Steelers' defenceman Davey Phillips after a check to the head of Ollie Betteridge at 17:27, the Panthers would capitalise at the start of the second period (20:26) when Mark Hurtubise ripped a slapshot from the top of right hand face-off circle to give the Panthers a 2-0 lead.
The Steelers would press in the second but would come up against a stout Michael Garnett, who kept them at bay until 39:59 when a freak bounce behind the boards would see the puck end up at the top of the crease for Pitt to poke home and cut the Panthers lead in half.
Just 2:45 into the third period Tommy Hughes would restore the Panthers two goal cushion as he skated down the right wing and wristed a shot high over the blocker of Jackson Whistle, from the top of the face-off circle.
Jaynen Rissling was called for interference at 41:49 and, after another successful penalty, as Mark Hurtubise sprang him out of the box the Panthers #93 made it count. He pulled the sweetest of backhand, forehand, backhand moves to beat Whistle up over his glove and give the Panthers 4-1 lead (51:59).
Shortly afterwards Brett Perlini would convert on the slickest of passing plays on the powerplay to extend the Panthers lead even further at 53:34.
Sheffield would get a consolation goal at 57:40, but there was to be no comeback from the side from Yorkshire and head coach Rich Chernomaz would record his first domestic victory in the EIHL on his 55th birthday.