Panthers v Storm

The Nottingham Panthers
Manchester Storm
Match Report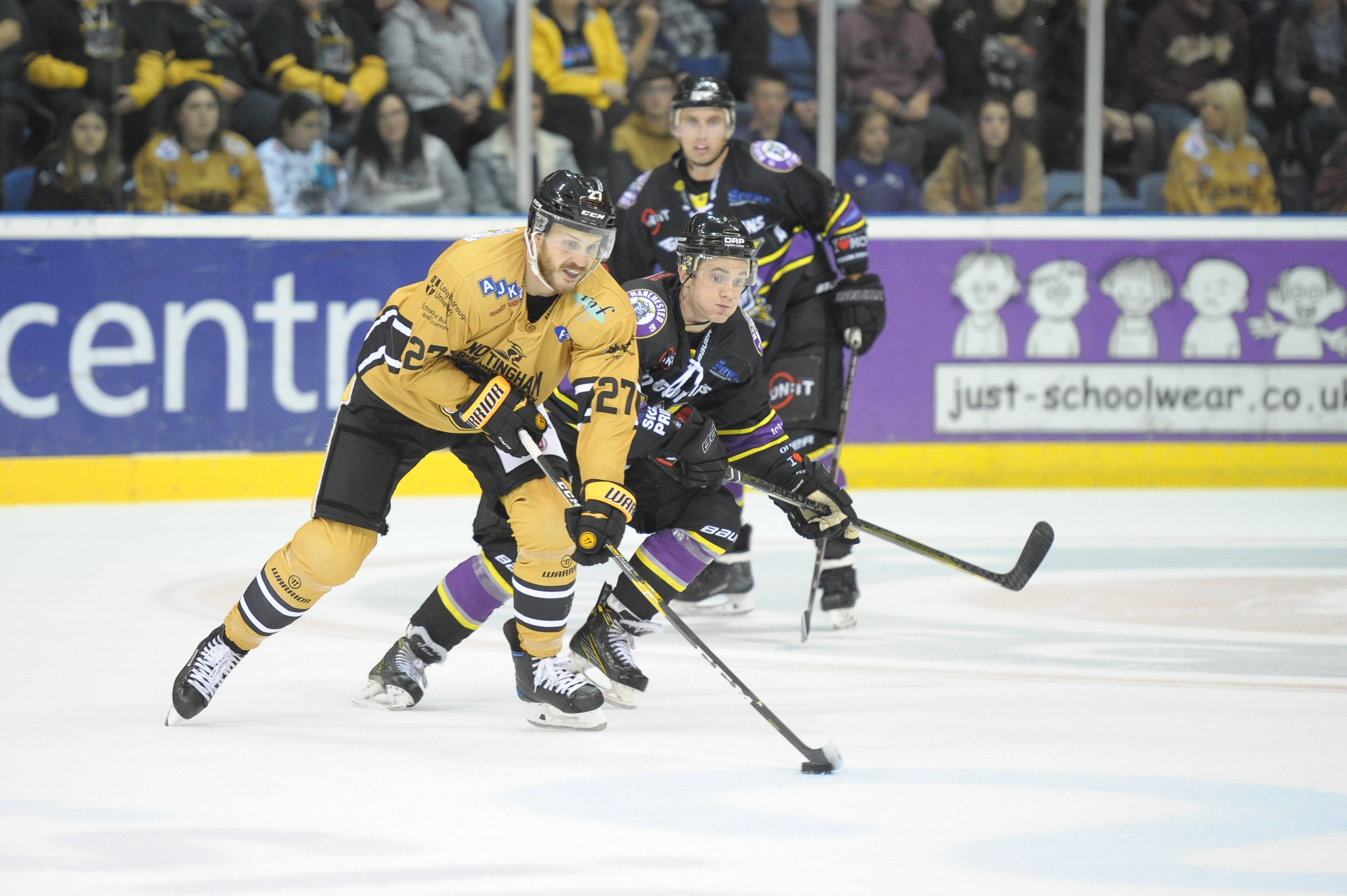 League action returned to the fabulous Motorpoint Arena in Nottingham on Saturday night in a game that increased in physicality as it wore on.
The night started off with the official retirement of David Clarke's iconic number 5 in a short, yet memorable, ceremony before the game.
Despite the raucous crowd the Storm struck first when Long skated in, rounded Michael Garnett and gave the visitors the lead 20 seconds in.
The early set back did not deter the Panthers and they came close to an almost immediate reply when Luke Pither danced through the defence but saw his effort rattle off the iron.
At 13:15 the Storm were called for hooking and just 9 seconds into the powerplay Luke Pither ripped a shot, from between the face-off circles, into the top right corner to tie the game.
Jaynen Rissling and Dylan Olsen went close as the period wound down but it was tied after 20 minutes.
Both netminders had a strong second period and neither side could move into the lead.
Ginn in the Manchester goal made the pick of the saves as he robbed Luke Pither on the doorstep, after great work from Alex Guptill, as the clock wound down to keep the game tied at one a piece.
A chippy third period saw both teams pick up penalties throughout.
Panthers killed an early penalty to Dylan Olsen before Alex Guptill and Dane Byers picked up five minute majors for fighting.
Nottingham would again kill a penalty, this time to Lepine and used it to build momentum.
A five-on-three powerplay went by the wayside for Nottingham but they would not let their next powerplay go to waste.
A scramble in front of Manchester netminder Ginn saw Justin Kovacs find the puck, show tremendous patience and put the puck home to give the Panthers the lead at 57:31.
Storm would pull their netminder to no avail as Michael Garnett and the Panthers held firm to give The Nottingham Panthers the perfect start to their league campaign.