Storm v Panthers

Manchester Storm

The Nottingham Panthers
Match Report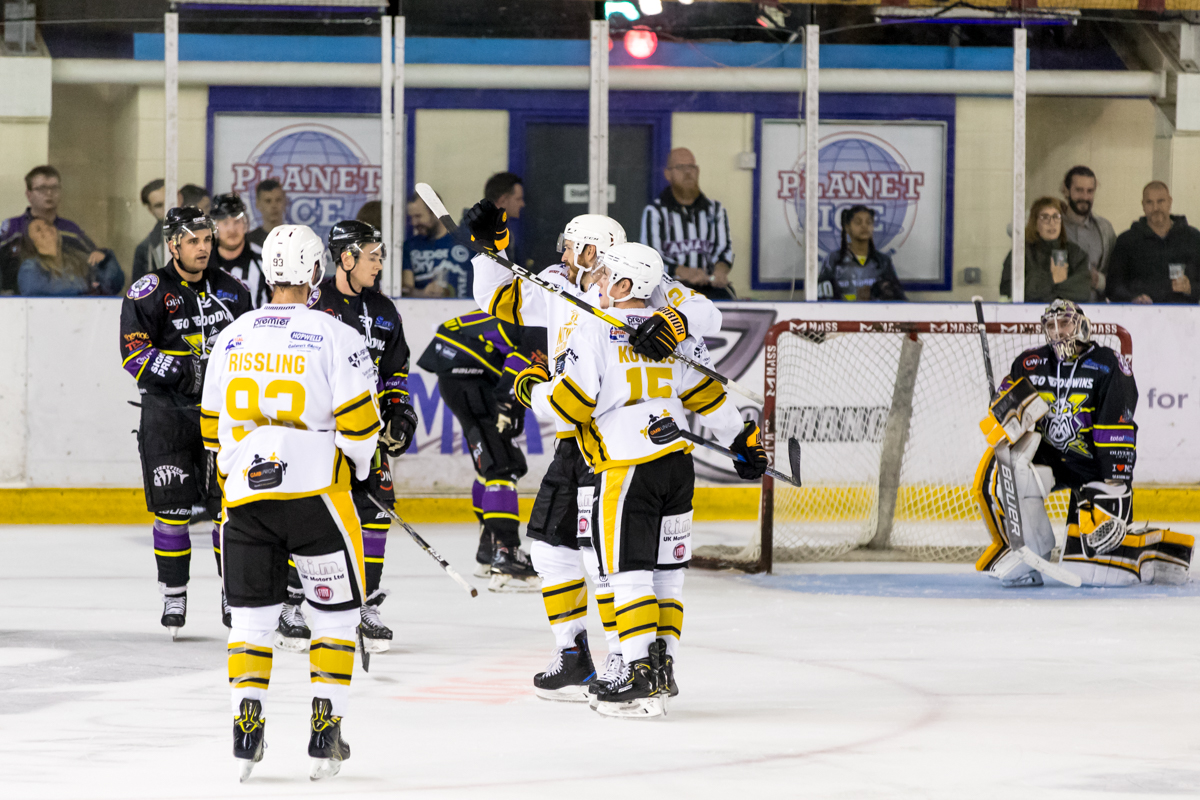 The Nottingham Panthers made the trip to Manchester on Sunday to take on the Manchester Storm for the second time in as many nights.
Michael Garnett got the start in goal, opposite Ginn for the Storm, and The Nottingham Panthers were at full strength.
Early penalty trouble for the Panthers allowed Manchester to build momentum but they came up against a stout Michael Garnett.
At 9:47 Storm netminder Ginn was called for delay-of-game and The Nottingham Panthers took advantage with the extra skater, at 10:32 Dylan Olsen dished the puck to Mark Hurtubise at the top of face-off circle and he hit a rocket into the back of the Storm net.
In a continuation of the night before both sides would pick up further penalties in the first but both netminders would stand tall.
Storm got themselves back into the game at 24:57 when Springer saw his slapshot elude Garnett, the puck finding the smallest of gaps after to sneak over the line to tie the game.
At 26:49 the Storm had a full two minutes of five-on-three powerplay time as Jaynen Rissling and Kevin Henderson were both sent to the box, the Panthers had the best chance though as Luke Pither picked a pocket on the blueline and was denied one-on-one by Ginn.
Ginn was again in sparkling form to deny Guptill at the backdoor.
At 35:44 the Panthers scored their second, Justin Kovacs blocked a shot on the blueline and the friendly bounce saw him skate in one-on-one with Ginn and he made no mistake as he pulled a move and dinked it over the Storm netminder to restore the lead for the away side.
A little over two minutes later (37:56) Kovacs struck again, this time from between the face-off circles after a great feed from Mark Hurtubise to give the Panthers a 3-1 lead at the end of the second period.
Former Panther Henry Pacl replaced Ginn in the Storm goal to start the third period and he was beaten in close by Alex Guptill at 42:13.
The final period saw the Panthers get extensive time on the powerplay, including two lengthy five-on-three opportunities, but could not find a way past Pacl.
Before the final hooter Michael Garnett pulled off an early contender for saveof the season when he flew out of his net to stack the pads and hold onto the puck in the most larcenous of manners.
As the final hooter sounded The Nottingham Panthers, and their army of travelling fans, celebrated a four point weekend.
Photo credit: Andy Burnham