Blaze v Panthers

Coventry Blaze

Nottingham Panthers
Match Report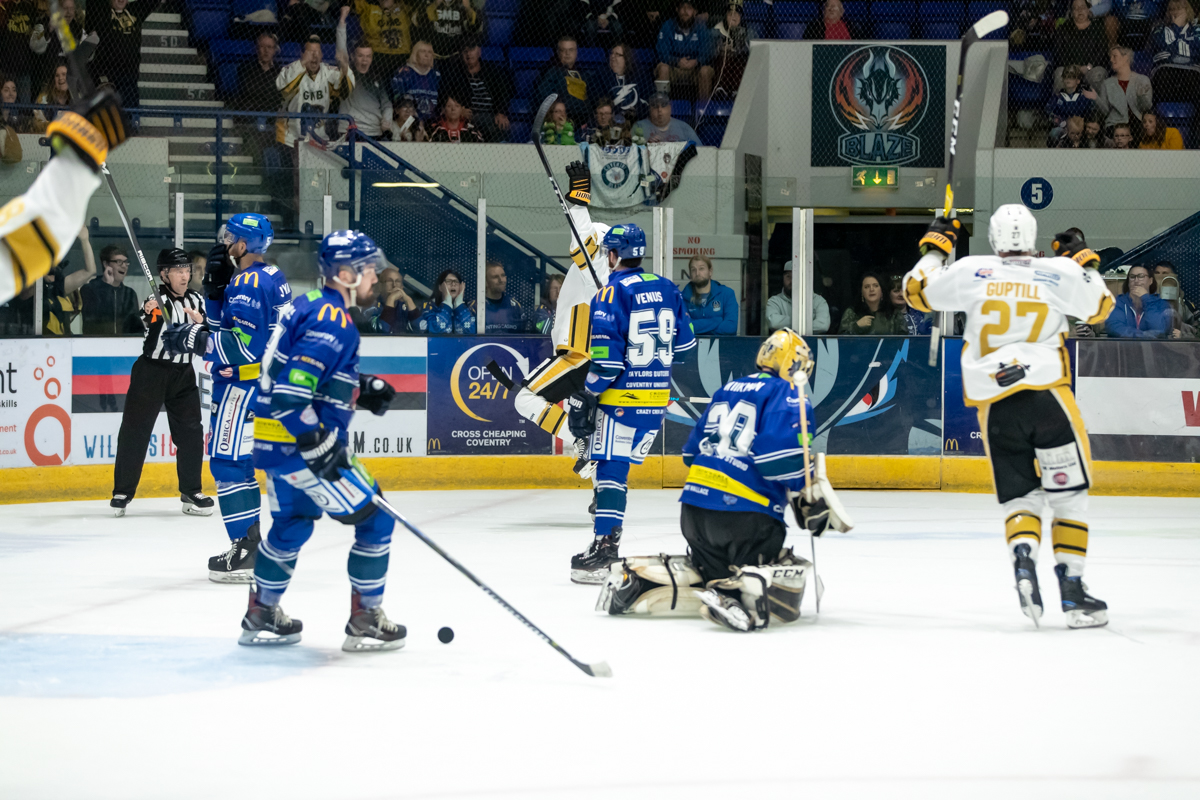 The Nottingham Panthers travelled to Coventry on Sunday afternoon for a league fixture against the Blaze, both teams suffered defeats on Saturday and looked to bounce back as the midlands rivalry was renewed for another season.
Michael Garnett started between the pipes for the Panthers opposite Miika Wiikman for the Blaze.
Nottingham got off to the best possible start when Mark Hurtubise hammered home Alex Guptill's pass as the pair skated in two-on-one at 1:31.
The goal proved to be the only clear cut chance in the first, until a defensive breakdown at 15:50 saw Coventry tie the game.
The scrappiest of scrappy periods followed as neither team could take the advantage, with offsides and pucks deflecting out of play galore.
Robert Farmer tried to provide spark in a tilt with Clements, after the Blaze man was penalised for cross-checking, but the second period would end tied at one.
The third period was anything but scrappy.
An unmarked Tim Billingsley fired the Panthers back into the lead at 44:28 when Luke Pither found him, after the defenceman pinched in, down the right wing before the Blaze tied the game at two at 47:27.
Nottingham got a powerplay oppurtunity at 50:37 and it took all of three seconds for Mark Hurtubise to score his second of the game, a rocket of a slapshot from the blueline to give the Panthers a 3-2 lead.
A clumsy hit by Coventry captain Morris of the Blaze saw him drop the gloves with Jacob Doty, the Panthers forward comfortably getting the better of the Coventry man.
One minute and 50 seconds into another Panthers powerplay at 55:00 Kevin Henderson stripped a Blaze defenceman of the puck and dished it from behind the goal to Alex Guptill in front, who scored his second in as many nights.
Coventry stormed back into the game, however, and scored at 57:47 and 58:09 to send their fans into raptures and the game to overtime.
Three-on-three overtime couldn't seperate the sides, with Garnett and Wiikman on top of their games, and the new best of five shootout system would be required.
Shootout goals from Alex Guptill, Luke Pither and Justin Kovacs saw The Nottingham Panthers to victory over their midlands rivals.
Photo credit: Andy Burnham