Giants v Panthers

Belfast Giants

The Nottingham Panthers
Match Report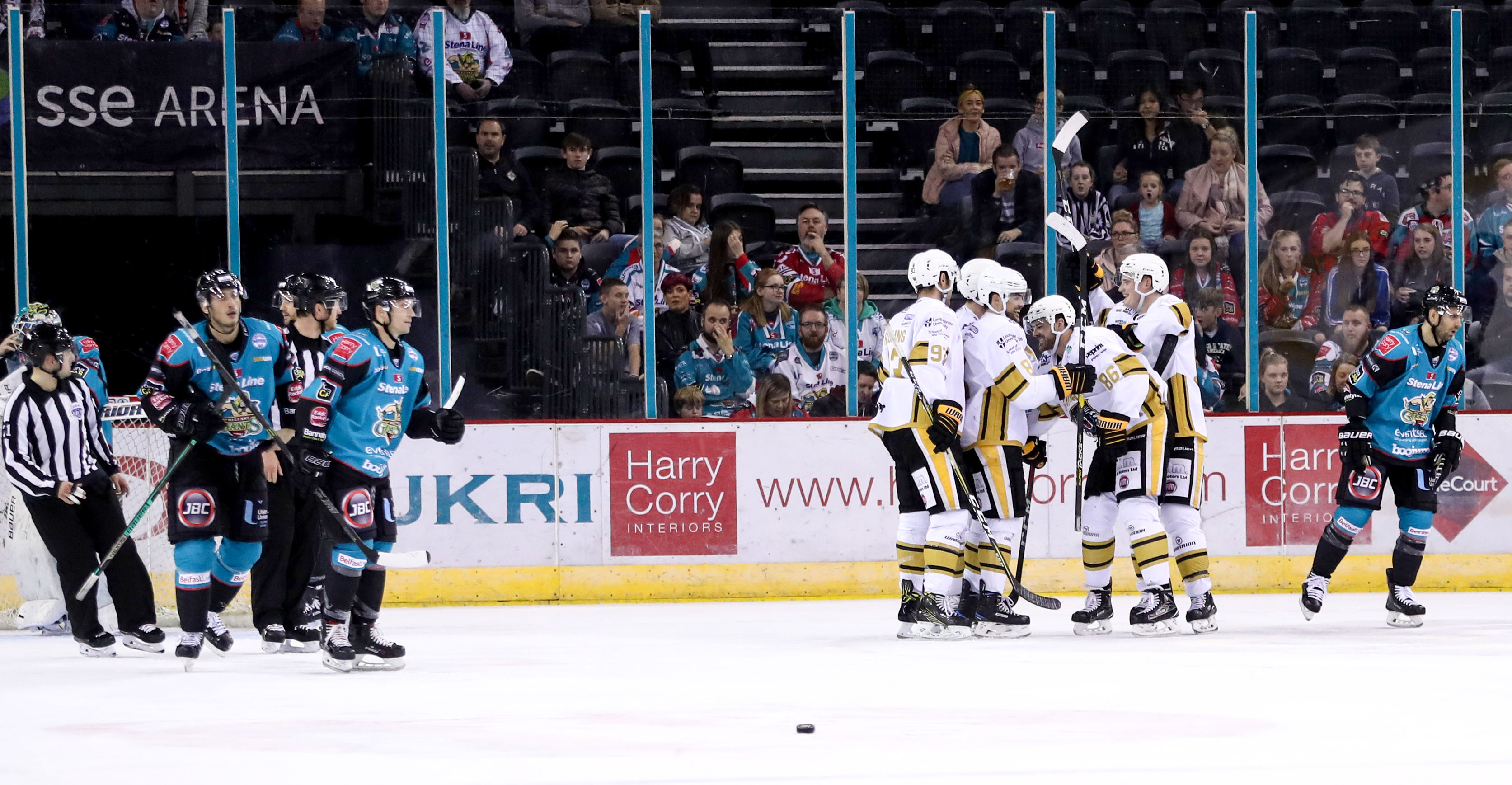 After a bumpy journey, courtesy of Storm Ali, The Nottingham Panthers arrived in Belfast to take on the Giants in Elite League action.
Jon Rheault (injury assessment) was scratched from the line-up and Michael Garnett started in goal opposite Stephen Murphy.
Nottingham started the quicker of the two teams as they peppered Stephen Murphy from all angles. Tyler Biggs having the best chance just 16 seconds in but he couldn't lift his effort over the Giants netminder as he was prone on the ice.
Both teams exchanged powerplay opportunities but both netminders stood tall and the first period finished goalless.
Luke Pither gave The Nottingham Panthers the lead 42 seconds into the second period when he used a Giants defenceman as a screen to beat Murphy high on the glove side.
Belfast hit the iron in response as they tried to tie the game back up quickly.
After a slight delay, due to a problem with the plexiglass, Tyler Biggs stripped a Giant of the puck behind the Giants goal and passed the puck to Luke Pither who fed Kevin Henderson at the top of the crease and he made no mistake as he hit the back of the net at 31:29.
At 33:47 the Panthers would cushion thier lead even further when Jaynen Rissling pinched down from the blueline, pulled a move on a defenceman and beat Murphy over his blocker from between the face-off circles.
Mark Hurtubise was sent to the penalty box for slashing at 35:23 and after a successful penalty kill he joined the play, passed the puck to Ollie Betteridge and the GB forward danced out from behind the net to beat Murphy on the backhand at 37:37 to give the Panthers a four goal lead at the end of the second period.
Justin Kovacs extended the Panthers lead at 45.26 when he rounded a Giant with the sweetest of moves before he stuffed the puck past Murphy in the Giants goal.
Nottingham hit some penalty trouble midway through the third period as Belfast clawed themselves back into the game with powerplay markers at 47:56 and 52:35.
Any nerves on the Panthers bench were settled when Mark Hurtubise, Justin Kovacs and Alex Guptill converged to force the puck across the goaline, with the goal credited to Kovacs at 58:17.
Belfast would pull another goal back at 58:31 to make it 3-6 but The Nottingham Panthers skated out of the SSE Arena with the two points.