Panthers v Devils

The Nottingham Panthers

Cardiff Devils
Match Report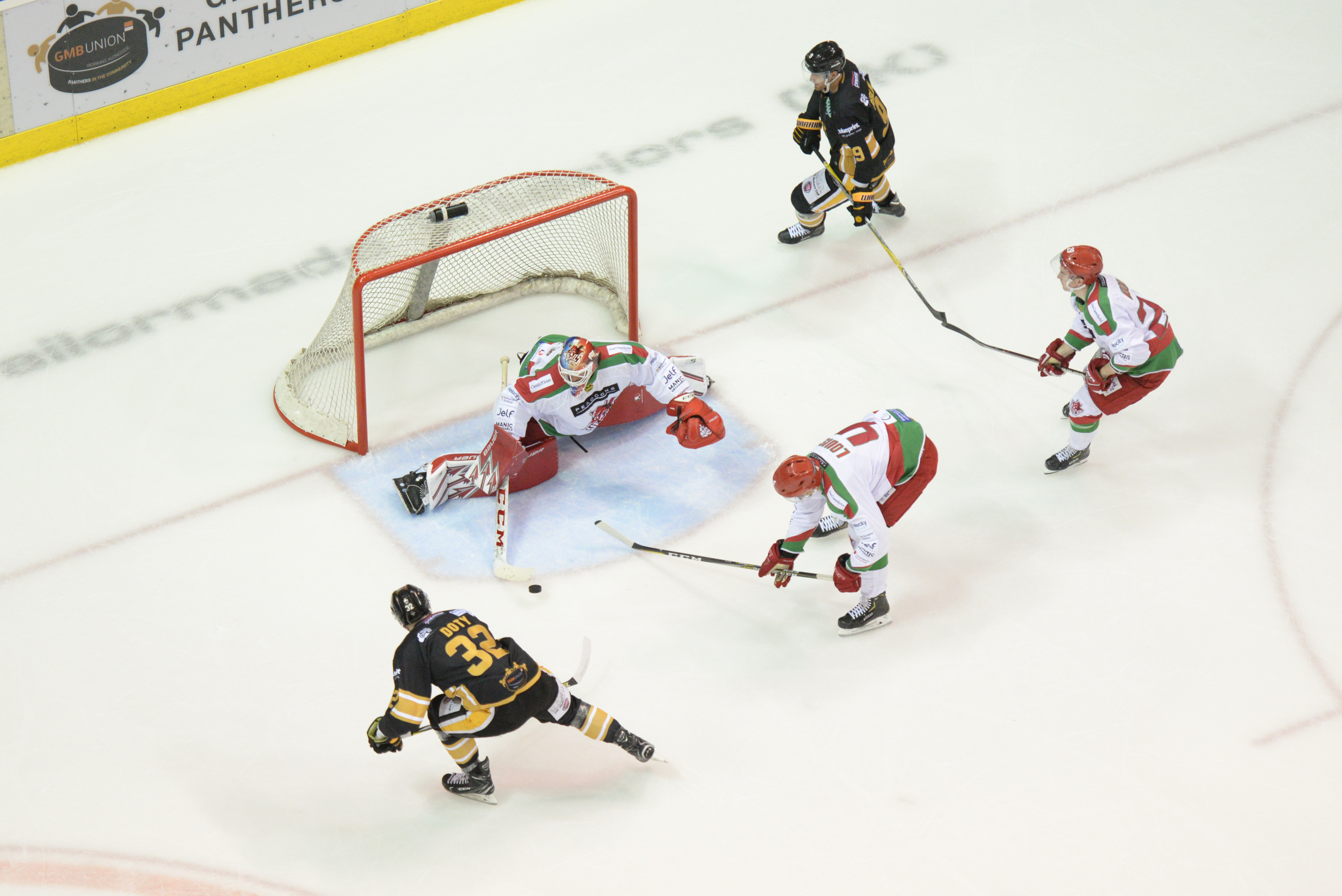 The Nottingham Panthers welcomed the defending EIHL champion Cardiff Devils to the Motorpoint Arena on Wednesday night with two league points on the line.
Michael Garnett started in goal for the Panthers opposite Ben Bowns for the Devils.
Jon Rheault (lower body) and Tim Billingsley (compassionate leave) were missing for the Panthers but Tyler VanKleef made his debut after signing for the team on a short term contract.
It didn't take the Devils long to hit their stride, Haddad muscling his way to the front of the Panthers goal after a Devils face-off win and depositing the puck over a prone Michael Garnett at 3.48.
Jacob Doty had the best chance of the period for Nottingham but he couldn't lift the puck over the outstretched leg of Ben Bowns as he crashed the net.
Doty was again in the thick of things early in the second period as, when he dropepd the gloves with Mark Louis.
Mark Hurtubise attempted to tie the game at 24:38 when he broke in two-on-one with Alex Guptill but Bowns would stand tall to keep the Panthers at bay again.
Another Bowns save sent the Devils on an odd-man rush up the ice, Bryce Reddick applying the finishing touch as he skated towards the net at 27.27.
A too many men call at 31.44 saw the Panthers head to the powerplay but they again found Bowns on top form, the Devils netminder denying Hurtubise, Guptill and Perlini throughout the two minutes.
Bowns again denied the Panthers late in this second, this time gloving down Robert Farmers shot from the left wing.
Tommy Hughes got the Panthers on the board as soon as the third period begun, the big defenceman beating Bowns just ten seconds in.
It was breathless stuff after the Panthers goal as a long period of play without a whistle saw both netminders tested from multiple angles.
Cardiff restored their two goal advantage at 48.48 on the powerplay, Sean Bentivoglio somehow smuggling the puck underneath Michael Garnett after a scamble in front of the Panthers netminder.
Over a minute later Alex Guptill skated down the right wing, slammed on the brakes and after a brief pause roofed the puck over the glove of Ben Bowns to bring the Panthers back within one at 49.51.
Charles Linglet tripped Steve Lee up at 54.10 and on the resulting powerplay Nottingham would tie the game, Luke Pither hammering home the rebound on the doorstep from Alex Guptill's initial effort at 54:52.
Cardiff were awarded a penalty shot at 56.31 and Michael Garnett padded away Joey Martin's effort.
The Devils killed a five-on-three powerplay but with 40 seconds left Dylan Olsen sprang Luke Pither down the left wing and he rocketed a wrist shot past Bowns to give the Panthers the lead and the two points.