Steelers v Panthers

Sheffield Steelers

The Nottingham Panthers
Match Report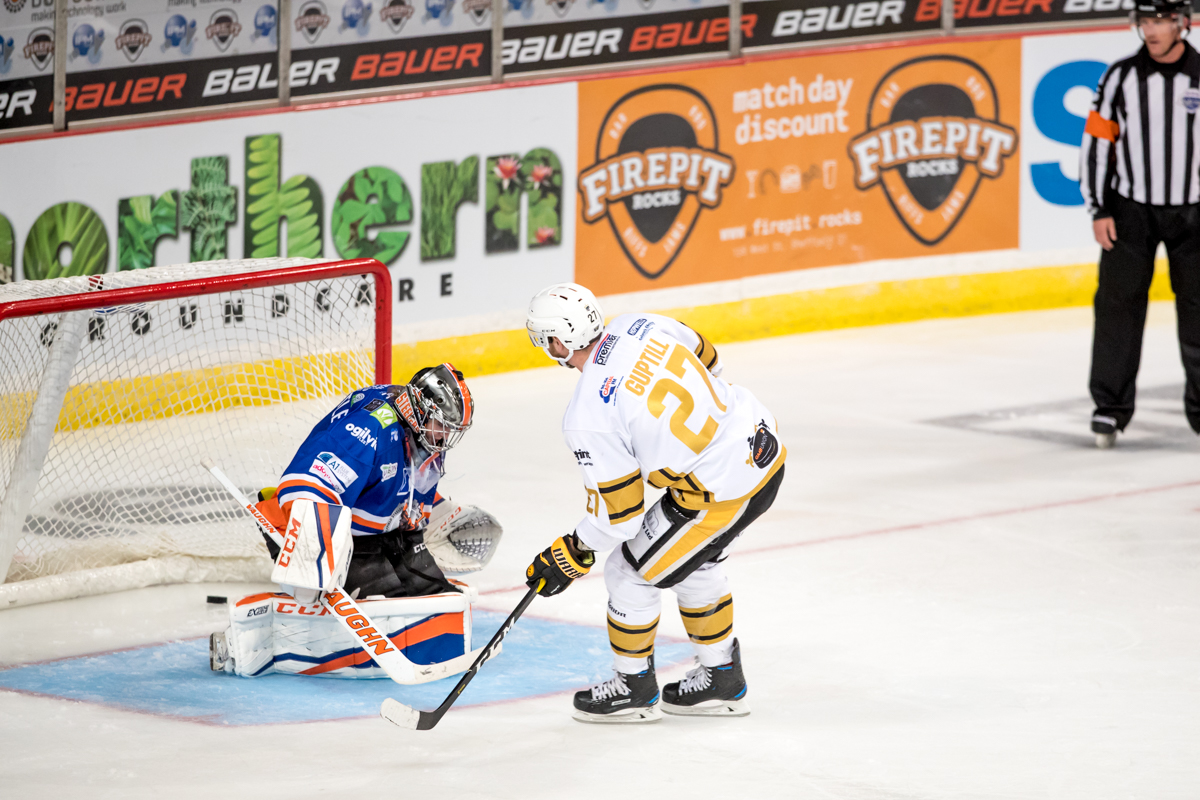 The Nottingham Panthers went to South Yorkshire on Saturday night to take on the Sheffield Steelers in Challenge Cup action.
Sam Gospel got the nod in goal for the Panthers opposite Jackson Whistle for the Steelers.
Nottingham were without the services of Jon Rheault (lower body) but welcomed back Tim Billingsley from compassionate leave.
Panthers killed an early penalty to Gui Lepine at 3.38 and couldn't cash in on their own powerplay oppurtunity at 6.45.
Nottingham killed two more penalties before the Steelers took the lead when the teams skated four-on-four, Ryan Martinelli smuggling the puck over the line at 14.19.
Sheffield doubled their lead at 18.56 through Martindale, just after Nottingham had successfully killed the fourth Steelers powerplay of the period, as he squeezed the puck through the legs of a defenceman and netminder Gospel.
A powerplay early in the second period (24.51) gave the Panthers a route back into the game but a turnover in the defensive zone allowed Eberle to tap into a virtually empty net short-handed, giving Sheffield a 3-0 lead at 26.22.
Both teams traded powerplay oppurtunities as the second period wound down but neither could take advantage and the second period ended with the Steelers in the lead.
Panthers pressed hard in the third period and Hughes, Lee and Guptill all went close.
Alex Guptill was tripped up on the breakaway at 48.24 and on the resulting penalty shot slid the puck through the five-hole of Jackson Whistle to put the Panthers on the board.
Nottingham again pressed hard in search of a second goal, Olsen and Perlini both denied by Whistle in quick succession.
A seventh Steelers powerplay was killed by the Panthers and as they returned to full strength Dylan Olsen floated one towards goal, that was too hot to handle for Jackson Whistle, and Alex Guptill was on the spot to put the rebound home to make it 3-2 at 57.47.
Sam Gospel was pulled in favour of the extra attacker with 1.16 remaining but to no avail, Sheffield tying the season series at one apiece and taking the two Challenge Cup points.
Photo credit: Andy Burnham